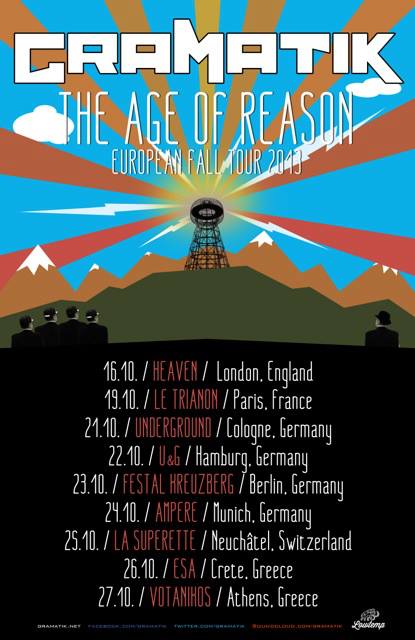 GRAMATIK KICKS OFF 'THE AGE OF REASON' EUROPEAN TOUR
Straight off the back of 50 sets in just 30 days, Slovenian-born and Brooklyn-based producer-extraordinaire Gramatik brings his stunning live shows to Europe where his 'Grammadicts' await. From the 16th to 27th October, Denis and his axe-shredding partner in crime Eric Mendelson are set to play nine gigs across five countries throughout the 'Age of Reason' tour. With hard hitting, jump-up beats that crash through every genre under the sun, the pair create a soulful blend of noise like no other live electronic act around. For a taste of what to expect, strap in and check the full set from Les Plages Electronique in Cannes just a few months ago below.



From hip-hop to swing and soul to dubstep, the sounds heard throughout a Gramatik set don't even begin to cover the spectrum of his vast discography. For nigh on half a decade, there aren't many styles Denis hasn't tried his hand at, and further still, every single one these records has been put out for free through his social platforms and are still available for all to download.

A master of distribution in the digital age and constantly giving back to his devoted fan base, Gramatik will now play his live show throughout the tour to prove his mettle not just online but on the stage too. Having sold out the Brixton Electric in early 2013 to great acclaim, the 'Just Jammin' producer is set to play some of the most iconic venues in Europe, with the likes of Heaven in London and Le Trianon in Paris just a few of the venues set to be wowed throughout. For tickets head to the official site right here.

Live shows will be full of Gramatik's biggest and best tracks. From the loose-footed swinging of 'Balkan Express' to the soulful electronics of 'You Don't Understand' and the jazzy rhythms of 'So Much Love', the Age of Reason Tour is set to go down a storm.
See below on where to catch Gramatik LIVE on the 'Age of Reason Tour':

16/10: Heaven, London, England
19/10: Le Trianon, Paris, France
21/10: Underground, Cologne, Germany
22/10: U&G, Hamburg, Germany
23/10: Festal Kreuzberg, Berlin, Germany
24/10: Ampere, Munich, Germany
25/10: La Superette, Neuchâtel, Switzerland
26/10: ESA, Crete, Greece
27/10: Votanihos, Athens, Greece

It's been an incredible year thus far for Gramatik and one that has seen him launch into the latest chapter of his career. From February 2013, Lowtemp records – his very own imprint – has been up and running, churning out big hit after big hit, and it was not just a week ago that the production maestro unleashed his latest cut of magic in new side project, Exmag. Made up of Eric Mendelson, Tyler Dondero, Mike Iannatto, ILLUMNTR and of course Gramatik, their latest track 'Tilt Mode' is a foray into disco inflected rhythm that rolls along with Gibbz's plush vocals. In typical fashion this one is yours to download for free right here.