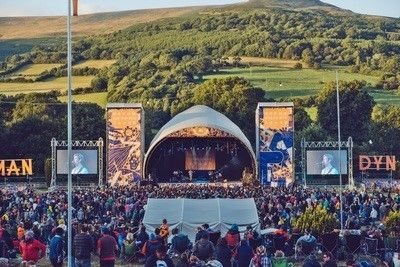 Green Man 2015 – Super Furry Animals Announced As Saturday Headliners
Green Man are excited to announce Wales' very finest Super Furry Animals – who join them as their Saturday night Mountain Stage headliners. Green Man have been waiting for the Furries to reform for years and can't wait to welcome them to Wales' own Green Man in what promises to be a truly amazing homecoming show.
Also joining them in the Black Mountains, are Shoegaze pioneers Slowdive as well as the mighty Television, who play their seminal 1977 album 'Marquee Moon' in full.
Green Man is pleased to announce London-duo Public Service Broadcasting and their unique blend of electronica influenced music. Jamie XX brings the party to the Beacons, playing out tracks from what we hope might become his first solo record. Also welcomed back – Temples who made their first ever-festival appearance at Green Man 2012.

New line-up additions in full:
Super Furry Animals, Slowdive, Television, Public Service Broadcasting, Jamie XX, Temples, The Leisure Society, Marika Hackman, Dan Deacon, White Fence, Natalie Prass, Sturgill Simpson, The Pictish Trail & Sweet Baboo, Emmy The Great, Peter Broderick, This Is The Kit, Kiran Leonard, The 2 Bears, Ultimate Painting, H Hawkline, Zefur Wolves, Strand of Oaks, Hooton Tennis Club, The Drink, Meilyr Jones, Alex Burey,
About Green Man Festival: Now in its 13th year, Green Man is an independent music and arts festival situated in the breathtaking surroundings of the Brecon Beacons, Wales. Confirmed to perform at this year's festival are Super Fury Animals, St. Vincent, Hot Chip, Slowdive Goat, Father John Misty, Calexico, Television, Courtney Barnett and many more.

Green Man is bursting with different things to see and do – science in Einstein's Garden, spa, yoga, therapy and hot tubs in Nature & Nurture, talks and comedy in Babbling Tongues, Welsh holiday with the Settlement, 24 hour Cinema in Cinedrome, acres of fun and games for kids in Little Folk, our own Welsh Beer and cider festival which host 99 artisan ales, ciders and beers. There are 1500 performers in 10 different areas, with so much to see and do you can have whatever festival experience you want.

But most of all expect a big Green Man welcome from the friendliest festival in the world.