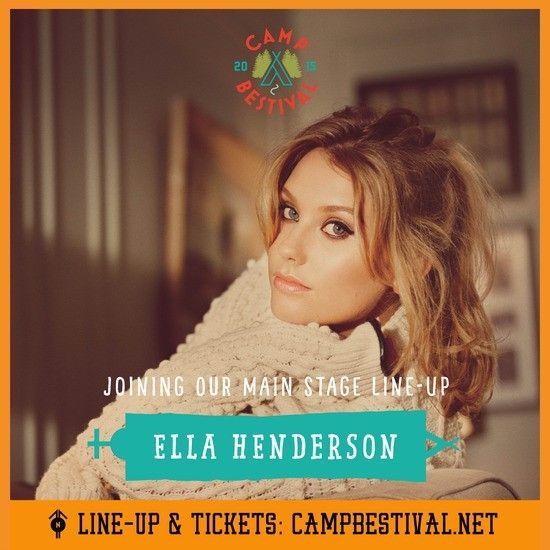 Ella Henderson Announced for Camp Bestival
We absolutely love a bit of pop music at Camp Bestival, so we're very excited indeed to announce that teenage chart-topper, Ella Henderson, will be joining in the wild times singing for us at Lulworth Castle this year.
She came to fame through the X Factor, and has gone on to prove beyond any doubt that real, killer talent transcends all. From her staggering debut single, Ghost, to her critically acclaimed debut album, Chapter One, both of which hit the top spot in their respective first weeks of release, Ella's got it going on, with a sackful of amazing tunes. Don't miss her when she joins Underworld, Clean Bandit, Kaiser Chiefs, Professor Green, The Cat in the Hat, Mr Tumble and loads more, this 30th July – 2nd August at our fun-filled festi-holiday bonanza.
There's still plenty-more wild Camp Bestival action and adventure to be announced so keep checking into the Website, Facebook, Twitter, Instagram, Pinterest for more information.
Tickets for Camp Bestival 2015 (July 30th to Aug 2nd) are on sale now via: Ticketline, 0844 888 4410
WEEKLY PAYMENT PLAN:
You can use our 20 week payment plan to purchase your tickets meaning that an adult ticket can now be bought at a payment of just £8.50 per week over 34 consecutive weekly payments following an initial deposit payment. Book online via Ticketline only: select 'Camp Bestival 2015 – Weekend Payment Plan'.
Once you have signed up to the payment plan, which basically means giving your agreement by ticking the bank mandate form on Ticketline's website, they will automatically debit your card on a weekly basis. More info here.
NB: Booking fees and a deposit (£25 per adult ticket) will be charged with your initial transaction.
CAMP BESTIVAL 2015 WEEKEND TICKET PRICES:
Adult Weekend Ticket (inc. camping from Thurs or Fri) – £195*
Student Weekend Ticket (inc. camping from Thurs or Fri) – £180*
Age 15 to 17 Weekend Ticket (inc. camping from Thurs or Fri) – £113*
Age 11 to 14 Weekend Ticket (inc. camping from Thurs or Fri) – £88*
Age 5 to 10 Weekend Ticket (inc. camping from Thurs or Fri) – £20*
Age 4 & Under Weekend Ticket (inc. camping from Thurs or Fri) – FREE (but ticket required)*
*NB: please refer to the Camp Bestival Ticket Terms & Conditions
Car Parking – £15 advance
Campervan Ticket – £72 per vehicle – please read Campervan T&Cs here before booking
Caravan, Trailer Tent Ticket – £83 (One car only per caravan/trailer tent – no exceptions) (available via Ticketline only) – please read Caravan, Trailer Tent T&Cs here before booking
All Tickets – will incur a booking fee.
CAMPING PLUS:
Camping Plus plots cost £125.00 (max of 2 adults and 4 children per plot) and are perfect, not only if you know you won't be arriving as soon as the gates open, but also if you just want the comfort of knowing that you've got your camping space sorted. Book now.
HOSPITALITY CAMPING:
Hospitality Camping offers luxurious creature comforts in a beautifully designed, spacious campsite with fast access to the heart of the main Castle Stage arena. With premium toilets, hot showers, free yoga sessions, private parking and a meet and greet concierge service, Hospitality Camping is the place to stay for the ultimate high-end family festival experience. Head here for more info