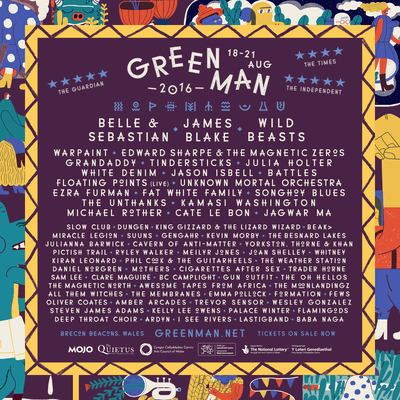 Green Man: More Acts…
We've got a freshly picked, bumper batch of names to add to the bountiful selection already adorning this year's bill.
Running from Thursday 18th – Sunday 21st August, we're elated that LA indie rockers Edward Sharpe & The Magnetic Zeros are set to join us at the fourteenth Green Man. With a new album imminent – and a stage-hogging 10 members in tow – their big band, beach-licked grooves will be a glorious addition to the (already glorious) Brecon Beacons.
Returning to the festival are Nottinghamshire veterans Tindersticks, whose atmospheric introspections – now 25 years in the game – still sound uniquely their own. Sister act The Unthanks return, too, with kind offerings of soft-lit folk. Slow Club, meanwhile, are sure to turn a few heads with their classic indie pop.
Glitch-rockers Suuns are booked in to deliver a lesson in head-nodding intensity, with Portishead-descendants Beak> also specialising in pop thick with electric atmosphere. Kevin Morby, with a new album due any minute, will have feet stomping to the beat of his rousing folk rock.

Stereolab off-shoot Cavern of Anti-Matter are sure to have you grooving along to their rough-and-ready electro jams, while Cigarettes After Sex will provide ambient soundscapes to recline to afterwards. BC Camplight, after sadly forced to cancel last year, will now finally bring their endearing pop to the festival.
There's chuck loads more music still to be announced, too, along with our FINAL HEADLINER! Tickets are on sale now from greenman.net!
GM16 Line up in full. New additions in Green.
Belle & Sebastian, James Blake, Wild Beasts, Warpaint, Edward Sharpe & The Magnetic Zeros, Grandaddy, Tindersticks, Julia Holter, White Denim, Jason Isbell, Battles, Floating Points (live), Unknown Mortal Orchestra, Fat White Family, Songhoy Blues, The Unthanks, Ezra Furman, Kamasi Washington, Michael Rother, Cate Le Bon, Jagwar Ma, Slow Club, Dungen, King Gizzard & The Lizard Wizard, Beak>, Miracle Legion, Suuns, Gengahr, Kevin Morby, The Besnard Lakes, Julianna Barwick, Cavern of Anti-Matter, Yorkston, Thorne & Khan, Pictish Trail, Ryley Walker, Meilyr Jones, Joan Shelley, Whitney, Kiran Leonard, Phil Cook & The Guitarheels, The Weather Station, Daniel Norgren, Mothers, Cigarettes After Sex, Trader Horne, Sam Lee, Clare Maguire, BC Camplight, Gun Outfit, The Oh Hellos, The Magnetic North, Awesome Tapes From Africa, The Moonlandingz, All Them Witches, The Membranes, Emma Pollock, Formation, Fews, Oliver Coates, Amber Arcades, Trevor Sensor, Wesley Gonzalez, Steven James Adams, Kelly Lee Owens, Palace Winter, Flamingods, Deep Throat Choir, Ardyn, I See Rivers, Lastigband, Baba Naga.