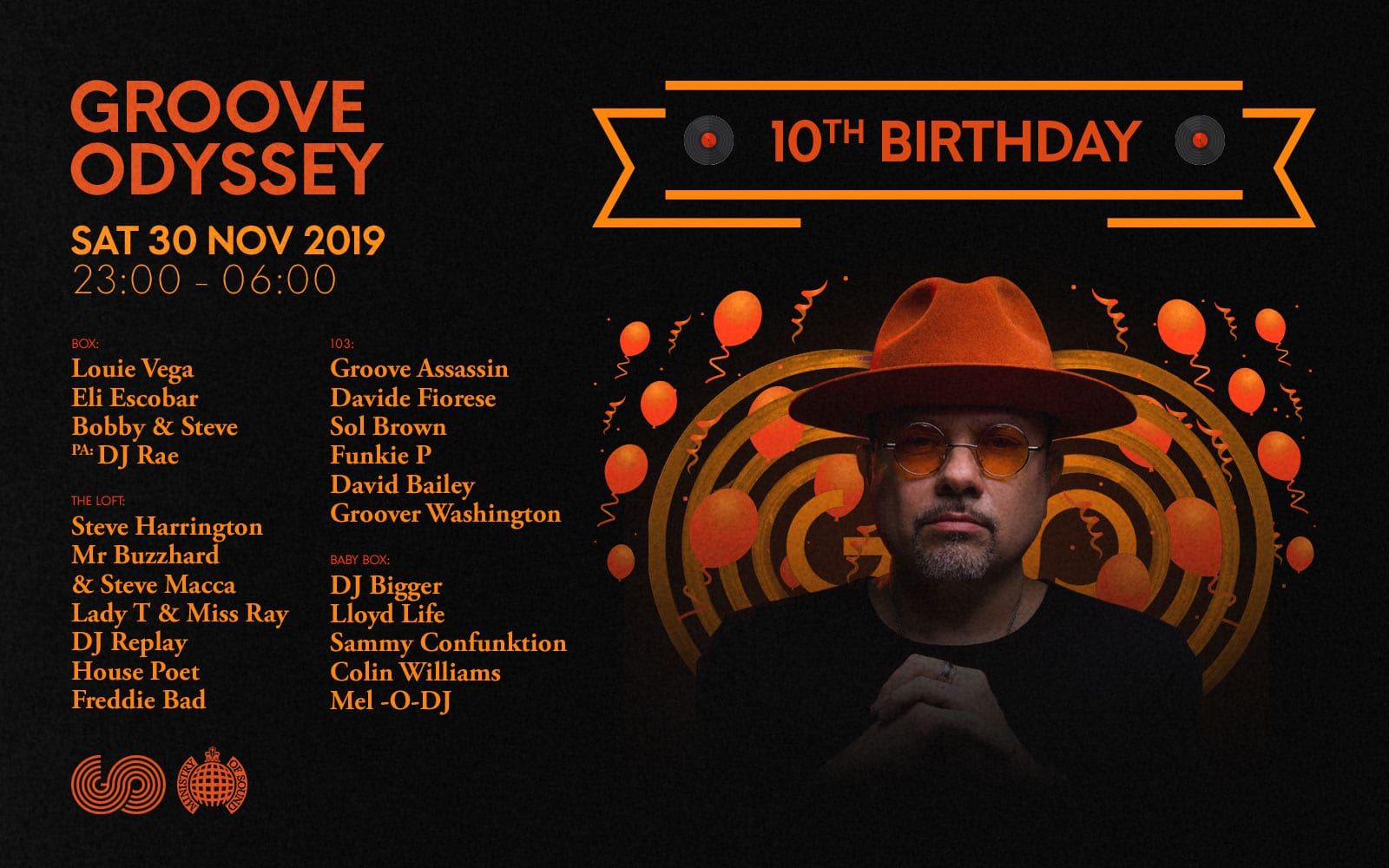 Groove Odyssey 10th Birthday…
On Saturday 30th of November, Groove Odyssey are celebrating our 10th anniversary at the world famous Ministry Of Sound!
Joining us on this momentous occasion will be House legend Louie Vega, alongside Eli Escobar and Bobby & Steve, plus a live PA from DJ Rae. Also on entertainment duties will be Groove Assassin, Sol Brown, Dj Bigger, Davide Fiorese, Steve Harrington, David Bailey (Birthday set) and many more over four rooms of music.
Get ready for another magical night of celebrations with the Groove Odyssey family.
For tickets and more information check out grooveodyssey.com
Line up
• BOX: DEEP, SOULFUL & DISCO HOUSE
LOUIE VEGA
ELI ESCOBAR
BOBBY & STEVE
PA: DJ RAE
• 103: CLASSIC HOUSE
GROOVE ASSASSIN
DAVIDE FIORESE
SOL BROWN
FUNKIE P
DAVID BAILEY (BIRTHDAY SET)
GROOVER WASHINGTON
• BABY BOX: 80'S, 90'S SOUL & RNB
DJ BIGGER
LLOYD LIFE
SAMMY CONFUNKTION
COLIN WILLIAMS
MEL -O-DJ
• THE LOFT: HOSTED BY HOUSEFM
STEVE HARRINGTON
MR BUZZHARD & STEVE MACCA
LADY T & MISS RAY
DJ REPLAY
HOUSE POET
FREDDIE BAD
• TICKETS: bit.ly/GROOVE10THTICKETS
• FB EVENT PAGE: bit.ly/GO10thBIRTHDAY