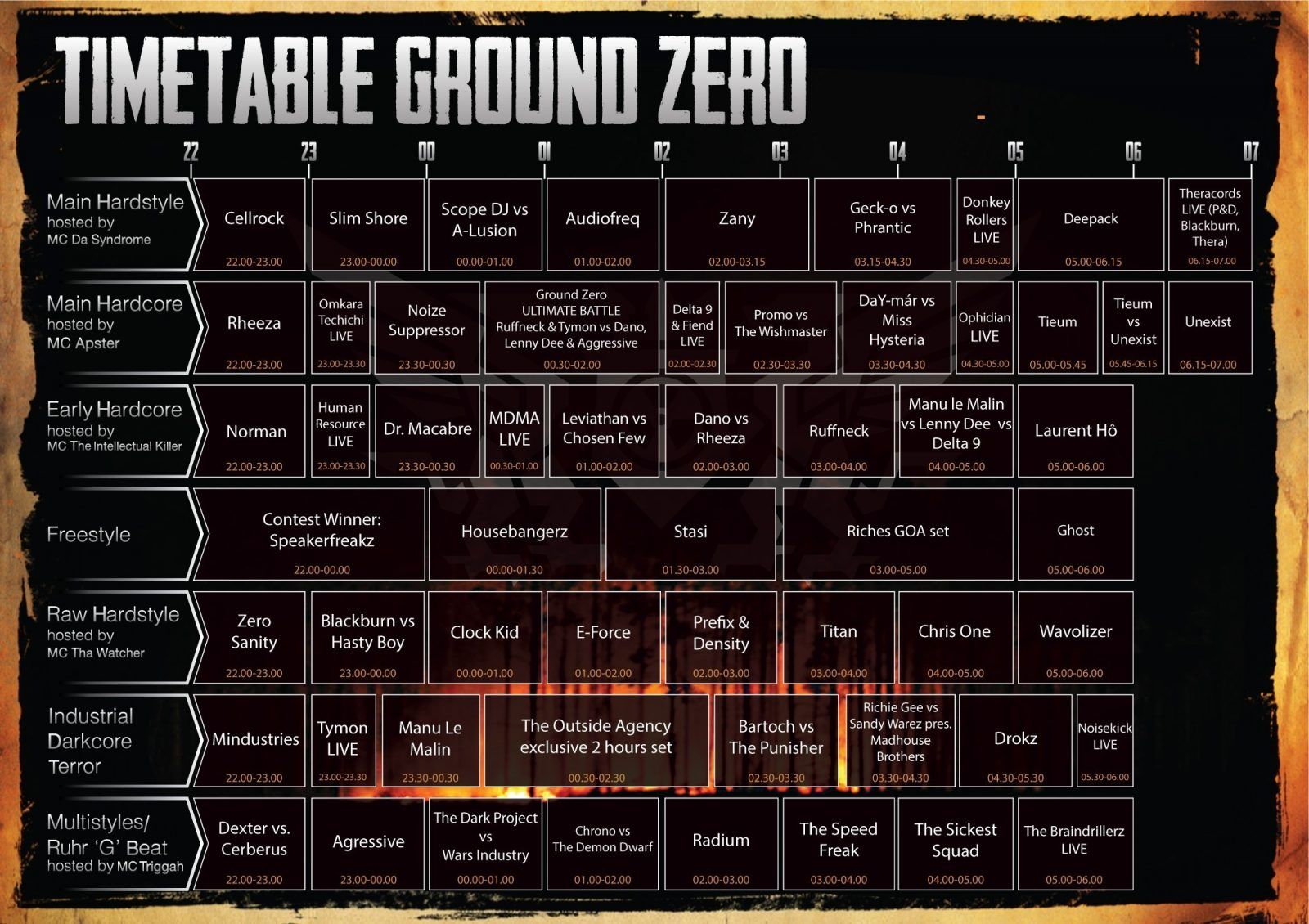 Ground Zero Festival presents her blazing timetable
Following a massive sold out edition in 2012, UDC and Multigroove announce the eighth edition of Ground Zero Festival: Nightfire.
With only a month to go, Ground Zero tickets are going like hot cakes, so be on time and buy your ticket now through www.groundzerofestival.com. We hope to see you all on 31st of August at the only night festival in Holland!
GROUND ZERO TIME TABLE
Since Ground Zero Festival was sold in 2012, production was set to maximise this year. The grounds have been extended and there is an additional area – hosted by the German organization Ruhr 'G' Beat. As always we remain the only festival in the Netherlands that parties through the night!
Watch the complete timetable spanning across six full areas, plus a relaxed chill out, framed by bold shows, attractions and special effects:

Main Hardcore
22.00 – 23.00 Rheeza
23.00 – 23.30 Omkara Techichi LIVE
23.30 – 00.30 Noize Surpressor
00.30 – 02.00 Ground Zero Ultimate Battle:
Ruffneck & Tymon vs. Dano,
Lenny D, Aggressive
02.00 – 02.30 Delta9 & Fiend Live
02.30 – 03.30 Promo vs. The Wishmaster
03.30 – 04.30 DaY-már vs. Miss Hysteria
04.30 – 05.00 Ophidian LIVE
05.00 – 05.45 Tieum
05.45 – 06.15 Tieum vs. Unexist
06.15 – 07.00 Unexist
MC Apster

Ui
Early Hardcore
22.00 – 23.00 Norman
23.00 – 23.30 Human Resource LIVE
23.30 – 00.30 Dr. Macabre
00.30 – 01.00 MDMA LIVE
01.00 – 02.00 Leviathan vs. Chosen Few
02.00 – 03.00 Dano vs. Rheeza
03.00 – 04.00 Ruffneck
04.00 – 05.00 Manu le Malin vs Lenny Dee vs
Delta9
05.00 – 06.00 Laurent Hô
MC The Intellectual Killer
Main Hardstyle
22.00 – 23.00 Cellrock
23.00 – 00.00 Slim Shore
00.00 – 01.00 Scope DJ vs. A-Lusion
01.00 – 02.00 Audiofreq
02.00 – 03.15 Zany
03.15 – 04.30 Geck-O vs. Phrantic
04.30 – 05.00 Donkey Rollers LIVE
05.00 – 06.15 Deepack
06.15 – 07.00 Theracords LIVE
MC Da Syndrome
Freestyle
22.00 – 00.00 Contest Winner: Speakerfreakz
00.00 – 01.30 Housebangerz
01.30 – 03.00 Stasi
03.00 – 05.00 Riches GOA set
05.00 – 06.00 Ghost
Hardstyle Raw
22.00 – 23.00 Zero Sanity
23.00 – 00.00 Blackburn vs. Hasty Boy
00.00 – 01.00 Clock Kid
01.00 – 02.00 E-Force
02.00 – 03.00 Prefix & Density
03.00 – 04.00 Titan
04.00 – 05.00 Chris One
05.00 – 06.00 Wavolizer
Hosted by MC Tha Watcher
Industrial
22.00 – 23.00 Mindustries
23.00 – 23.30 Tymon LIVE
23.30 – 00.30 Manu Le Malin
00.30 – 02.30 The Outside Agency
Exclusive 2 hours set
02.30 – 03.30 Bartoch vs. Punisher
03.30 – 04.30 Richie Gee vs Sandy Warez pres.
Madhouse Brothers
04.30 – 05.30 Drokz
05.30 – 06.00 Noisekick LIVE
RGB
22.00 – 23.00 Dexter vs. Cerberus
23.00 – 00.00 Agressive
00.00 – 01.00 The Dark Project vs. Wars Industry
01.00 – 02.00 Chrono vs. The Demon Dwarf
02.00 – 03.00 Radium
03.00 – 04.00 The Speed Freak
04.00 – 05.00 The Sickest Squad
05.00 – 06.00 The Braindrillerz LIVE
Hosted by MC Triggah
HOTEL PACKAGE
– Artists and partygoers all under one roof!
– 2 person hotel accommodation including breakfast
– The packages are sold per 2 people
– Late check in at 00.00
– Late check out at 14.00
– € 99 per person including Ground Zero ticket
– Only a few left!
– Buy this package on www.groundzerofestival.com
MORE INFORMATION:
www.groundzerofestival.com
Or you can visti our social media channels:
www.facebook.com/groundzerofestival
www.twitter.com/groundzerofest
www.myspace.com/groundzerofestival
www.groundzerofestival.hyves.nl