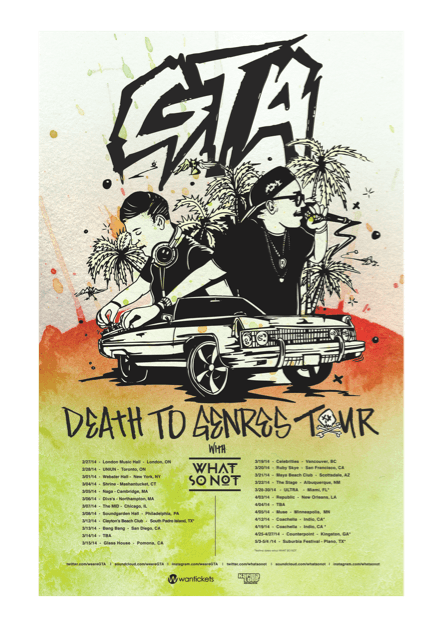 GTA ANNOUNCE 'DEATH TO GENRES' NORTH AMERICAN TOUR
As if 2013 wasn't a successful enough year for GTA, it's now becoming rapidly clear that 2014 is set to be even bigger and better, as the Miami based outfit now unveil what is arguably their most exciting piece of news to date – their very own 'DEATH TO GENRES' North America tour!
Kicking off February 27th in Canada and taking in over 25 shows across the continent in just over 2 months – which include prestigious appearances at some of the world's most famous events including Coachella and Ultra Music Festival – GTA will also be ably supported by one of Australia's hottest acts of the moment, What So Not, at over 20 of their shows from February to May.
PURCHASE PRESALE TICKETS NOW
http://gta.wantickets.com/
Presale tickets for the majority of the dates are on sale now exclusively from Wantickets, before full sale commences on Thursday January 30. What's more, Wantickets will also be offering a $25 'VIP upgrade', giving fans a limited edition tour t-shirt that will be signed by GTA in a meet and greet 30 minutes before doors open. Only available until 6th February, make sure you snap them up before they're all gone!
The 'Death to Genres' movement is GTA's battle cry. Whether it's a release on Spinnin', Mad Decent or Fly Eye Records, Matt van Toth and Julio Mejia aren't restricted in their production by what genre they're catering to. They just do it. Nowhere is this clearer than throughout their 'Death To Genres' mix series spanning the last 18 months. Mixing in and out of hip-hop, house, electro, trap, moombahton and more, get a feel for what North America is about to witness with Vol. 1, 2 and 3 available now to download for free.
Download Vol. 1 Miami
Download Vol. 2 Europe
Download Vol. 3 Made in America
Last year took GTA here there and everywhere. There was London, Paris, Lisbon Macau, Singapore and Johannesburg whilst supporting Rihanna. Next up, there was the last minute announcement to join the Stereosonic tour in Australia. There was even an invite from none other than JAY Z inviting the pair to play at his own festival, Made In America. Now, it's time to give back to the fans where it all started, with a mammoth schedule stretching across the entirety of North America. Starting February off in the Hawaii Podium Raceway with Dada Life, the guys go on to play with Skrillex at the Fox Theater in Oakland, before launching themselves all over the continent to the likes of Ontario, New York, Chicago, San Francisco, New Orleans and more on their 'Death To Genres' tour. Throw in the small matter of a homecoming gig at the Ultra Music Festival in Miami and a date at the most sought after festival in the world today, Coachella, and you easily have GTA's most exciting year to date.
Don't miss out on seeing GTA at the following dates, with more TBA soon:
27 February – London Music Hall – London, ONT
28 February – Uniun – Toronto, ONT
1 March – Webster Hall – New York, NY
4 March – Shrine – Mashantucket, CT
5 March – Naga – Cambridge, MA
6 March – Diva's – Northampton, MA
7 March – The MID – Chicago, IL
8 March – Soundgarden Hall – Philadelphia, PA
12 March – UME @ Clayton's Beach Club w/Steve Aoki – South Padre Island, TX*
13 March – Bang Bang – San Diego, CA
15 March – Glass House – Pomona, CA
19 March – Celebrities – Vancouver, BC
20 March – Ruby Skye – San Francisco, CA
21 March – Maya Beach Club – Scottsdale, AZ
22 March – The Stage – Albuquerque, NM
28-30 March – Ultra Music Festival – Miami, FL*
3 April – Republic – New Orleans, LA
5 April – Muse – Minneapolis, MN
12 April – Coachella Festival – Indio, CA*
19 April – Coachella Festival – Indio, CA*
27 April – Counterpoint Festival – Kingston, GA*
4 May – Suburbia – Plano, TX*