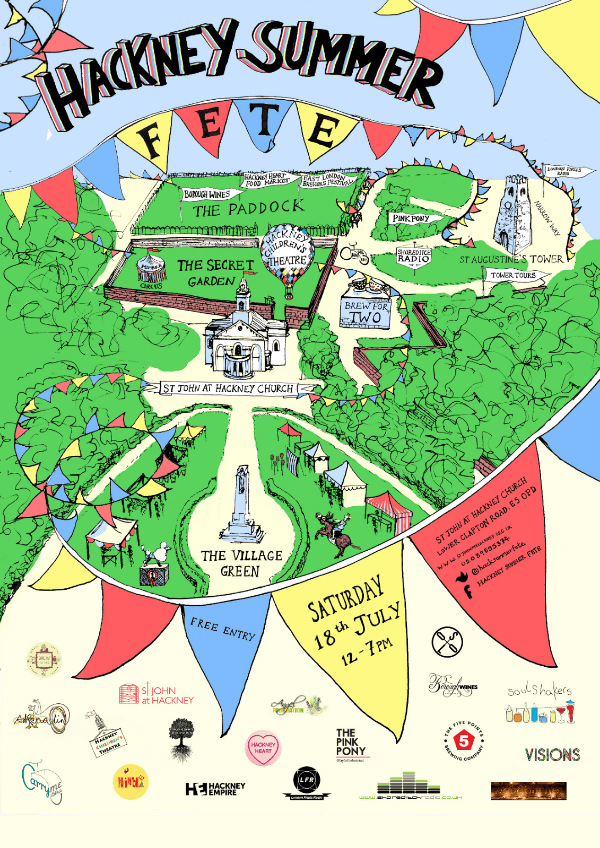 Hackney Summer Fete
Showcasing all that Hackney has to offer in food, beverages, arts, crafts, music and entertainment, the Hackney Summer Fete takes place this year at St. John at Hackney Church on Saturday 18th July.

Marking a celebration of London in the summer, the event will run over nine conjoined sites across the parish grounds and the Narrow Way between 12.00 -7.00pm , with after-party at nearby wine bar and restaurant L'Entrepot which will be hosting a drinks and small plates event with free pétanque (french boules) downstairs in the restaurant's new Club Pétanque room and HSF-themed cocktails.

For food and drink lovers, the Hackney Heart Market will be curating a market featuring The Pie Cart, Japanese chicken from Tonkotsu, Rainbow Cookout's Caribbean soul food as well as local favourites Dalston Cola, Borough Wines, East London Liquor Company and homemade Hackney honey from Honeyman. The food market is also supported by Oslo who are offering a 20% discount on food for fete goers – all of this is complimented by a DJ stage curated by Visions Festival.

If in need of something stronger, The Five Points Brewing Company will also host an East London version of their popular London Brewers' Market as part of the event. Brewers include Five Points, One Mile End, Wild Card, Hackney Brewery, and Signature Brew. Meanwhile, in the woodlands, cafe Brew For Two will be providing a Turkish market with gentle acoustic music hosted by Woodburner.

Re-named the Village Green for this event, the Front Garden of the church will feature a mobile farm with donkey rides and a petting zoo, the annual Hackney Dog Show, various arts and crafts stalls, coconut shies, Hackney Playbus and the Hackney Empire Music Stage featuring local artists.

Local stations Shoreditch Radio and London Fields Radio will also be hosting small stages featuring performances from local artists alongside music markets.

Ahead of a £4 million redevelopment plan, there will be a platform inside the church itself hosted by Hackney Voices and featuring Hackney-based choirs such as the Hackney Empire Singers and Victoria Park Singers showcasing the beautiful natural acoustic inside the nave of St John's.
To take in all the sights of the fete, St Augustine's Tower will be opening its doors and running visits right to the top, which captures stunning views of the borough and beyond.
In the Secret Garden space behind the church, there will be activites for kids hosted by Hackney Children's Theatre, Adrenalindance and Mimbre Circus. Hackney Scouts will also be running their own activities throughout out the day, while the creative and playful enterprise The Pink Pony will be running an interactive creative-making activity, for all ages. The day will close with a giant tombola featuring a Hackney celebrity guest of honour.

The event will be free, but donations are welcome to support St. John at Hackney's charities, as well as the upcoming refurbishment of the building. The church itself is just a 2 minute walk from Hackney Central overground station, while buses to central London run day and night.

With almost 3000 people in attendance last year, and coverage reaching press as far as the New York Post, the Hackney Summer Fete is quickly becoming one of the most beloved dates in London's summer calendar – be sure to join the crowds.