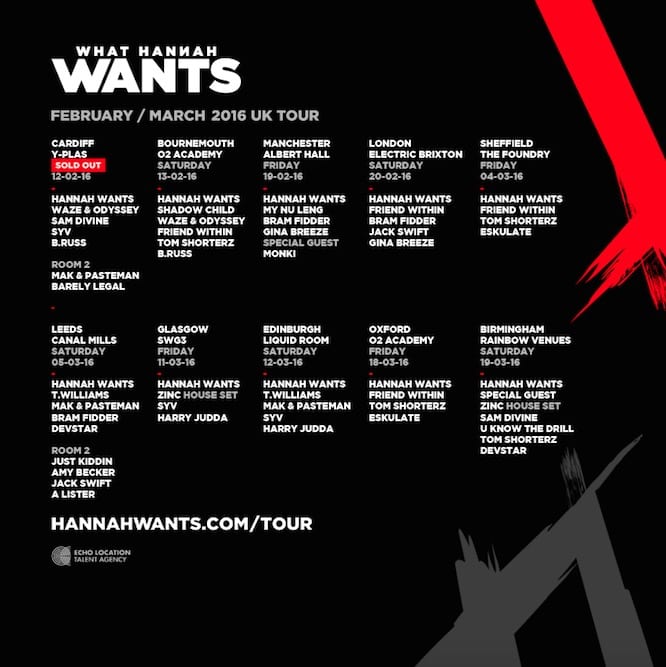 Hannah Wants announces the line up for her 2016 'What Hannah Wants' UK tour!
The time is drawing nearer for Hannah Wants' UK-wide tour, 'What Hannah Wants', and the full lineup has just been revealed, alongside the five lucky winners of her 2016 DJ search.
Waze & Odyssey, Shadow Child, Friend Within, T. Williams, Zinc, Sam Divine, Monki and more will accompany Hannah on her 12-date tour, as well as a couple of yet to be announced special guests – full line-up and dates below.
Hannah has also announced the winners of this year's 'What Hannah Wants' DJ competition, each handpicked by Hannah herself for their live mixing skills. As part of their prize, the four talented newcomers will accompany her on the road.
Joining Hannah in Cardiff and Bournemouth is B Russ, followed by Gina Breeze in Manchester and London, Eskulate in Sheffield and Oxford, Harry Judda in Edinburgh and Glasgow, with one of last year's winner Devstar making a return for the Leeds and Birmingham shows.
Beginning in Cardiff on the 11th February, Hannah will work her way across the country, taking in Manchester, London, Dublin, Belfast, Sheffield, Leeds, Glasgow, Edinburgh and Oxford, before a triumphant return to her hometown of Birmingham on Saturday 19th March.
Hannah's skyrocketing profile has seen her become in-demand across the globe. She's toured across the US, including a headline slot at tastemaking New York club Verboten, and a gig at the infamous HARD Summer festival, with other European festival highlights including EXIT Serbia, We Are FSTVL, Parklife, Glastonbury, Hideout Croatia, South West Four and Creamfields.
Hannah also had a busy summer in Ibiza, the island that helped her to make her name – she took over W.A.R at Ibiza Rocks twice (including the closing party), and played 4 dates at Ibiza's biggest bass music party, Together at Amnesia.
What Hannah Wants UK tour dates 2016
Friday, 11th February – Y-Plas, Cardiff (SOLD OUT)
Hannah Wants, Waze & Odyssey, Sam Divine, Syv, B.Russ (Room 2: Mak & Pasteman, Barely Legal)
Saturday 12th February – O2 Academy Bournemouth
Hannah Wants, Shadow Child, Waze & Odyssey, Friend Within, Tom Shorterz, B.Russ
Friday 19th February – The Albert Hall, Manchester
Hannah Wants, My Nu Leng, Bram Fidder, Gina Breeze, Special Guest, Monki
Saturday 20th February – Brixton Electric, London
Hannah Wants, Special Guest, Friend Within, Bram Fidder, Jack Swift, Gina Breeze
Friday 26th February – The Academy, Dublin
(Headline show – not What Hannah Wants show)
Saturday 27th February – Queens Mandela Hall, Belfast
(Headline show – not What Hannah Wants show)
Friday 4th March –The Foundry, Sheffield
Hannah Wants, Friend Within, Tom Shorterz, Eskulate
Saturday 5th March – Canal Mills, Leeds
Hannah Wants, T. Williams, Mak & Pasteman, Bram Fidder, Devstar (Room 2: Just Kiddin, Amy Becker, Jack Swift, A Lister)
Friday 11th March – SW3G, Glasgow
Hannah Wants, Zinc (House Set), Syv, Harry Judda
Saturday 12th March – Liquid Rooms, Edinburgh
Hannah Wants, T.Williams, Mak & Pasteman, Syv, Harry Judda
Friday 18th March – O2 Academy Oxford
Hannah Wants, Friend Within, Tom Shorterz, Eskulate
Saturday 19th March – Textile Factory, Birmingham
Hannah Wants, Special Guest, Zinc (House set), Sam Divine, U Know The Drill, Tom Shorterz, Devstar