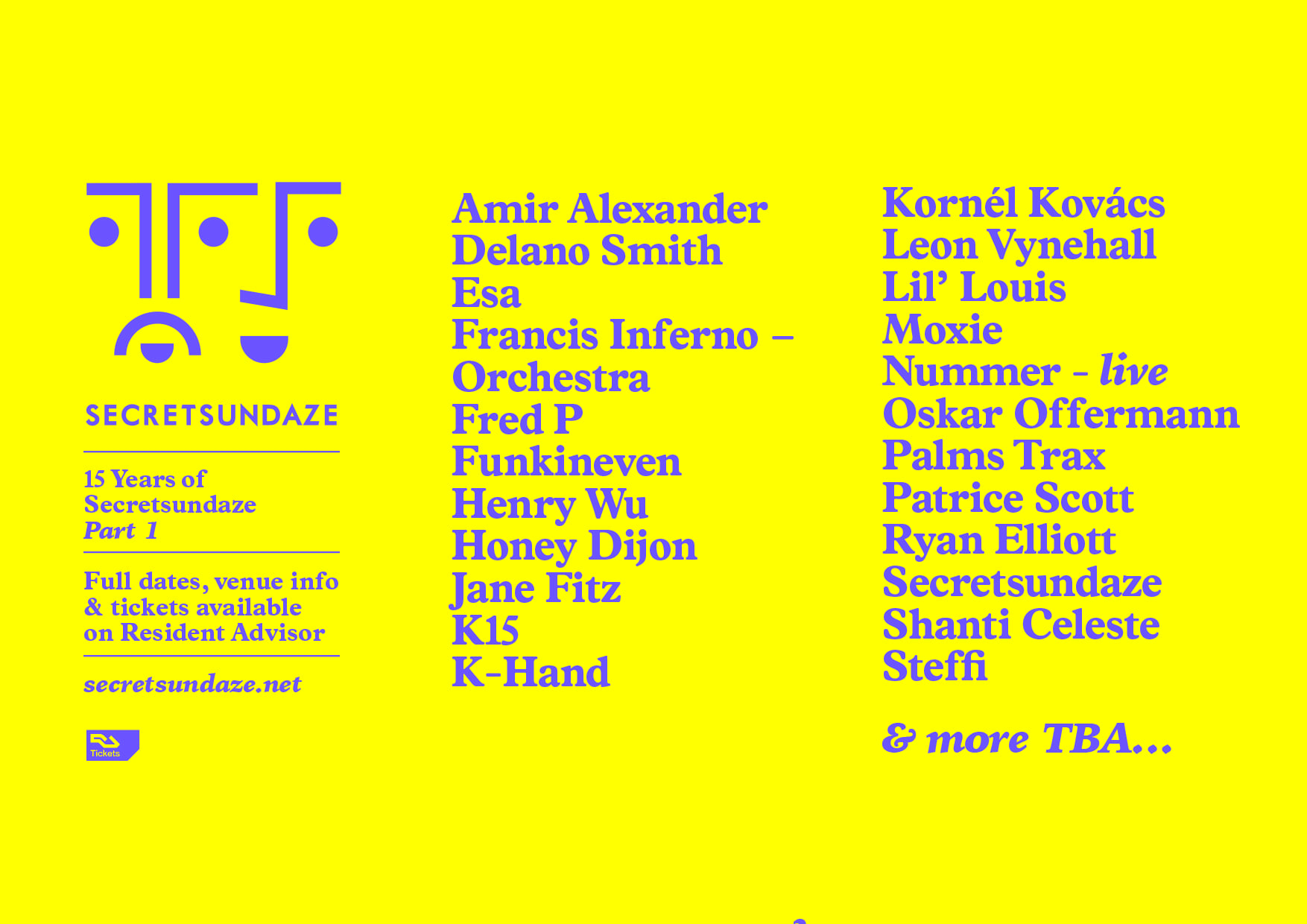 Secretsundaze reveal more acts for the 15th anniversary season
Secretsundaze reveal the next wave of acts confirmed for their 15th anniversary season including Lil Louis, Steffi, Leon Vynehall, Ryan Elliott, Honey Dijon, Palms Trax, Kornel Kovacs, Henry Wu & Nummer.
Having already revealed their dates, venues and a handful of guests DJs for the first half of 2016, Secretsundaze can now announce the next big wave of DJs that will appear at the infamous party series in their 15th year of existence. As always the line-ups include a selection of big hitters, a handful of 'classic' Secretsundaze guests that typify the core sound of the party, and no less than 9 newcomers that will play for the first time keeping things fresh.
Of course there are some special names appearing in 2016 and none less than house music legend and pioneer Lil' Louis. Louis has written and produced some of the most fantastic dance records ever, period. 'French Kiss', 'The Conversation', 'Lonely People' and 'I Called' to name a few. He is first and foremost a DJ of the highest order and anyone that saw him at Secretsundaze in 2012 will testify. He will play in April at the summer opening party at St John in Hackney– a fitting venue and occasion for his long awaited return to London. Another major player set to return will be Ostgut Ton and Panorama Bar resident Steffi. Steffi has carved out a reputation as a formidable DJ that covers many bases within house and techno playing on both floors at Panorama Bar and Berghain and recently contributing to Resident Advisor's 500th Podcast, alongside Dixon, Ben UFO and Omar S – a huge accolade.
Other heavy weights include the UK's Leon Vynehall who played recently on NYD and has continued to grow in stature through fantastic hits like 'It's Just (House of Dupree)', and 'Butterflies'. He will play at the Barcelona party on Sunday 19th June at La Terrrazza. Detroit's Delano Smith also makes a return visit to play at Village Underground on January 30th. His smooth, driving hypnotic sound has taken Europe by storm with regular gigs at Panorama Bar, Fabric and DC10 in the summer time. Last up, Berlin resident Ryan Elliott will headline Village Underground in March and will join Leon Vynehall for the Barcelona party. He is currently working on his debut artist LP for Ostgut Ton which we surely see him rise further as a serious force to be reckoned with. Honey Dijon pops her secretsundaze cherry in 2016. She has been in the game for many years and respected by those in the know, but 2015 was definitely a breakthrough year for her with her DJ skills being noticed by tastemakers including Panorama Bar who booked her 4 times in less than 12 months.
London's Funkineven will make his 3rd appearance at secretsundaze in April at The Laundry with his badass trademark sound that blends funk, techno and acid. His debut LP is due in Spring on his own Apron imprint. French duo Nummer played a killer live set at Secretsundaze's birthday last year and as a result have been invited back. 2015 was a great year for them so stay tuned! The ever reliable Amir Alexander will also make a return with his acid tinged take on the Chicago sound. Wild Oats artist K15 steps up too for his second outing at Secretsundaze with his roots driven sound . Also making a return will be local hero and close friend of Secretsundaze Jane Fitz, a true DJ's DJ and has a great versatility as a DJ.
As ever, Secretsundaze dig deep to bring fresh talent to the party and in 2016 have invited the likes of UK bred, Berlin based Palms Trax who's released on high water mark labels Lobster Theremin and Dekmantel and has a great radio show on Berlin Community Radio. Kornel Kovacs also makes his secretsundaze debut. His playful, bouncy sound has not gone unnoticed with releases on the likes of Studio Barnhaus and Glasgow's Numbers.
Moxie has been doing her thing for many years and is proud of her London roots. Radio has always been the best way to catch her whether it be Rinse, Radio 1 and now NTS but she also plays a killer set in the club. Henry Wu piqued Secretsundaze's attention in 2015 with releases on Floating Points' Eglo and of course Rhythm Section. His sound is a beautiful mix of house, jazz and broken beats and perfectly suits an early set at Secretsundaze. Melbourne born London based artist Francis Inferno Orchestra will also spin in February. He released his debut LP last year 'A New Way of Living' and runs his own imprint Superconscious records.
These new additions join the previously announced K-Hand, Oskar Offermann, Patrice Scott, Shanti Celeste, Esa and more at the 15th anniversary season.
Secretsundaze will of course be playing at every party and maintain a busy tour schedule aside from the London events with the likes Panorama Bar, Robert Johnson, Badaboum, Glastonbury, Found Festival, Hideout, Gottwood on the agenda for the first half of 2016 amongst many more. Of course here in London they have just recently launched their 'Secretsundaze all night long' at The Pickle Factory which sold out in December and goes monthly from February 13th. Please let it be noted that Secretsundaze founders and residents Giles Smith and James Priestley will now be billed as 'Secretsundaze' on all parties when playing together. After many years they are finally working on music together which should see the light of day in 2016 so it seemed a good time to take the plunge. So the scene is set for a special year for Giles Smith and James Priestley's Secretsundaze party and record label of the same name. Secretsundaze still remains one of the most authentic, relevant, consistent and non compromising parties in the capital.
Tickets for all events are on sale via Resident Advisor with the exception of the secretsundaze party during Off Week Barcelona in June. Tickets for this go on sale at 10am on Wednesday 20th January.

COMING UP
Saturday January 30th
Secretsundaze at Village Underground w/ Delano Smith, Oskar Offermann, Secretsundaze
Saturday February 13th
Secretsundaze all night long at The Pickle Factory
Saturday February 26th
Secretsundaze at Village Underground w/ Honey Dijon, Amir Alexander, Francis Inferno Orchestra. Secretsundaze
Saturday March 12th
Secretsundaze all night long at The Pickle Factory
Thursday March 24th
Secretsundaze Easter Party at Village Underground w/ Ryan Elliott, K- Hand, Jane Fitz, Secretsundaze
Saturday April 9th
Secretsundaze all night long at The Pickle Factory
Saturday April 30th
Secretsundaze Summer Opening Party at St John's Church Hackney w/ Lil' Louis, Steffi, Special Guest TBA, Moxie, K15, Esa, Secretsundaze
Saturday May 14th
Secretsundaze all night long at The Pickle Factory
Sunday May 29th
Secretsundaze at Oval Space & The Laundry w/, Special Guests TBA, Funkineven, Patrice Scott, Shanti Celeste, Henry Wu, Secretsundaze
Sunday June 19th
Secretsundaze at La Terrrazza, Barcelona w/ Leon Vynehall, Ryan Elliott & Nummer – live, Secretsundaze
TICKETS
http://www.residentadvisor.net/promoter.aspx?id=22