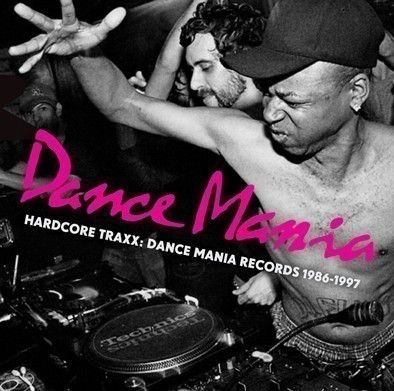 Hardcore Traxx: Dance Mania Records 1986-1997
Strut presents Hardcore Traxx: Dance Mania Records 1986-1997, the first definitive retrospective of one of Chicago's most important and innovative house music labels. Emerging as a raw alternative to the powerhouses of Trax and DJ International during the mid-'80s, Dance Mania continued to represent street-level Chicago club music into the '90s, helping to pioneer the Ghetto House sound.
Hardcore Traxx traces the full story of the label from its heyday. Founded in 1985 and managed by Ray Barney from Barney's Distribution HQ on Ogden Avenue (moving later to West Roosevelt Road), Dance Mania hit the ground running with its second release in '86, the incendiary 'Hardcore Jazz' EP by Duane & Co. Barney quickly became a trustworthy outlet for early house and acid productions by upcoming Chicago artists such as Lil Louis, Marshall Jefferson and Farley Keith aka Farley ³Jackmaster² Funk.
The label set out its stall with a series of landmark Chicago releases including '7 Ways' by Hercules, Li'l Louis' 'The Original Video Clash' and international smash 'House Nation' by Housemaster Boyz. During the '80s, it cemented its reputation for uncompromising club records and DJ Tools with sounds spanning raw garage (Victor Romeo's 'Love Will Find A Way'), acid trax (Robert Armani) and quality house (Da Posse).
Into the '90s, Barney unleashed the groundbreaking 'Hit It From The Back' by Traxmen and Eric Martin, ushering in a primitive new sound around faster, stripped down rhythms and X-rated party-starting lyric lines. Barney remembers, ³Guys used to call in and ask for music on Dance Mania ­ they were saying, 'gimme some of that ghetto stuff'. Dance Mania producer DJ Slugo adds, ³when we made Ghetto HouseŠ we made music for the bitches. Music for the grinding sh*t and all of that.² The sound spawned a whole new swathe of homegrown producers releasing a fast flow of no-compromise dancefloor bangers: Paul Johnson, DJ Deeon, DJ Funk, DJ Milton, Waxmaster and Slugo all became leaders of the scene. The influence of ghetto house became widespread, not least for Daft Punk, whose track 'Teachers' from their 'Homework' album in 1997 was effectively a tribute to Dance Mania.The new wave of productions also paved the way for the later Chicago juke and footwork scene.
Today, with the label back up and running courtesy of Ray Barney and Parris Mitchell, Dance Mania remains a revered Chicago institution across dance music. With 'Hardcore Traxx', Struttraces the history of the label on a definitive compilation for the first time, from the early classics to ghetto house anthems alongside big money rarities and oddities hidden within their substantial catalogue. Available on 2CD / 2LP and digital and produced in association with Dance Mania, the release is compiled by Conor Keeling (DJ behind the popular 'Teachers' Daft Punk influences online mix) with input from Miles Simpson of Ransom Note. Physical formats feature full label history and artist interviews by DJ Chrissy Murderbot alongside rare photos.
CD 1
1. Hercules – '7 Ways' (Vocal)
2. Victor Romeo Feat. Leetrece Brown – 'Love Will Find A Way' (Club)
3. The House Master Boyz And The Rude Boy Of House – 'House Nation'
4. Duane And Co ­ 'J.B. Traxx'
5. Vincent Floyd – 'I Dream You'
6. Da Posse Feat. Martell – 'Searchin' Hard' (Mike Dunn's AC Mix)
7. Club Style – 'Crazy Wild'
8. Strong Souls ­ 'Twinkles'
9. 3.2.6 ­ 'Falling' (Armando's House Mix)
10. Victor Romeo Feat. Cool Dave-O – 'Ride The Ride Rhythm' (Track Edits)
11. Da Posse Feat. Martell – 'Don't Try To Fight It'
12. Rhythm II Rhythm ­ 'A Touch Of Jazz' (Lifestyles Of The Rich Mix)
CD 2
1. DJ Funk – 'House The Groove'
2. Paul Johnson ­ 'Feel My M.F. Bass'
3. DJ Funk ­ 'The Original Video Clash: Video Clash II' (Street Mix)
4. Parris Mitchell Project Feat. Wax Master – 'Ghetto Shout Out!!'
5. DJ Deeon ­ 'Da Bomb'
6. Jammin' The House Gerald – 'Black Women' (Club)
7. Vincent Floyd ­ 'I'm So Deep'
8. Tim Harper ­ 'Toxic Waste' (Club Mix)
9. Robert Armani ­ 'Ambulance'
10. DJ Deeon ­ 'Hypnosis'
11. Traxmen & Eric Martin ­ 'Hit It From The Back'
12. Top Cat ­ 'Work Out'
A Strut Records release out on 2CD / 2LP & Digital Download
http://www.strut-records.com
http://www.dancemaniarecords.com