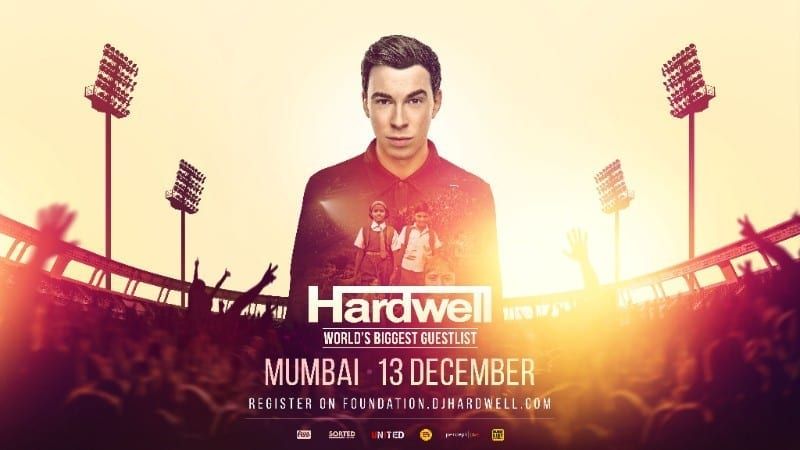 Hardwell's Mumbai Guest List Event reaches 125k registrations
Over 125,000 registrations and counting have been clocked in for the World's Biggest Guest List, featuring World #1 DJ Hardwell. The Dec 13, 2015 event, happening in one of India's largest stadiums, is already one of the most talked about dance music events of the year. The last date for registrations is 30 Sept 2015, so Hardwell and dance music fans that haven't yet logged on to foundation.djhardwell.com and registered, shouldn't hestiate any longer!
The event is completely free for fans, as Hardwell is placing each and every one of them on his own personal guest list. After registrations close at the end of September, 100,000 lucky fans from this list will be given a chance to attend the event with their friends. Bookings will be opened on a pre-determined date, only for a few hours, to those who have registered. Fans will have to battle it out for the-first-come-first-serve spots on the guest list.
With 100,000 fans in the stadium, the event is attempting to set a Guinness World Record for the biggest ever guest list event.
In regards to the huge number of fans already registered for the event, Hardwell has this to say: "India is without doubt one of the hottest countries in the world right now for dance music. No one has more hunger and passion for dance music than Indian crowds."
Shailendra Singh, the Indian Entertainment Maverick hosting this event says, "The Indian fans are just incredible. When Hardwell and Anna Knaup and I came together to make this event a reality, we knew we were on to something special. Dance music is able to unite the world for a cause, and I am just so proud that the fire is starting right here in India."
Log on to foundation.djhardwell.com to register for your chance to be on the guest list, and to find our more about this world record breaking event