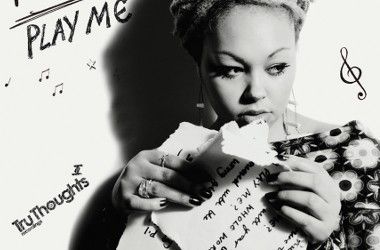 Harleighblu – Play Me
The "Play Me" single follows major early support for an upfront track, "Enough Now", which sneaked out on a vinyl only EP for Record Store Day in April and took on a life of its own. Picked up for airplay on BBC 1Xtra by MistaJam, who also interviewed Harleighblu on air, the fresh soul song sparked an immense listener reaction and went on to be crowned MistaJam's 'Jam Hot' Track of the Week.
Further support has come from BBC Introducing, Don Letts (BBC 6Music), Ras Kwame (Choice FM) and Craig Charles (BBC 6Music), and blogs including Soul Bounce and Afro Punk. A video for "Enough Now", which Harleighblu filmed in her local record shop as a fun promo for RSD, has continued to attract attention, with 15,000+ YouTube hits at last count.
That one upfront track has also led the likes of Shy FX, Eats Everything and 16bit (Chase & Status's MTA Records) to contact Harleighblu, seeking her vocals for future collaborations.
Now, amid great anticipation, comes the first official release from this uniquely talented 21-year-old, in the shape of "Play Me" – a short, sharp and strident hip hop-influenced soul cut, replete with catchy piano and horn riffs, and an unshakable chorus on which Harleighblu wraps her defiant and edgy vocal in beguiling harmonies. The single is accompanied by an entertaining video, set in a grand stately home, to be unveiled soon.
Nottingham resident Harleighblu is possessed of a truly irresistible classic soul voice with an arrestingly rich, charismatic and versatile delivery. Her drive, belief and passion for music have seen her following in the footsteps of the likes of Jake Bugg, Liam Bailey and Natalie Duncan and rising through the ranks of the thriving local grass-roots scene.
Inspired at an early age by the treasure trove of soul, jazz and rare grooves that made up her Mum's beloved record collection, Harleighblu started song-writing at a local recording studio aged just seven, and at 12 started to work with producers. A meeting with Dennis Seaton, of the Grammy nominated Musical Youth, gave her the chance to provide backing vocals for his reunited band; and this inspired her to form her own live outfit and start performing the local circuit. After much song-writing, gigging and various collaborations, at 17 Harleighblu resolved to find the producer with whom she could develop the sound she truly wanted, and that affinity materialised with revered hip hop man Joe Buhdha.
Thanks to numerous gigs and festivals, support slots for acts including Liam Bailey, and early championing from the likes of BBC Introducing and legendary rapper Rodney P (with whom she often collaborates both live and on record), Harleighblu came to the attention of Tru Thoughts A&R Robert Luis, who likens the buzz of discovering Harleighblu to the way he felt on first signing Bonobo, Quantic or Alice Russell. He recalls, " Rodney P tipped me off that Joe was working with an amazing singer. On hearing Harleighblu's voice on the demos, I was very excited… It had the hallmarks of a classic soul album, with the added influences of hip hop and artists like Jill Scott and Erkah Badu, but then filtered through a distinctive singer and songwriter who has this fresh, intense spark."