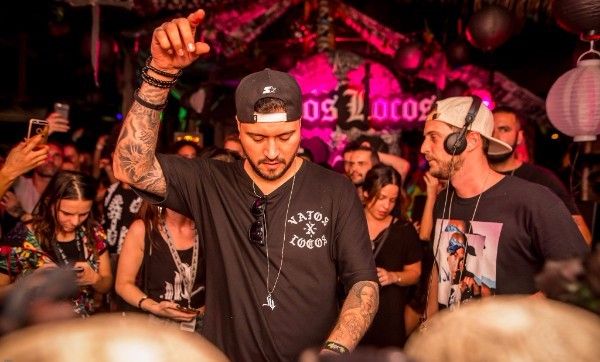 Hector announces Vatos Locos at Ibiza Underground
Hector and the Vatos Locos crew are very proud to announce their residency at one of the islands coolest hangouts, Ibiza Underground.

Underground is a club close to Hector's heart, and after the success of his birthday celebration at the venue last year, it quickly became clear to him that it would be the perfect home for Vatos Locos' debut residency on the island.

In true Underground fashion, eachline up will be revealed in the in the week leading up to the event.
Since launching at The BPM Festival in 2015, Hector's Vatos Locos concept has deservedly gained worldwide credibility. Starting off as a small party with atight knit crew of residents; David Gtronic, Chad Andrew, Randall M, Hanfry Martinez and Javier Carballo, who still remain entwined as part of the musical fabric, to growing and inviting international guests Stacey Pullen, Dubfire, Hito, D'julz, Seb Zito, Cassy, Livio & Roby.

The family continues to extend worldwide, but the foundation remains humble.

Through the rise of Vatos Locos, it still remains important to Hector that he never shy away from the original foundation on which the events were created; to throw good quality parties, with no egos involved. Simply to strip it back to friends coming together and playing records, capturing the true essence of a party.

Vatos Locos. No egos. Just music.

UPCOMING VATOS LOCOS SHOWCASES

28TH JUNE – UNDERGROUND, IBIZA
29TH JUNE – CLUB DERVISIONAERE, BERLIN
9TH JULY – CLASSIC CLUB, RIMINI
12TH JULY – UNDERGROUND, IBIZA
28TH JULY – ESTACION INDIANILLA, MEXICO
9TH AUGUST – CLUB DERVISIONAERE, BERLIN
23RD AUGUST – UNDERGROUND, IBIZA
2ND SEPTEMBER – OUTPUT ROOF, NEW YORK
16TH SEPTEMBER – MDRNTY BOAT, GENOA
17TH SEPTEMBER – BPM FESTIVAL, PORTUGAL
20TH SEPTEMBER – VATOS LOCOS BOAT PARTY, IBIZA
22ND SEPTEMBER – UNDERGROUND, IBIZA (HECTOR'S BDAY)
23RD SEPTEMBER – CLUB DERVISIONAERE, BERLIN
13TH OCTOBER – FABRIC, LONDON