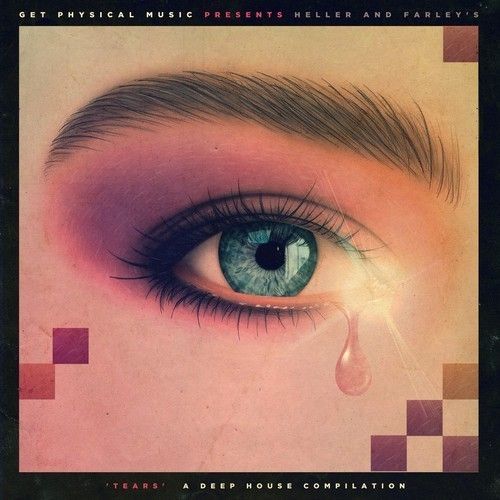 Heller & Farley – Tears
This year marks 12 years of Get Physical Music and to carry on with the consistent churn: 'Get Physical Music Presents: Heller & Farley's 'Tears' – A Deep House compilation.'
Pete Heller and Terry Farley are otherwise known as 'Farley & Heller', 'Heller & Farley Project 'or 'Fire Island'. Your are bound to have heard their well-known track 'Ultra Flava' which was released in 1996 and charted at no. 3 in the US charts and no.22 in the UK.
By himself, Pete Heller is probably best known for his 1999 USA No.1 hit 'Big Love' as well as his 2002 Chemical Brothers remix of 'Star Guitar' which reached No.8 in the UK charts.
On this particular occasion, Heller & Farley weave together a continuous 2 part mix of the finest deep and hybrid House and Techno tracks complete with rolling grooves, warm soulful vibes and smooth dubbed out soundscapes.
Track selection includes artists such as: M.A.N.D.Y., Frankie Knuckles, DJ Pierre, Roach Motel, Motor City Drum Ensemble and many more.
"'Deep House' – alongside 'Brazil' and the 'World Cup', they seem to be the most over-used two words of 2014. What is 'Deep House'? Last year I played in Stockholm alongside a man who should know as he was there at its birth, Tyree Cooper. Tyree warmed up the room spinning mid-tempo, early 80's Disco or, as he put it 'House Music' stating 'it's the music Frankie played before anyone had made a House record'.

Four decades after the Warehouse in Chicago closed, Deep House now means everything from European 120BPM Tech House to UK House that ex-Grime kids now make and of course, 'Trad Deep House' like the American stalwarts still make. What we thought we would do is take what we like that's representing out there. Music that is good for your soul, music that you can still feel during that 8am cab-of-shame drive home.

We have picked some of Get Physical's deep moments and matched them up with some 90's classics like DJ Pierre's seminal 'Jesus On My Mind' and what's considered by many aficionados as THE best Deep House record of that decade – Round Two's 'New Day'. We then dropped in some curveballs such as UK producer Moodymancs 'Paint Black', remixed of course by a godfather of Deep House Larry Heard and Mark E's 'Bog Dance'. Its old school meets future classics. It's Mike Dunn and M.A.N.D.Y.. It's Frankie's 'Tears' and Anja's 'Stay Quiet'. It's HOUSE in all its glory."

– Terry Farley, 2014