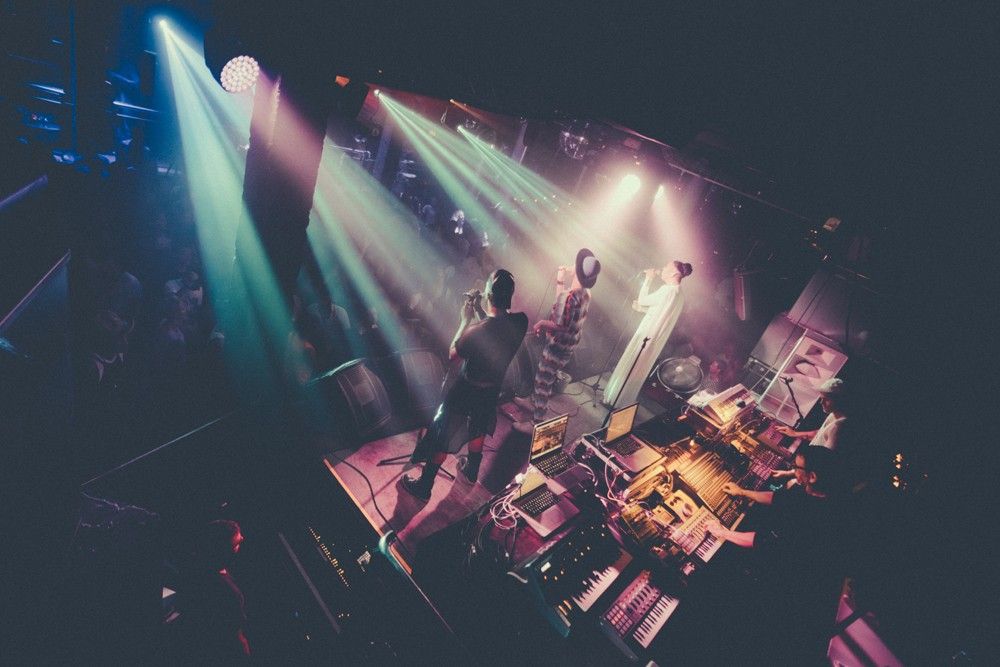 Hercules & Love Affair Live at Glitterbox
This Friday, Hercules & Love Affair make their eagerly awaited live return to Glitterbox's new home at Space, Ibiza. The band's two riotous live performances helped define Glitterbox's first season, and this week's event is clearly marked as one of July's most eagerly awaited shows. Joining Hercules & Love Affair will be Aeroplane, Horse Meat Disco, Simon Dunmore, Luke Solomon, and DJ Antz.
Glitterbox began the summer with an opening party that Ibizan media hailed as one of 2015's best. Three events in, and Glitterbox is where you'll find Ibiza's resident party crowd and international fashion designers sharing the dancefloor with European club kids, whilst the DJs stay on to party long after their own sets have finished. All have come to dance to the likes of Todd Terry, Horse Meat Disco, Joey Negro, Kings Of Tomorrow, Aeroplane, Breakbot, The Revenge, Simon Dunmore, and many more, with performances from club collective 'Savage', representing three East London dance crews Sink The Pink, Hot Heels & Nutbags.
If there's one band that embodies Glitterbox's spirit, and shares its belief in the transformative power of house music, it's Hercules & Love Affair, whose ringmaster Andy Butler cites Glitterbox as "a beautiful foray into creating a party focused on connecting the dots between genre, generations…" With the legendary Space Terrace as the backdrop to their first visit of this season, expect this to be one of the live shows on the island this summer.
Released in 2014, Hercules & Love Affair's third album, Feast of The Broken Heart, captured the band at a new zenith, and showed that meaningful house music can speak to the most musically adept of tastes – a mindset that's very much evident at Glitterbox. Defected Records subsequently signed the acid pop-house masterpiece 'Do You Feel The Same'. Releasing the album track as a full-length DJ-friendly club mix, and with new mixes, it became the undisputed anthem of Glitterbox's first season.

This year, Glitterbox's international hit list of DJs and performers, playing the most beautiful and best-loved sounds across the full hemisphere of house and disco, include Hercules & Love Affair, Todd Terje, Julio Bashmore, Basement Jaxx and Fatboy Slim who'll appear together with a host of Glitterbox residents Joey Negro, Dimitri From Paris, Horse Meat Disco and Simon Dunmore. An extended cast that includes Louie Vega, Tensnake, Breakbot, Todd Terry, Aeroplane, Juan MacLean, The Revenge, David Morales, Kings Of Tomorrow, Claudio Coccoluto, Norman Jay, John Morales, FCL, Tim Deluxe, Lovebirds, DJ Pippi, Smokin' Jo, Heller & Farley, Mousse T, The Shapeshifters, Luke Solomon, Purple Disco Machine, Copyright, DJ Antz, Mr Doris and Mo' Funk, will all make guest appearances over the season.
As shown by the partnership with Space Ibiza (the island's most iconic club with an unparalleled musical history), creative collaboration – and fun – is at Glitterbox's heart. Overseen by Glitterbox Creative Director, Mark Herman, this year brings new creative elements to the event including the artist, TradeMark, who designed the season's artwork, whilst masterminding the performance side, club collective "Savage" will consist of three different dance crews (Sink The Pink, Hot Heels & Nutbags) who will all bring their own unique energy to the night.
Glitterbox will make its London debut on Saturday 25th July at Ministry of Sound, a venue with which it shares analogous roots of inspiration.
Headlining the Box is Cerrone, a French disco drummer, composer, record producer and without doubt one of the most influential European disco producers of all time. Appearing alongside Cerrone is Joey Negro – the master British producer, remixer and DJ who is an integral part of Glitterbox's success – along with Juan MacLean and Smokin Jo, two acclaimed electronic artists.
Defected's founder Simon Dunmore plays 103 with Purple Disco Machine, London-based French DJ and producer The Reflex, and London's Nadia Ksaiba. Whilst Sink The Pink creators, Savage, will bring their lavish dance and performance art collective along for the ride. In the Loft, the For The Love Of House DJs Greg Sawyer and Simon Dawson play classic house all night long. For tickets please see: http://www.ministryofsound.com/events/calendar/club/2015/06/01/15/29/150725-glitterbox#mLJYGhZVYCQEY30I.97
Glitterbox at Space Ibiza – Main Terrace
(Every Friday from 12th June through to 25th September)
23:00 – 06:30
Friday 3rd July
Space Ibiza Terrace
Hercules and Love Affair (Live)
Aeroplane
Horse Meat Disco
Simon Dunmore
Luke Solomon
DJ Antz
SEASON LINE-UP
Hercules & Love Affair (Live) | Todd Terje (Live)
Fatboy Slim | Basement Jaxx | Louie Vega | Julio Bashmore | Dimitri From Paris
Joey Negro | The Magician | Tensnake | Breakbot | Todd Terry
Soul Clap | Horse Meat Disco | Aeroplane | Juan MacLean | The Revenge
David Morales | Kings Of Tomorrow | Claudio Coccoluto | Norman Jay MBE
DJ Spen | John Morales | FCL | Tim Deluxe | Lovebirds | DJ Pippi | Smokin' Jo
Heller & Farley | Mousse T. | Simon Dunmore | The Shapeshifters
Luke Solomon | Ron Basejam | Opolopo | Boris Dlugosch
Purple Disco Machine | Copyright
DJ Antz | Mr Doris | Mo' Funk | Andy Bailey | Andy Baxter | Mambo Brothers
Barbara Tucker (Live PA) | Ultra Nate (Live PA)