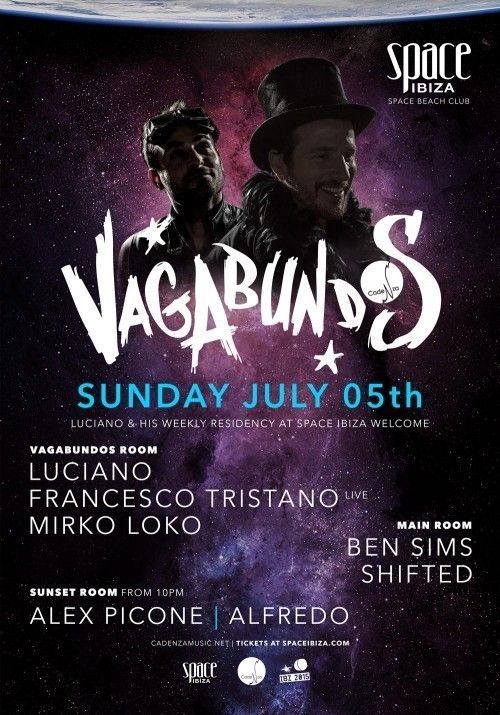 Vagabundos 3rd round lineup release. Weeks 9-12
Vagabundos and Space Ibiza announce the third round of confirmed artists for Sundays 9th, 16th, 23rd and 30th of August.
The warmest month of the year arrives full of great events. Carl Craig will held the third edition of Detroit Love at Space's Terrace on Sunday August 9th, along by Derrick May and Moodyman. On the 23rd, the duo Deep Dish will delight us with one of their three exclusive sets this summer in Ibiza. In addition, we have big names like Erick Morillo, Tiefschwarz, Kenny Glasgow (Art Department) and, of course, the great Luciano, who will be leading the Vagabundos Room throughout the month.
You can buy now your tickets for Vagabundos on Space Ibiza website.
AUGUST 09.08.2015
Sunset Room
Lino Pugliese b2b gAs
Chica Paula
Terrace
Carl Craig
Derrick May
Moodyman
Vagabundos Room
Ezikiel
Stacey Pullen
Luciano
AUGUST 16.08.2015
Sunset Room
Evan Baggs
Francesco del Garda
E/Tape
Terrace
Dj Ralf
Ilario Alicante
Da Vid b2b Asal
Vagabundos Room
Michel Cleis
Livio&Roby
Luciano
AUGUST 23.08.2015
Sunset Room
Alexandra b2b Barac
Terrace
Deep Dish
Erick Morillo
Vagabundos Room
Felipe Valenzuela b2b Dani Casarano
Franco Cinelli
Luciano
AUGUST 30.08.2015
Sunset Room
Valentino Kanzyani (All Night long)
Terrace
Tiefschwarz
Mathias Kaden
Marco Ressman
La Fleur
Vagabundos Room
Argy
Kenny Glasgow (Art Department)
Luciano