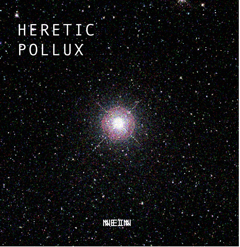 HERETIC - HERETIC – Pollux
Heretic is the solo project of Timothy Clerkin, one half of the London-based producer and DJ duo Eskimo Twins. Having spent years DJ-ing all over Europe and releasing on infamous labels such as Clouded Visions, La Dame Noir and Throne Of Blood, Tim decided that the time had come to put out some noisier material inspired by his childhood heroes, such as My Bloody Valentine and Aphex Twin, whilst always maintaining a focus on the dance floor. His first release under the new moniker, Heretic, saw the release of Geodesic which was released on Days Of Being Wild, the EP garnered the attentions of Erol Alkan, Chloe and Andrew Weatherall. Follow up releases included A Curse and 44 Squadron EPs, and the last track Insurrection featured Justine on the latest compilation for Relish.

Heretic's latest offering is the single Pollux which is an icy spaced out ride through the cosmos, nagging bells and warped synths, whilst a dark mysterious voice asks "don't you think it's too late?" the track then spirals into hyper drive. The remixes come from DJ royalty, the great and the good, including the duo from A Love From Outer Space: Andrew Weatherall and Sean Johnston. Mr Weatherall or the Guvnor as he is affectionately known, provides two mixes, the first one is a deep dark brooding electronic beast, which teases the icy vibe of the original. His Japanese import mix takes the track to an unknown spaced out territory using guitars and dark pads. Whilst ALFOS partner Sean Johnston aka Hardway Bros harks back to New Beat, fusing schlock film samples, with a hard Teutonic beat and synth stabs, taking you back to the 80s hey days of Belgium. Next up horror disco and techno don Antoni Maiovvi pumps up the track to a 3am laser and smoke vibe, dropping across smarter dance floors the world over. Finally Front De Cadeaux slows down the track adding their own hypnotic feel, forcing the groove out and into deep space.

Pollux is released on two vinyl formats 12" and 10" as well as digital (except Andrew Weatherall's Japanese mix which will be 12" only) out 15th July on Nein Records.