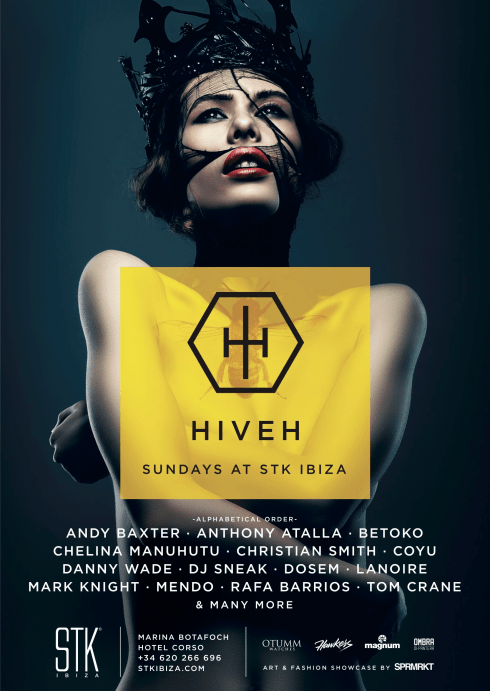 HIVEH presents BETOKO and DOSEM sunday July 17th at STK Ibiza
After the big success of the first edition that took place last Sunday at STK Ibiza which left us some memorable sessions of Chelina Manuhutu and Coyu (download images link : https://we.tl/Ek7LDHnglP )
HIVEH presents its second event on July 17th from midnight and on this occasion the soundtrack will be by the amazing Dj's and producers Betoko and DOSEM.
Betoko is the artistic name of Beto Cohen was born in Mexico, 1976, the son of actress and singer Malu Galan, he was destined to be involved in a creative environment. He started to play guitar and Drums in bands from the age of 12 and by the time he was 20 he had set up his own studio, production company and a modelling agency in Guadalajara, Mexico. In 2002 moves to London in pursuit of greater challenges as he discovers his passion for electronic sounds. A slave to his passions has led to Betoko possessing an ingenious musical mind that has commanded him to be at the centre of the international music fist. Along with a place on the list amongst other esteemed DJ's on Mar-t's (Amnesia Ibiza) label, Wow! Records, his solid productions demonstrate his distinctive style & approach. Described as Tech, minimal, House, the lengthy production catalog Betoko holds up against his name has seen the releases championed & play listed by DJ's M.A.N.D.Y, Gregor Tresher, Martinez, Steve Lawler, Dubfire, Sven Vath and Marco Carola, to name a few and his tracks have been featured on TV Series like CSI, several Advertising Campaigns and Madonna's Sticky N Sweet Tour and CD / DVD. Betoko's embellishment of his music personality gets deeper; now head honcho of his own label, OKO Recordings, he is part of the pioneering evolution of electronic magic adding high quality releases to the worlds track list, supported by some of the globes most highly regarded DJ's.
Marc Dosem is one of the biggest emerging figures that the Spanish electronic music stage has launched. Born in Girona (Catalonia), his artistic talents and unlimited potential, made his way quickly beyond the borders of his home land. Dosem, signed in 2008 an exclusive contract with the label SINO (Hong Kong), one of the iconic record labels in the international techno community, which previously revealed key figures of the electronic music scene, in the name of Joris Voorn Starting in SINO with the announced club hit 'Silent Drop' (2009) and with the re-launch of his already classic 'Beach Kisses' (Neue Larmklassiker 2008 and Green 2009) the young musician signs his first two worldwide hits. In 2011 Dosem releases "Parallel", his debut album and "Origin" EP on Christian Smith's label TRONIC. Both releases go straight to the Top lists with massive support from many different genre Djs and Magazine awards.
An unstoppable rising music career, which made his name appear on all the party and club line-ups around the world, where he gives totally hot live performances, a countdown bomb that will never explode unexpectedly but always right on time: Techno, House, Electro… everything that he fancies are just tools for him to build and create basic pieces in his crossover music, which make up his own and unmistakable warm melody, and taken to the stage with his irresistible sets to any clubber that want to dance away with the music and to experience a futuristic voyage full of light and energy.
Hiveh is a project where DJs, producers, artists and designers introduce their art, the positive side of modern life and exalt the incredible art movements that have arisen within their frenzied hives.
Electronic music is one of the most important art movements that have emerged from the turmoil. Therefore the project HiveH is pure electronic sound based on Techno & Tech House with the participation of major international artists such as Mark Knight, DJ Sneak Betoko, Christian Smith, Chelina Manuhutu, Coyu, Dosem, Mendo and many others.
Urban art, fashion and design inspire the hive due to the participation of the iconic SPRMRKT shop based in Amsterdam and Ibiza. It is responsible for the Fashion Showcase where avant-garde staging limit leads to body language models who wear the new collections of Rick Owens, Julius-7, 11 by BBS, Marques Almeida, Y Project among others.
HIVEH takes place in STK Ibiza every Sunday from July 10h till September 25th and is supported by Hawkers Sunglasses, Otumm watches and Magnum Bookings.