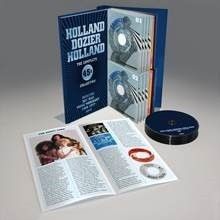 HOLLAND-DOZIER-HOLLAND – THE COMPLETE 45'S COLLECTION
2014 marks the 45th anniversary of Detroit based soul labels Invictus, Hot Wax and Music Merchant – the three record labels established by legendary songwriting team Edward Holland, Jr. Brian Holland and Lamont Dozier a.k.a Holland-Dozier-Holland, following their acrimonious split from Berry Gordy's Motown empire in 1967.
To celebrate the anniversary, Harmless Records are proud to announce the release of 'Holland-Dozier-Holland: The Complete 45's Collection', a 14 x CD compendium featuring every single 45 release – both A and B sides – from the discographies of the three celebrated labels. With 157 singles and 269 original recordings, the release is the most comprehensive catalogue project ever undertaken on this important part of soul music history.
Released 26th May, Harmless have scoured the world for many of the legendary unreleased singles and a number of extremely rare acetates now residing in private collections including recordings by the Chairmen of the Board, Eloise Laws, Honey Cone, the Barrino Brothers, the Jones Girls and 100 Proof Aged In Soul. Master mixer Tom Moulton also lends a hand with three previously unreleased remixes of Chairmen of the Board's 'Give Me Just A Little More Time' and 'You've Got Me Dangling on a String' plus Freda Payne's 'Unhooked Generation'.
In addition, a 60 page accompanying booklet written by top compiler and DJ, Dean Rudland which include rare artifacts and memorabilia from the label's archives and an exclusive download card featuring instrumental mixes of the three aforementioned tracks, make 'Holland-Dozier-Holland: The Complete 45's Collection', the definitive assemblage of the Holland-Dozier-Holland catalogue.
During their tenure at Motown from 1962 to 1967, H-D-H were responsible for arranging, writing and producing many of the songs that gave the label its sound and their work fuelled the rise of Motown Records as a dominant musical powerhouse with the 45rpm record the fulcrum of the operation. After leaving the label in 1967 they established the Invictus, Hot Wax and Music Merchant labels which continued the trio's golden touch with international hits for the likes of Freda Payne, Chairmen of the Board , Honey Cone and Laura Lee among many others.
In 2003, the dynamic trio were honoured as BMI Icons at the 51st BMI Pop Awards. Longtime BMI songwriters, Brian Holland affiliated with the performing rights organization in 1960, followed by Lamont Dozier in 1961 and Eddie Holland in 1963. They have won many BMI Awards, including BMI Pop Awards. The trio were also inducted into the Songwriters Hall of Fame in 1988 and the Rock and Roll Hall of Fame in 1990 and by popular vote, inducted into the Soul Music Hall of Fame in 2012. Holland-Dozier-Holland will be receiving a star on the Hollywood Walk Of Fame this summer 2014.