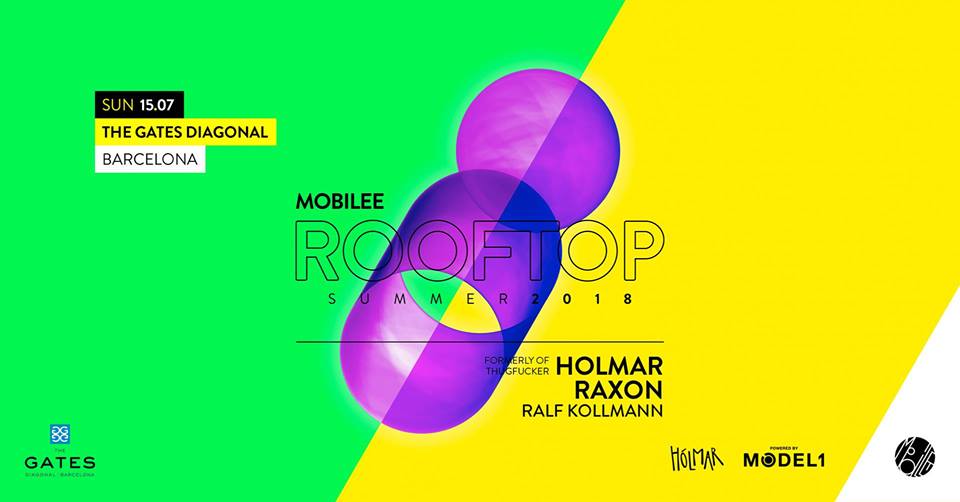 Holmar and Raxon, Mobilee's rooftop saga continues…
Mobilee maintains immersed in the development of the new season of its Rooftop serie events at the hotel The Gates Diagonal in Barcelona.
On Sunday 15th of July the headliners at The Gates Diagonal will be the eclectic artist from Iceland Homar and the Egyptian settled in Barcelona Raxon, who will be accompanied by Ralf Kollmann.
Mobilee Records has temporarily left its home in Berlin to put the center of action in Barcelona with the new season of its Rooftop event series. The kick-start took place on 29th of April with Patrice Bäumel and since then Mobilee has dominated the city´s sky from its privileged location on the rooftop of the recently remodeled hotel The Gates Diagonal.
In fact, taking into account the huge success gained by the label with this serie of events so far, highlighting especially its participation in the Off Week´s schedulewith two parties, one on Thursday 14th with Rodriguez Jr. & Friends, Liset Alea, Steve Bug and Gheist and the other on Saturday 16th with DOP, Tim Green and Timo Maas, and that its closing party is not scheduled until the 8th of October, there is no doubt that we are in light of one of its best seasons in Barcelona.
On Sunday 15th of July the next event, this time with Holmar and Raxon as its guests. Holmar, native from Iceland, discovered his passion for electronic music when his career in swimming ended prematurely due to an injury and since then the list of projects in which he has taken part is endless. Gaining international success with the DJ project Thugfucker he established as one of the leading artist developing a new electronic movement at places like Burning Man, BPM festival an many boutique festivals around the world. Currently he is immersed in the launch of his solo career and makes it way from desert, islands, beaches and New York skyline to our beloved rooftop. The Egyptian Raxon, on his behalf, is one of the most respected electronic music artists in the Middle East thanks to a very characteristic and personal sound and style. A unique combination of House & Techno equipped with a big internal strength that has also captivated the European audience. Settled in Barcelona for a while now, he has seen how labels such as Ellum, Diynamic, Noir Music and Tronic release his productions and how clubs and festivals such as Watergate, Pachá Ibiza, Off Sonar, ADE, BPM and DGTL all include him on their line-ups.
On Sunday 15th of July The Gates Diagonal´ rooftop will be witness once again of the best international electronic music thanks to Mobilee.
Tickets for all Sumer dates at The Gates Diagonal Barcelona available on RA, Xceed and Off Ticket:
RA: https://www.residentadvisor.net/club.aspx?id=4012
XCEED: https://xceed.me/tickets-club/barcelona/the-gates-diagonal-barcelona
OFF TICKETS: https://myoffticket.com/event/mobilee-rooftop-w-holmar-and-raxon/
Event 15th July: https://www.facebook.com/events/206315086648778/
Event 12th August: https://www.facebook.com/events/194772121351757/