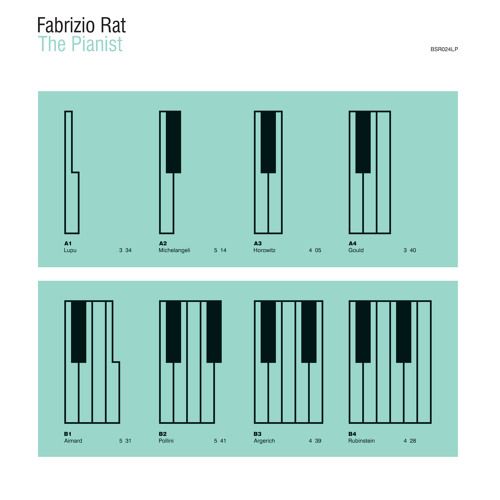 Fabrizio Rat - Horowitz
Following the release of two EPs 'La Machina' [Optimo] and 'Technopiano' [Involve], Turin-born, Paris-based classically trained electronic producer Fabrizio Rat is set to release his first album of hybrid, atmospheric techno on 30th June via Blackstrobe Records. 'The Pianist' exhibits a strange collision of worlds through the use of Fabrizio's prepared piano, TB-303 and the TR-909.
Throughout his apprentice years at the classical musical academy in Turin, Fabrizio worked as a producer in dance music studios at the same time, hiding his 'double life' to both the professors and the DJs. These two lives finally meet on The Pianist, enabling Fabrizio's imagination and ability as a musician and producer to run wild.
The Pianist presents itself as an 8 track sonic exploration through techno and piano music. While at first the two ideas might seem incongruous, Fabrizio Rat demonstrates his exceptional world-crafting ability by combining these two elements to great effect. Ceaseless kickdrums, writhing 303 baselines and the dark urgency of the piano combine to create a cataclysmic and at times beautiful record; Jeff Mills levels of controlled chaos meet with Hauschka's decadent imagery to birth a record that warps and contorts our current definition of techno and all that precedes it.
Tracks like 'Aimard' and 'Pollini' act as rhythmic cuts of surging techno, however it's the overlaid prepared piano that give the tracks their truly indescribable and chilling quality. The momentum and fierceness of each dance cut could be likened to the productions of Randomer and DVS1. 'Gould' and 'Rubinstein' fall more in line with the work of other contemporary classical and experimental artists such as Francesco Tristano and Nils Frahm. However, the haunting and often chaotic elements of the album can be identified as some of Fabrizio's own signature motifs.
The Pianist is a truly original offering showcasing Fabrizio Rat's unique ability to weave together two distinct and often opposing styles into a powerful body of work. The prepared piano works in a more percussive direction, transforming the pitch, intensity and resonance of each note. This is only accentuated against the backdrop of the 303 and 909, both of which are seriously put to work.