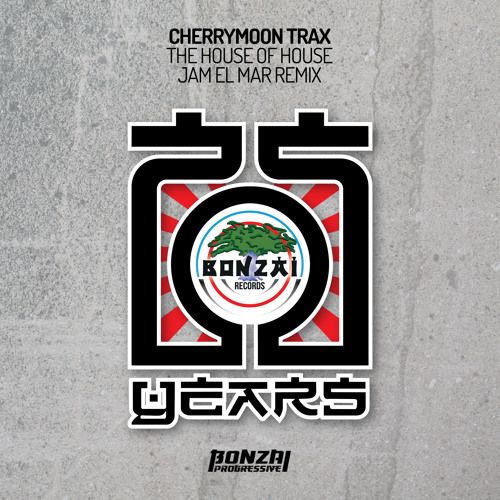 Cherrymoon Trax - House Of House – Jam El Mar Remix
2017 marks a milestone year for us at Bonzai, we're 25! To mark this momentous occasion we've got some amazing surprises that are coming your way over the next 12 months. We kick off the celebrations with a tantalising remix of an absolute classic from an absolute legend, Jam El Mar goes to work on one of Bonzai's most famous releases – 'The House Of House' by Cherrymoon Trax. First released in 1994 on Bonzai Records – catalogue number for the trainspotters is BR 94054 – THOH fuelled the beginning of a new wave of harder edged sounds and tracks that build and build with epic climaxes. Cherrymoon Trax were a veritable who's who in the Belgian electronic music scene, borne out of the phenomena that was New Beat, a collection of artists including Bjorn Wendelen, David Brants, Eddy Weyns, Franky Kloeck, Ilya Depuydt, Kris Vanderheyden, Nico Deleu, Pascal Quatretemps, Peter Schiettekatte, Philip Dirix, Youri De Pauw, Yves Deruyter got together and the rest is history. Although the group members have changed over the years the legacy remains. While all this was going on, Jam El Mar aka Rolf Ellmer – alongside his long time friend and studio partner, the late great Mark Spoon aka Markus Lˆffel, were taking electronic music to new heights as Jam & Spoon with the likes of 'Follow Me' and Stella among many others. So we just knew that he was the perfect candidate to get this party started in style. Keep an eye out for more info as each month we will have a new classic remixed by the cream of the electronic music crop.
The remix delivers a solid techno fuelled ride filled with nostalgia and a burning dancefloor agenda. We're taken deep with this one and from the intro we're locked on. A steady pulsing bass note and percussion hit combo trails a fading in 'the house of house' vocal. A hypnotic synth pluck comes in before the monster kicks take hold with a powerful bass landing on the beat. The classic synths that we all know join in and, while slowed down still carry the same obsessive, infectious groove that digs deep into your soul. After an intense build up we find ourselves completely spaced out as those synths work their magic. A superb tribute to a much-loved classic that will keep the legacy stronger than ever.
Available on Beatport
https://www.beatport.com/release/the-house-of-house-jam-el-mar-remix/1914946
Jam El Mar Online
http://www.jam-el-mar.com
https://www.facebook.com/jamelmarmusic
https://soundcloud.com/jam_el_mar
Bonzai Progressive Online
http://www.bonzaiprogressive.com
https://www.facebook.com/bonzaiprogressive
https://soundcloud.com/marnikbonzai
https://www.youtube.com/user/bonzaiprogressive