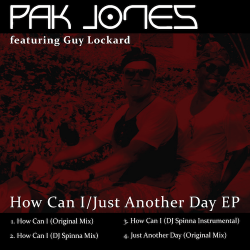 Pak Jones feat. Guy Lockard - How Can I / Just Another Day EP (Ft. DJ Spinna Remix)
Bali resident Martin East joins forces once again with his regular South African cohort, Keys Snow, delivering a new EP full of deep and afrocentric songs, giving us a taste of the great things to come ahead of their forthcoming debut album release. Enlisting the vocals of Brooklyn vocalist Guy Lockard (who just happened to be holidaying in Bali at the time), together they wrote the alluring 'How Can I', beautifully composed with haunting synths laid over a deep afro groove and topped with a powerful heartfelt vocal performance. Adding his Brookyln magic to release, DJ Spinna lightens the vibe with a bubbling bass groove that dances with airy keys and offers up a sublime solo. Also on the package the guys remake the Jon Secada pop classic 'Just Another Day', delivering a Deep Afro groove laced with Latin guitar styling from Shakira's lead guitarist Grecco.
Pak Jones is a coming together of two long time collaborators, Martin East and Keys Snow Mabotha. After many years of remixes and releases for Kapa Music and beyond, Snow and Martin have now ventured on to making a full length album project written recorded and produced in Bali Indonesia. Martin East – longtime Los Angeles DJ resident and co-owner of Kapa Music met Snow while touring in South Africa in 2009 and there began a friendship and a coming together towards a common purpose that has now manifested in their joint music venture on the new Pak Jones EP and forthcoming album. Brooklyn singer/actor Guy Lockard is a former recording artist for Rough Riders, this is his first adventure into House. He is also a TV actor in US on shows including the famous series Law and Order.
Track Listing
1 How Can I (Original)
2 How can I (DJ Spinna Remix)
3 How Can I (DJ Spinna Remix Instrumental)
4 Just Another Day
'How Can I / Just Another Day' will be released on March 14th 2016 on Kapa Music.