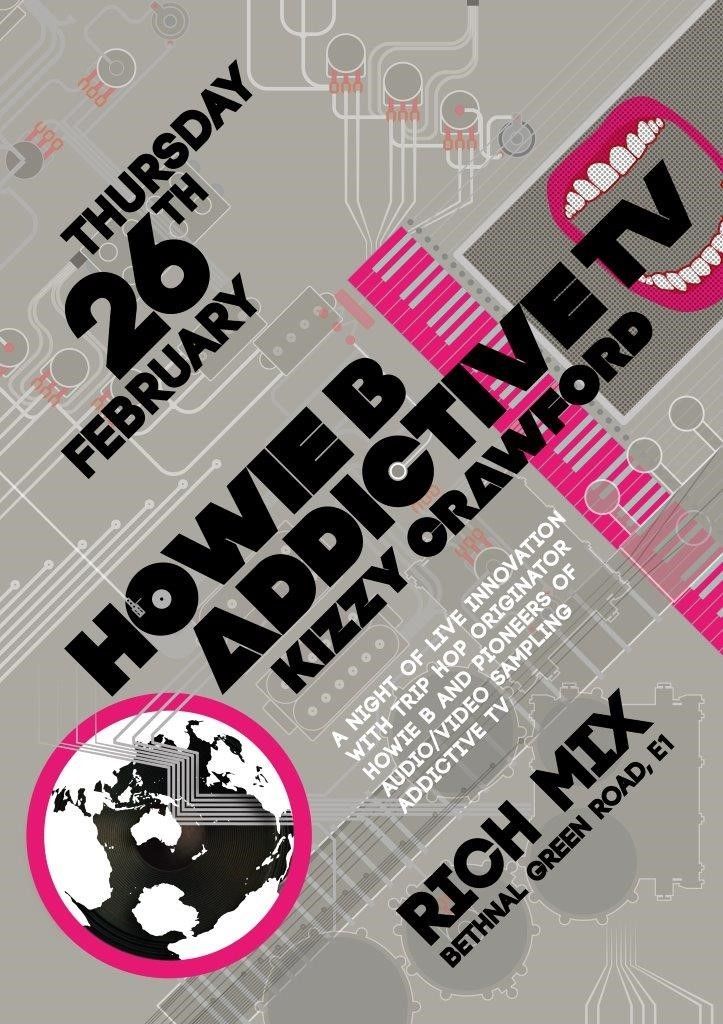 Howie B + Addictive TV
East London's cross-arts centre Rich Mix is pleased to announce they will play host to a special musical showcase on 26th February. The rare event will feature a line up that includes the legendary producer and DJ Howie B performing live, the innovative Addictive TV, and support from rising star Kizzy Crawford.
Howie B has been one of the most influential figures in electronic music for two decades. Often credited as one of the inventors of trip-hop, he has collaborated with Soul II Soul, Björk, and Brian Eno, produced the likes of U2, Tricky, Sly & Robbie, and remixed everyone from Jeff Beck to Steve Reich. Now past his 25th year in the music business, this is a particularly rare opportunity to see the man in action, playing a unique, fully improvised live set.
The first artists sanctioned by Hollywood to remix movies, Addictive TV have twice topped DJ Mag's annual visual DJ poll. The producer/remixers have been at the forefront of the audiovisual scene for well over a decade, having taken their amazing live show to over 50 countries around the world, and for their special show on the 26th they will be presenting their new, ever-growing 'Orchestra of Samples' project.
Over the past five years, the British duo have filmed recording sessions with over 150 musicians around the world, sampling each to create what The Times describe as an 'ingenious and compelling' show. For the first time, 'Orchestra of Samples' will be performed with live accompaniment from the Beatbox Collective's Bass6, fiddle player and BBC Young Musician of the Year Shona Mooney and sitarist Baluji Shrivastav.
Support comes from Welsh wunderkind Kizzy Crawford, named as one of twelve BBC Wales' 'Horizons acts for 2015'. At only 16, the singer-songwriter won the 2012 'Arts Connect Original Singer-Songwriter' prize and released the critically lauded 'Starling' EP the following year. Brimming with talent, she creates a wonderfully innovative, sweet blend of jazz, soul and folk with the kind of high watermark song craft to rival Joan Armatrading or John Martyn.
As East London's premier cinema & arts centre, with a reputation of welcoming brave projects and embracing experimental and boundary-pushing art, Rich Mix is the perfect home for this extraordinary audio-visual event.
A unique opportunity to see three extremely innovative acts revel in a stunning space, 26th February at Rich Mix is certainly a night not to be missed.