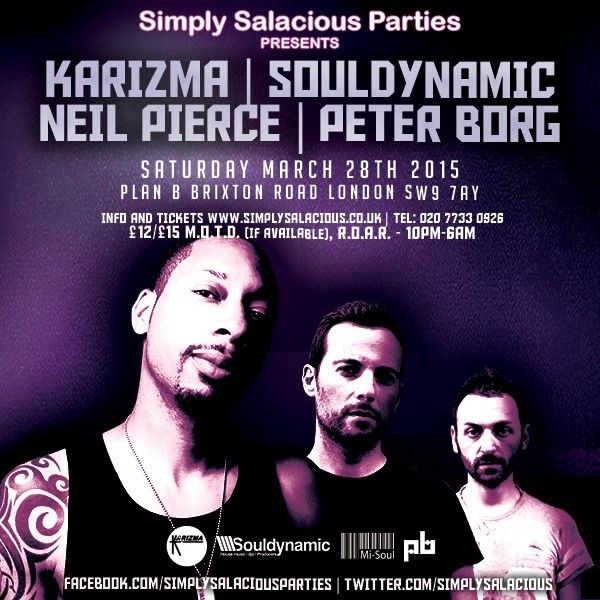 Simply Salacious Parties PRESENTS KARIZMA AND SOULDYNAMIC
After their amazing parties at Plan B in 2014 with the likes of Tony Humphries, Exist and Lisa Millet performing to packed out crowds and celebrating their 10th anniversary of putting on some of the most talked about parties in London, the Simply Salacious Party People return to Plan B with a series of parties for 2015.
Their first party is a birthday celebration for Simply Salacious promoter Peter Borg.
For this special event they are flying in Basement Boys legend, Karizma from Baltimore USA, Souldynamic fly in from Italy and
London's very own house music hero Neil Pierce makes a welcome return, as well as a special set from Peter Borg to complete this spectacular line up.
Early arrival is suggested. Be a part of this party and not one of those who hear just how great it was.
The history of Simply Salacious Parties
Simply Salacious Parties began life in 2004 after promoter Peter Borg threw himself a birthday party. The party was such a success that he recognised a niche in the market and created a space for like-minded people to come together under the shelter of uplifting house music.
This is still the ethos today and a formula that has been honed to guarantee a great night for all attendees and is the secret of its 10 year success! The music policy has always focused on the underground sound of house music and has always leaned towards the happier, uplifting sound – All you have to do is witness a party in to see the smiles from the dancers…

To date Simply Salacious have hosted some of the most talked about parties in London at venues such as Ministry Of Sound, Hidden, Factory, CC Club, Cafe de Paris, The Whitehouse, Babalou, Area and Cherry Jam, and many others.
These parties have included fantastic international guests such as Tony Humphries ,Karizma, Atjazz, DJ Romain, Alfred Azzetto, Frankie Cee and DJ Disciple.

Venue: Plan B 418 Brixton Rd, London SW9 7AY. Tel 020 7733 0926
Saturday 28th March 2015
Dress to dance | Doors 10pm – 6am Last entry 2am | Photo ID required
Information http://www.simplysalacious.co.uk