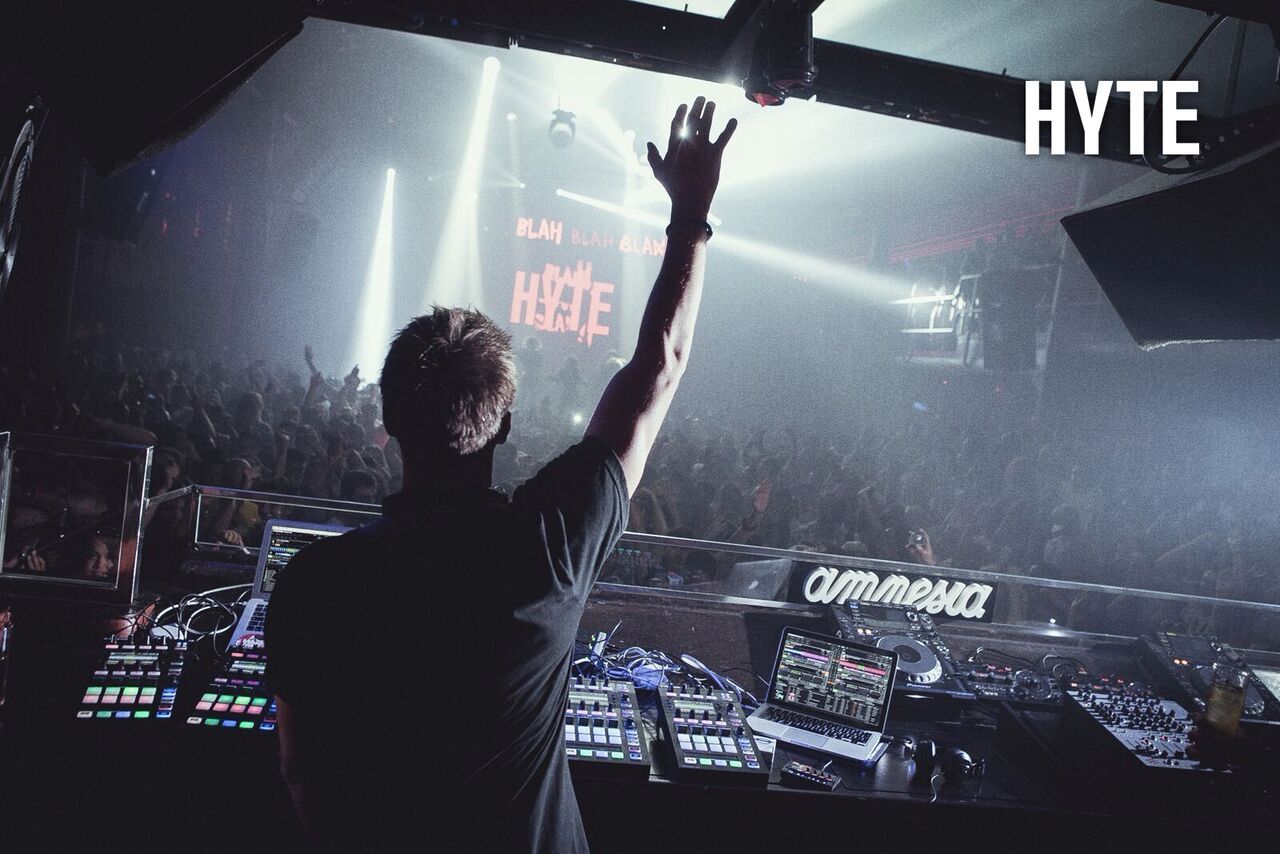 HYTE reveal full details for ibiza 2016 including after-hours
Following its debut in 2015, global event series HYTE returns to Wednesdays at one of the world's greatest clubs, Amnesia Ibiza.

Season Residents: Loco Dice, Pan-Pot, Chris Liebing, Henrik Schwarz, Enzo Siragusa, Cuartero, Caleb Calloway, Mar-T
Pre-Opening Party June 1st
Opening Party June 29th
Closing Party October 5th
Full Season Line Up and Listings Below

Fresh from announcing brand new summer events in NYC and Croatia, global party organisers HYTE reveal the full extent of their Ibiza plans for 2016, firmly cementing their Wednesday night spot with 15 consecutive events from June 29th through to October 5th.
Following up from the massive Pre-Opening party on June 1st, the official season Opening sees residents Loco Dice, Chris Liebing, Pan-Pot, Cuartero and Mar-T back together under one roof, this time joined by Detroit legend Robert Hood as Floorplan and Rotterdam's finest Benny Rodrigues.
Henrik Schwarz also joins the ranks as season resident, with numerous live appearances as well as an appearance as Schwarzmann, the live collaboration with Âme's Frank Wiedemann. More special guest appearances throughout the season come from Dubfire, Maya Jane Coles, DJ Harvey, Len Faki and a 2016 Ibiza exclusive from Caribou (LIVE).
On top of the 16 Wednesday nights, HYTE has announced that it will also be heading to the Ibiza hills for five massive after hour events at the outdoor/indoor Cova Santa, for when the party is anything but over.
As well as teaming up with London party giants FUSE for five showcases throughout the season, on August 3rd Italy's clubbing institution Il Muretto takes over the main room for a mighty techno lineup.
With their unwavering philosophy of YES TO ALL, HYTE says: 'Yes, to every country, race and age that come together under one roof. Yes to the artists pushing boundaries, exploring the unknown and redefining genres. Yes, to every style of music that pulses through our veins, and yes to the sounds of the future which we define together in these moments to come'.

FULL LINEUP A-Z:
ARCHIE HAMILTON . BAMBOUNOU . BENNY RODRIGUES . CALEB CALLOWAY . CARIBOU LIVE . CHRIS LIEBING . CUARTERO . CUKY . DAN FARSERELLI . DEWALTA . DJ HARVEY . DUBFIRE . ENZO SIRAGUSA . FERRO . GIANLUCA MARCATI . GREGOR TRESHER LIVE . GUTI LIVE . HENRIK SCHWARZ LIVE . JOHN TALABOT . KENNY DOPE . LEN FAKI . LOCO DICE . LUCA DONZELLI . LUIGI MADONNA . MAR-T . MAYA JANE COLES . MIKE SHANNON (DEWALTA & SHANNON LIVE). MOLLY . PAN-POT . PREMIESKU LIVE . RADIO SLAVE . RICH NxT . ROBERT DIETZ . ROBERT HOOD AS FLOORPLAN . ROSSKO . SCHWARZMANN LIVE (HENRIK SCHWARZ & ÂME) . SEB ZITO . TOBI NEUMANN . VALENTINO KANZYANI . WHO . YAYA

LISTINGS
01/06/2016
Terrace
Loco Dice
Henrik Schwarz
Cuartero x Mar-T
Club
Chris Liebing
Pan-Pot
Caleb Calloway
(+ afterhours at Cova Santa)
29/06/2016
Terrace
Loco Dice
Robert Hood as Floorplan
Benny Rodrigues
Club
Pan-Pot
Cuartero x Mar-T
Special opening set: Chris Liebing
06/07/2016
Terrace:
Loco Dice
Guti live
DeWalta
Club:
Chris Liebing
Pan-Pot
Gregor Tresher live
Mar-T x Luca Donzelli
13/07/2016
Terrace:
Loco Dice
Pan-Pot
Henrik Schwarz live
Club by FUSE:
Enzo Siragusa
DeWalta
Seb Zito x Rich NxT
Rossko x Archie Hamilton
20/07/2016
Terrace:
Loco Dice
John Talabot
Special guest: Caribou LIVE
Club:
Chris Liebing
Robert Hood as Floorplan
Tobi Neumann
27/07/2016
Terrace:
Loco Dice
Chris Liebing
Bambounou
Club by FUSE:
Enzo Siragusa x DeWalta
Guti live
Valentino Kanzyani
Seb Zito x Rossko
(+ afterhours at Cova Santa)
03/08/2016
Pan-Pot (all night long)
Club by Il Muretto:
Chris Liebing
Len Faki
Luigi Madonna
Gianluca Marcati
(+ afterhours at Cova Santa)
10/08/2016
Terrace:
Loco Dice
Yaya
Caleb Calloway
Special guest: Maya Jane Coles
Club:
Chris Liebing
DJ Harvey
Benny Rodrigues
(+ afterhours at Cova Santa)
17/08/2016
Terrace by FUSE:
Enzo Siragusa x Seb Zito x Rossko
Molly
Special guest: Loco Dice
Club:
Pan-Pot
Cuartero x Mar-T
Luca Donzelli
Special opening set: Chris Liebing
(+ afterhours at Cova Santa)
24/08/2016
Terrace:
Loco Dice
Premiesku live
Tobi Neumann x DeWalta
Club:
Chris Liebing
Henrik Schwarz live
Radio Slave
31/08/2016
Terrace:
Loco Dice
Kenny Dope
Enzo Siragusa
Club:
Chris Liebing
Pan-Pot
Mar-T
07/09/2016
Terrace:
Pan-Pot
Schwarzmann live (Henrik Schwarz x Frank Wiedemann of Âme)
DeWalta
Club:
Chris Liebing
Cuartero
DeWalta & Shannon live
14/09/2016
Terrace:
Loco Dice
Robert Dietz
DeWalta
Club by FUSE:
Enzo Siragusa x Valentino Kanzyani
Premiesku live
Seb Zito x Ferro
21/09/2016
Terrace:
Loco Dice x Kenny Dope (all night long)
Club:
Chris Liebing
Pan-Pot
Cuartero x Mar-T
28/09/2016
Terrace:
Dubfire x Chris Liebing
Pan-Pot
Caleb Calloway
Club by FUSE (closing):
Enzo Siragusa x Seb Zito
Rossko x Archie Hamilton
Rich NxT x Dan Farserelli
(+ afterhours at Cova Santa)
05/10/2016 closing
Terrace:
Loco Dice
Enzo Siragusa
Caleb Calloway
Special Guest TBA
Club:
Chris Liebing
Pan-Pot
Cuartero x Mar-T
Who