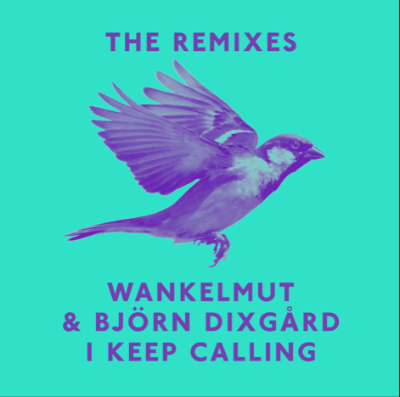 Wankelmut, Björn Dixgård - I Keep Calling
Dynamic German producer Wankelmut has delivered the remix package for his latest single titled 'I Keep Calling' featuring the vocals of Swedish musician Björn Dixgård. The percussive production, laced with a rhythmic beat, showcases Wankelmut's highly polished production skills with melodic chords layered under the gruff vocals of Mando Diao frontman, Dixgård.
Spinning their own interpretation of the original, Pepper Jam head honcho Boris Dlugosch, and Cassara, team up to lace their remix with electro synths and dark basslines which give the track a much more club-ready vibe, whilst Swiss pair Fat Sushi's reworking focuses on a deeper feel, with a rumbling build and silky hook. Also featuring Wankelmut's dancefloor destroying club mix, and a special dub mix of the original, the package offers something for all realms of the dance spectrum.
With his remix of Asaf Avidan's 'Reckoning Song/One Day' hitting the #1 spot in the Single Charts of 8 different countries, and garnering 194 million Youtube plays, Wankelmut (aka Jacob Dilssner) shot to prominence in 2014 when MK's rework of his single, 'My Head Is A Jungle' (feat. Emma Louise) launched itself into the Top #5 of the UK Singles Chart, amassing almost 50 million Spotify streams to date.
The track became an instant summer anthem, with Wankelmut invited to curate his Radio 1 Essential Mix, receiving heavy support from BBC Radio 1 tastemakers Annie Mac and Pete Tong.
As adept at remixing as he is producing, the German has since reworked tracks by the likes of Hozier, and Lenny Kravitz, as well as gracing the stages of some of the biggest dance festivals in the world, including Ultra Music Festival and Tomorrowland in Belgium. His April release 'Almost Mine' featCharlotte OC received support from Danny Howard, with a vibrant remix package delivered from Mat.Joeand Low Steppa.
Serving as an aural embodiment of his rich and smooth sound, 'I Keep Calling' demonstrates Wankelmut's deft skills as a producer, with the remix package out now on Sony Records/Relentless Records.