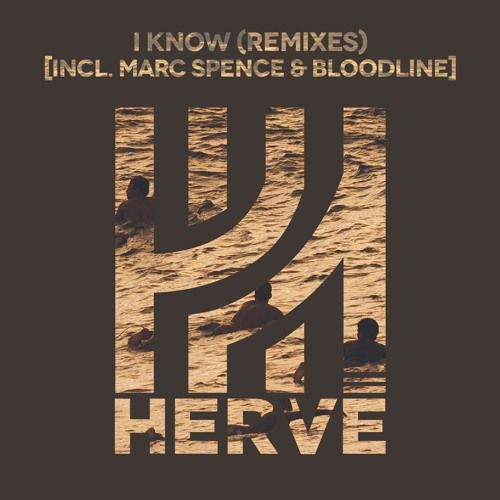 Hervé - I Know – (Marc Spence & Bloodline Mixes)
Producer, Remixer & DJ Hervé is back with his eagerly awaited second studio album, 'Hallucinated Surf'. Ahead of its release on June 17th 2016 via Skint Records he's presented remixes to recent single 'I Know', reworked by DJs Bloodline and Marc Spence.

'Hallucinated Surf' sees Hervé's diverse production styles exhibited to the fullest throughout and features a number of standout collaborations with the likes of Zebra Katz, Meridian Dan and Steve Mason. The album is also split into two parts, the first comprising of Hervé's signature bass house sound, which was recorded entirely at his studio in London. The second half of the album explores a more downtempo and experimental style which Hervé recorded in the countryside, demonstrating a more conceptual side to his work and a progression of his album, 'The Art of Disappearing'. He says of album 2, "I went to the countryside to make field recordings and sketched a lot of ideas at a good friend's lodge in the middle of a forest, which was great inspiration and also for focus."
Hervé (Josh Harvey) has become famous over the years for his unique sound; he's previously collaborated with the likes of Fatboy Slim and Armand Van Helden, and has two albums and two Essential Mixes under his belt – one as Hervé and one under his The Count alias, alongside fellow producer Sinden. Leaders in bass heavy house music alongside David 'Switch' Taylor and Trevor Loveys, the duo created club hits 'Beeper' and 'After Dark', released on Domino Recordings. With his successful 'Ghetto Bass' compilation albums first cementing his reputation back in 2009, more recent releases like 'Put Your Money Where Your Mouth Is' (MTA) have been championed by the likes of tastemaker Annie Mac on her revered Radio 1 show.
'Bang The Drum' sets the pace for the first half of 'Hallucinated Surf'. Infectious and sticking to his bass house roots, 'Bang The Drum' is filled with hi-hats, catchy synth melodies and repetitive vocals. Snare-filled crescendos and handclaps throughout the latter half of the track brings the anticipation of what's to come.
'Dance To My Beat' is full of high-energy. The fiery track features Baltimore rapper, TT. Building the track around TT's talent, Hervé brings a bouncing bassline, handclaps and a robotic chorus with chopped vocals demanding listeners to 'Dance To My Beat'.
Hervé has also teamed up with American Rapper Zebra Katz on energetic dancefloor filler, 'Tear The House Up', upcoming singer Youth lends her vocals to 'This Broken House' and Grime MC, Meridian Dan brings a grime edge to the first half of 'Hallucinated Surf'.
The second part of the album was written as 'soundtracks' to various memories of time, people and places. The eponymous track of the album sets the overall tone and pace of the second part of the album. 'Your Dusk' depicts the memory of when a young Hervé grew up in the Essex Countryside, "In summer just before the sun went down, there was always this moment of amazing stillness and tranquility. The bird song is off an old VHS recording my brothers and I did of the sun going down." The mixture of trippy percussion, synth chords and the recorded bird song lets your mind wander.
Perfectly positioned to kick off his 2016 with a real statement, 'Hallucinated Surf' is an amalgamation of his renowned talent as a House DJ fused with an ethereal and serene style of music which lends itself completely to Hervé's unique sound.