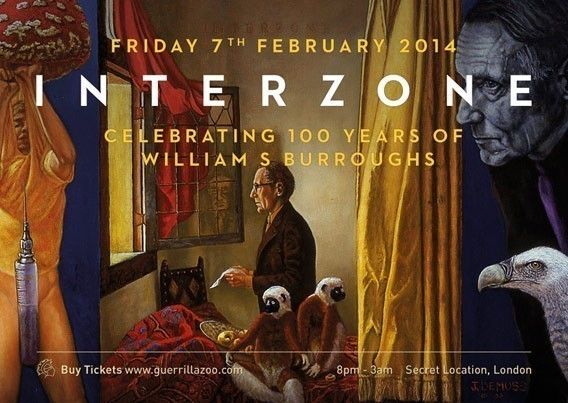 I N T E R Z O N E
I N T E R Z O N E
A ONE OFF 360 DEGREE IMMERSIVE NIGHT CELEBRATING
WILLIAM S BURROUGHS 100TH BIRTHDAY

Burroughs' writing bought to life in an immersive one off spectacular

"One of the most politically trenchant, culturally influential,
and innovative artists of the 20th century."

AT A SECRET LONDON LOCATION

7TH FEBRUARY 8PM-3AM – TICKETS FROM £20 ADV ONLY

Expect:

An immersive Burroughs sprawling city recreated
The Interzone Marketplace
Magikal & Alien creatures
Crews of 'Wild Boys', decadent artists, gun-runners, government agents,
criminals, artists, drug smugglers, tax-evading tycoons
Promenade theatre, music, performances art, films and art installations

FIND & FOLLOW:
http://www.guerrillazoo.com/interzone-burroughs-100.html
https://www.facebook.com/GuerrillaZooNews
https://www.youtube.com/user/guerrillazoo
William S Burroughs is cited as "one of the most politically trenchant, culturally influential, and innovative artists of the 20th century." His legacy continues to foresee what now fills the headlines of the world today. Burroughs' writing and ideas changed the course of literature and his multi-media collaborations spawned new directions in film and music.

To mark the William S Burroughs centenary, a few days after what would have been his 100th birthday, Guerrilla Zoo presents an experiential event inspired by his life and times. Based within the strange and seedy surreal "metaphorical stateless city" of 'Interzone' inspired by the cult beat writer whilst in the north Moroccan city of Tangier during 1950s, where he wrote his acclaimed influential nonlinear novel Naked Lunch (published almost 55 years ago). The event, which takes the world of Burroughs' writing and brings them to life with an immersive spectacle, combines promenade theatre, music, performances art, films and art installations – Think Naked Lunch meets Punch Drunk.

Interzone is an independent self governed stateless state. Its inhabitants are a motley mix of the down and outs, outcast, criminals, and the rich and famous from throughout the rest of the world. Built around a heaving marketplace where anything's for sale, the city sprawls organically, mutating everyday under the actions of it's inhabitants. The rule here is the moment, action defines the atmosphere and anything that can be dreamed can happen, if you can find the right collaborators.
Dubious refugee crews of 'Wild Boys', decadent artists, gun-runners, government agents criminals, artists, drug smugglers, tax-evading tycoons and beat eccentrics thread their ways about each other, amongst magikal and alien creatures, through the alleyways, cafes and bars creating unrepeatable moments of intense human theatre.
Buy your ticket to travel.
Pack your Passport.
Step into a microcosm of all the world by moonlight.
For more info please visit : www.guerrillazoo.com