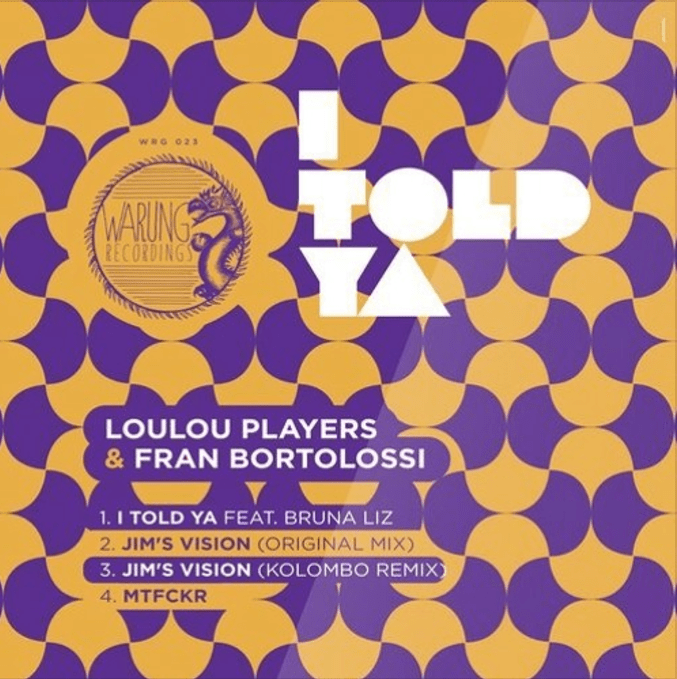 Loulou Players & Fran Bortolossi - I Told Ya EP
Warung is one of the leading clubs in all of South America. The place is bringing on plenty of new Djs and producers and the label also does the same. For their next trick the south Brazil based DJ, producer and party promoter Fran Bortolossi joins forces with the Belgian LouLou Players in a strong four track EP.
First up is I Told Ya, a booming house cut with lots of old school bounce in the rubbery kicks. The claps too are fresh and well swung and some great vocals finish it in style and really make it pop. Then comes Jimi's Vision, a gritty house cut with bobbling basslines and shooting sci-fi melodies that take you though outer space as the synths zip about. Belgian star Kolombo remixes this one and in doing so makes it more disco in style, gets the whole thing cutting loose and colours it masterfully. Last of all is MTRFCKR, the wildest of the lot and one laced up with screw face synths, mad keys and nasty bass and one sure to blow the floor away. As such this is a great new EP from a great label.
I Told Ya EP is out now! Grab it here: https://www.beatport.com/release/i-told-ya-ep/2000881