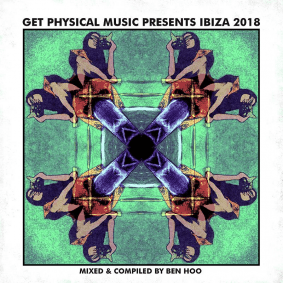 Various Artists - Ibiza 2018 by Ben Hoo
Core Get Physical artist Ben Hoo has mixed the label's superb Ibiza 2018 compilation featuring 17 new and exclusive tracks that are sure to be the sound of summer.
The compilation comes one week after Hoo releases two of his own tracks from it on a standalone EP, entitled 'An Expanse'. They once again showed off his accomplished sound, which draws on his background as a composer and multi-instrumentalist. Hoo is behind the 'We Are Night People' radioshow on Ibiza Sonica, he also mixed last year's Ibiza compilation and lives on the White Isle so firmly has his finger on the pulse of contemporary beats and the feel of the island.
Things open up with emotive ambient piece 'Into Focus' from Depth Migration before slowly awakening through the slow and loose, worldly percussive grooves of Christian Len & Papadupau's 'Moyocoyani.' Deep house atmospheres from Arkestra and Peter W then slowly start to lift the tempo but in smooth and seductive fashion. Nazt & Christian Schiemann's slick minimal house then leads into a Hoo remix of Blondish that is all about loosely scattered toms and kicks and tons of reverb.
Hoo's intimate 'Meet in the Middle' sets the tone for the mid section of the mix which plays out with freaky but reduced house from Alvaro Medina and Eder Alvarez & Joey Daniel, then Reboot serves up dreamy pads and swirling atmospheres on his skeletal 'Romancing the Bone.' It's delicate, cerebral stuff throughout with trippier moments from F.eht & Alice Clark and a brilliantly delicate Hoo remix of Nicole Moudaber and Carl Cox that is spine tingling and absorbing.
This is a high class mix that has a cosy back room feel to it and plenty of coherent sidesteps into dubby, heady and more otherworldly house styles along the way.
Tracklist:
01 Depth Migration – Into Focus
02 Christian Len & Papadupau – Moyocoyani
03 Arkestra – Back to Dreamland
04 Peter W – Early Morning
05 Nazt & Christian Schiemann – Here And There
06 Blond:ish – EEEYAAA (Ben Hoo Remix)
07 Ben Hoo – Meet In The Middle
08 Alvaro Medina – Uptown
09 Eder Alvarez & Joey Daniel – In The Game
10 Reboot – Romancing The Bone
11 Kr!ptone – Iboshin
12 F.eht & Alice Clark – Montblanc
13 Enzo Leep & Avgustin – Mood2
14 Nicole Moudaber & Carl Cox – See You Next Tuesday (Ben Hoo Remix)
15 Ben Hoo – An Expanse
16 Reboot – Pinshot Beach
17 TOLAB – Danceplanet
18 Ibiza 2018 by Ben Hoo – Continuous Mix