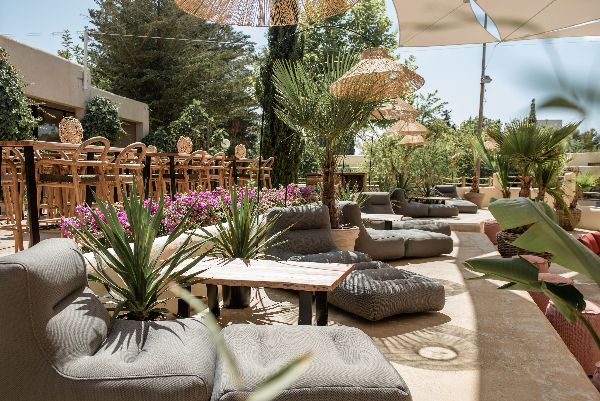 Ibiza premieres a new open air dance floor: 528 Gardens
The White Isle has been wowed once again this summer with the return of the spectacular show and dining experience – 528 Ibiza – The Frequency of Love. With the brand new theatre and world-class cast of performers and chefs already achieving critical acclaim, it is now time for the highly-anticipated grand opening of the 528 Garden Area.
This is an extensive outdoor space that combines the impressive backdrop of the Benimussa hills with large landscaped areas. Those attending will be able to enjoy a more casual culinary experience with gourmet street food paired with reinterpreted classic cocktails and innovative creations. There will also be live music and DJs throughout the season.
The inauguration will take place next Sunday, July 10, and as a one-off, the doors will open at 18:00. After that, it will go back to the regular time of 19:55. The special event will kick start the artistic program for the Garden Area and present Camino del Sol. This is an original concept from 528 which aims to pay homage to the roots of the White Island through Balearic sounds. Every Sunday, iconic figures from the Ibizan scene, both past and present, will get together to celebrate the culture of the island.
The artists performing at the Opening are Paco Fernández, Igor Marijuan and Gaya Brisa. Weekly resident Paco Fernández is the creator of Balearic flamenco and chill flamenco. His Mediterranean flamenco style fused with electronic sounds, rap and Caribbean rhythms gives life to an original, committed, fresh and current show. Igor Marijuan, in addition to being a renowned DJ and producer, is the founder of Ibiza Sónica, the musical director of Akasha and the promoter of Pareidolia Music. There's also Gaya Brisa, one of the most influential Ibizan figures on the contemporary scene. Her style combines tribal techno, minimal progressive techno and afro house. In addition to being a resident DJ at Amnesia and Pacha, she's part of the Namaste family, one of the most popular parties in Ibiza.
And that's not all. 528 Ibiza has announced that Wednesdays will be in the hands of Sónica Radio. Every week there will be several special guests and these Sonica Sessions will be broadcasted on the radio (95.2FM). On Saturdays, it will be Sun Empire's turn, an inspirational party in Tulum. On the 16th will feature Constellation (Planetary Ambience Sunset Gong Celebration), Nativo Live (Summerians, Maian Tulum), Gaya Brisa (Namaste, Pacha), Matan Klevan (Unity Ibiza, Akasha Tulum),  Zule Paz (Amnesia) and Selim (Live Percussion).
Entrance to the Garden area is completely free, there's also the option of reserving tables through the website (requirement: minimum consumption of €50), as well as a VIP area.
Join the guestlist: https://bit.ly/528camino-del-sol 
"When the world wearies and society fails to satisfy, there is always the garden." Minnie Aumonier