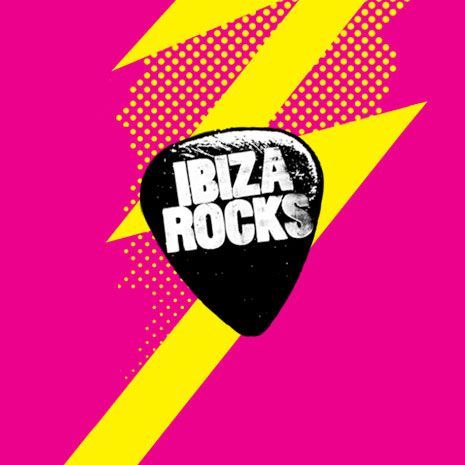 Ibiza Rocks Legendary Series Of Live Gigs Takes On Tuesday
After more than a decade of leading the way for live music in Ibiza and bringing new sounds and music experiences to the island, Ibiza Rocks proudly announces the return of the legendary Ibiza Rocks live series this summer. The six special evening concerts will take place on select Tuesdays throughout July, August and September. Confirmed headliners at Ibiza Rocks Hotel include Dua Lipa, Clean Bandit, Bastille and The Kooks plus a very special show from Primal Scream at PIKES.
Dua Lipa – Brits Critics Choice/Best Female Nominee and NME Award winner for Best New Artist of 2017 – will make her Ibiza Rocks debut on the world-famous poolside stage on 18th July. Undeniably one of the hottest artists of the past year, Dua Lipa has scored global success with infectious hits including 'Hotter Than Hell' 'Blow Your Mind' and 'Be The One' not to mention featuring on massive track 'No Lie' with Sean Paul and 'Scared to be Lonely' with Martin Garrix. This is one beauty set to light up the Balearics big time.
Genre defying, record-breaking and Grammy award-winning Clean Bandit started their Rocks journey as a relatively unknown support act in 2013 before huge success soared and they returned as headliners in 2014 and 2015. Having already sold over 14 million singles and 1.6 million albums worldwide and chalking up an incredible 9 weeks at #1 on the Official Chart with 'Rockabye' (featuring Ibiza Rocks Carnival headliner Sean Paul) fans can expect to hear all the hits and more on 25th July. Support will come courtesy of Atlantic Records pop-soul newcomer, 20 year-old Mullally.
The word Bastille brings to mind revolution, change and the storming of the old by the spirit of the new, so it seems very fitting that Ibiza Rocks booked the aptly titled outfit back in 2013 before their anthemic track 'Pompeii' and outstanding debut album 'Bad Blood' blew up the world over. The boys came back in 2014 and now boasting two #1 critically acclaimed albums, they are Balearic bound once more. Currently travelling the globe on their Wild Wild World Tour and with huge festival appearances ahead of them, Ibiza Rocks will provide a rare chance to see one of the biggest British acts in the world up close and personal this summer on 1st August, with support from Rationale. The last time Bastille played in 2014 it was current Brits Critics Choice winner Rag N Bone Man supporting, so it's a support slot to watch!
British rock royalty Primal Scream will make their Ibiza Rocks debut for a very special one-off show at the legendary PIKES Hotel. The Glasgow-born band boast a career spanning three decades and a back catalogue of huge hits from 11 studio albums including the groundbreaking Screamadelica (1991) and critically acclaimed Chaosmosis. (2016). The coming together of two icons that each embody the very spirit of rock 'n' roll will ensure one of the seminal music moments of summer on the White Isle on 29th August at PIKES.
Rocks favourites The Kooks have been part of the family since it all began in 2005 when the pioneering Ibiza Rocks promoters changed the game by introducing live bands to Ibiza's most infamous club night Manumission. The Kooks appeared on a bill including Faithless, Goldfrapp, Futureheads, Rob da Bank, Zane Lowe, Paul Epworth and Jacques Lu Cont – an Ibiza 'moment' that will go down in history and one that shaped the future of Ibiza Rocks and the islands music landscape. Twelve years later and with many more Rocks gigs in between, The Kooks will be bringing their 'Best Off…So Far' for a climatic Closing Party at Ibiza Rocks Hotel on 5th September, supported by hotly tipped Brighton band Fickle Friends.
Luke Pritchard, The Kooks said "So many good memories playing Ibiza Rocks. We are properly thrilled to come back to see some memorable faces and some new ones. I remember well the first time we played, it was our first show outside of the UK and we found ourselves playing in Manumission where the gigs were then. It was like a circus, totally brilliant. Looking forward to this incarnation and playing all the tunes from our best of album that we are about to drop. We're gonna roll the bangers out!!"
Andy McKay, Founder & CEO, Ibiza Rocks Group said: "Bringing live music to Ibiza was one of the best things we have ever done. Most of the acts we bring to the island would not have a home here if we had not created Ibiza Rocks in 2005. Twelve years on, our new extended programme reflects us continuing to chase that fresh energy whilst keeping live music in our hearts. The amazing new daytime pool parties combined with the flagship Ibiza Rocks live concerts, our first day to night #MERKY Festival with grime giant Stormzy and our first full live show with legendary rock 'n' roll band Primal Scream at PIKES really shows the strength, relevance and stretch of the brand. We're extremely excited for the summer ahead… It's going to be a very special and significant one, especially for San Antonio."
Ibiza Rocks was born out of a deep desire in 2005 to push the musical boundaries beyond dance music and keep Ibiza current, credible and alive with youth. To be at the very forefront of new music, be the innovators of bringing new sounds to the island, provide unrivalled experiences for a new generation of music lovers and create an incredible atmosphere in a unique venue. This is going to be Ibiza Rocks' biggest summer yet.
TUESDAYS FROM 04/07 TO 05/09:
04/07 Ibiza Rocks Opening Party with Special Guests
11/07 Stormzy #MERKY Festival – 10 hours day to night
18/07 Dua Lipa
25/07 Clean Bandit | Mullally
01/08 Bastille | Rationale
29/08 Primal Scream at PIKES
05/09 Ibiza Rocks Closing Party with The Kooks – Best Of Show | Fickle Friends
PREVIOUSLY ANNOUNCED:
TUESDAY 08/08 & 22/08
Elrow Pool Party: Line up coming soon
THURSDAYS FROM 01/06 TO 13/07
We Are Rockstars Presents (5 events) and Toddla T's Ibiza Rocks Carnival (2 events)
01/06: We Are Rockstars Presents JamPacked with Mistajam |My Nu Leng| MJ Cole| Stefflon Don| Patrick Nazemi
08/06: We Are Rockstars Presents Sleepin Is Cheatin with Tom Zanetti & KO Kane | Mist | Preditah | Cause & Affect | Patrick Nazemi
15/06: Toddla T's Ibiza Rocks Carnival with Lethal Bizzle | Toddal T | The Heatwave | Nadia Rose
22/06: We Are Rockstars Presents Example & DJ Wire | TQD | Crazy Cousinz | Holf Goof |The Dream Team | Patrick Nazemi
29/06: Toddla T's Ibiza Rocks Carnival with Sean Paul | Toddla T | Donae'o | Drs | Coco
06/07: We Are Rockstars Presents Sigma | Charlie Sloth and DJ Target | Devlin | Patrick Nazemi
13/07: We Are Rockstars Presents Wilkinson | Redlight | J Hus | Cadenza |Patrick Nazemi,
THURSDAYS FROM 20/07 – 21/09
Craig David's TS5 Pool Party
Support talent coming soon
SUNDAYS 21/05 – 24/09
Do Not Sleep Presents Cuckoo Land:
Darius Syrossian, Route 94, Huxley, Sonny Federa, Ben Pearce, Detlef, Latmun, Pirupa, Doorly, Citizenn, Max Champman, Josh Butler, Theo Kottis, Pirate Copy, Mihalis Safras, Jamie Roy, Jey Kurmis, Ten Story, Faction DJs. More talent and weekly line up split coming soon.
Tickets onsale now at www.ibizarocks.com
Tickets and holiday deals from www.ibizarocks.com. Book direct with Ibiza Rocks for the best prices guaranteed – up to 15% cheaper than other booking agents. Sign up to be the first to know more at www.ibizarocks.com/events