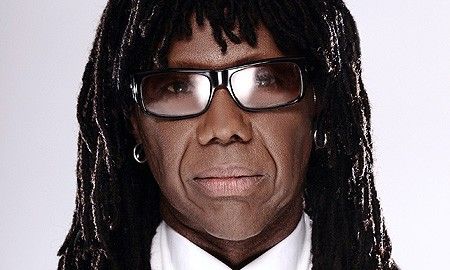 IBIZA ROCKS THE GOOD TIMES IN SEPTEMBER
As another summer storms into September, it's time for our final FIX monthly reminder on all things IBIZA ROCKS. Kicking off the month tomorrow night, Wednesday 4 Sept, in full disco glory, it's CHIC featuring NILE RODGERS, a night which, if the island whisperings are to be believed, has all the makings of another Ibiza Rocks Had-To-Be-There Night, along the lines of previous years' momentous occasions- Madness and The Specials come to mind. Get your disco balls ready, your sequins shined up and prepare for good times!
Next week, another long awaited arrival to the island, after many years of hoping, FRANZ FERDINAND are finally touching down in Ibiza and heading straight for the Ibiza rocks stage! And for our final live music offering of summer 2013, it's another smasher with Foals and Jagwar Ma singing us out for another season.
Full details on all below. Thanks for all your support for the Rocks throughout this, our eighth season, on behalf of the whole team. Keep Ibiza Rockin'…
WEDNESDAY 4 SEPT :
CHIC FEAT. NILE RODGERS, SKREAM (DISCO SET) & DOORLY
September will see a music legend at the Ibiza Rocks Hotel as Chic feat. Nile Rodgers perform huge hit after hit, live under the stars. From Madness, to The Specials to New Order, every year Rocks books a band that have shaped the music scene and influenced generations after them. Nile Rodgers is one of the most influential producers of all time, forming CHIC in the 70's with tracks such as 'Le Freak,' 'I Want Your Love,' 'Everybody Dance' and 'Good Times' propelling disco back in the day and still dance classics now. From CHIC's own hits to Rodgers producing massive tracks like 'We Are Family' and 'He's The Greatest Dancer' for Sister Sledge, 'Upside Down' and 'I'm Coming Out' for Diana Ross, producing David Bowie's biggest selling album 'Let's Dance' and Madonna's blockbuster album 'Like a Virgin' – Nile Rodgers is 'The Hitmaker'. Add to that working with Jeff Beck, The Thompson Twins, Duran Duran, Mick Jagger, and most recently Daft Punk, giving them their biggest hit to date with No.1 single 'Get Lucky' – the soundtrack of the summer. The Ibiza Rocks crowd will certainly get lucky in September as a true dance music pioneer takes centre stage.
http://www.ibizarocks.com/events/all-events/ibiza-rocks-with-chic-ft-nile-rodgers/

WEDNESDAY 11 SEPT:
FRANZ FERDINAND, BOHICAS, ZANE LOWE
One of the most important guitar bands of the decade, Franz Ferdinand are coming to our stage! Having first smashed the charts with their killer hit Take Me Out and their self-titled debut album in 2002, Glasgow boys Franz Ferdinand are back, and Balearic bound. They've ticked off a Mercury Music Prize, BRIT Awards for Best British Group and Best British Rock Act, NME Awards, multiple Grammy Award nominations, sold over 3 million albums worldwide and are soon to release their hugely anticipated fourth studio album. This band were a huge influence on Ibiza Rocks, helping fuel the concept of promoting gigs for 'dance kids who rock and rock kids who dance.' Ibiza Rocks is exceptionally proud to be bringing one of the world's best live bands to make their debut on the famous open-air Ibiza Rocks stage this summer.
Alex Kapranos said:"This is the first time we've been to Ibiza Rocks, so are looking forward to it. Paul's been and told us all about it, so we're expecting a great crowd."
http://www.ibizarocks.com/events/all-events/ibiza-rocks-with-franz-ferdinand/

WEDNESDAY 18 SEPT: CLOSING PARTY
FOALS, JAGWAR MA, KIWI
Bands don't get much hotter right now than festival favourites Foals – the phenomenal five-piece that will headline the Ibiza Rocks Closing Party on Wednesday 18th September.
To say that Yannis Phillipakis and co. have got off to a good start in 2013 is a huge understatement. With their hotly anticipated third studio album 'Holy Fire' set for release next week, the incredible new singles 'Inhaler' and 'My Number' have catapulted the band onto the radio A-list and caught the attention of festivals, fans and critics across the globe.
As well as a critically acclaimed new album in the pipeline, Foals also boast a stunning live show that has packed venues around the UK including two colossal shows at London's Royal Albert Hall which sold out in just 15 minutes. With this sort of momentum behind them, Ibiza Rocks is hugely excited to welcome Foals to the famous open-air Rocks stage for the coveted closing party slot, previously played by Two Door Cinema Club, Noah and the Whale, Klaxons and The Specials, to name a few.
Foals frontman, Yannis Philippakis said: "We've always wanted to go to an Ibiza closing party… and now we get to play one. Double bubble."
http://www.ibizarocks.com/events/all-events/ibiza-rocks-closing-party-with-foals/

W.A.R! – FRIDAYS – IBIZA ROCKS HOTEL
And it's also nearly time for W.A.R to end. But a different kind of war- a good one. We Are Rockstars has come into its own this season with sell out gigs and the best in new talent filling the Ibiza Rocks Hotel every Friday.
September's calendar looks like this:
6 Sept: Rinse FM- Skepta/ So Sold Crew/ Oneman
http://www.ibizarocks.com/events/all-events/w.a.r-x-rinse-fm-with-so-solid-crew-skepta/
13 Sept: W.A.R vs Bugged out- Redlight vs Shadow Child/ Toddla T vs Route 94/ Artwork vs Doorly
http://www.ibizarocks.com/events/all-events/w.a.r-vs-bugged-out/
20Sept : Closing party- Mark Ronson & Zane Lowe / Bondax / Doorly
http://www.ibizarocks.com/events/all-events/war-closing-party-with-mark-ronson-zane-lowe/