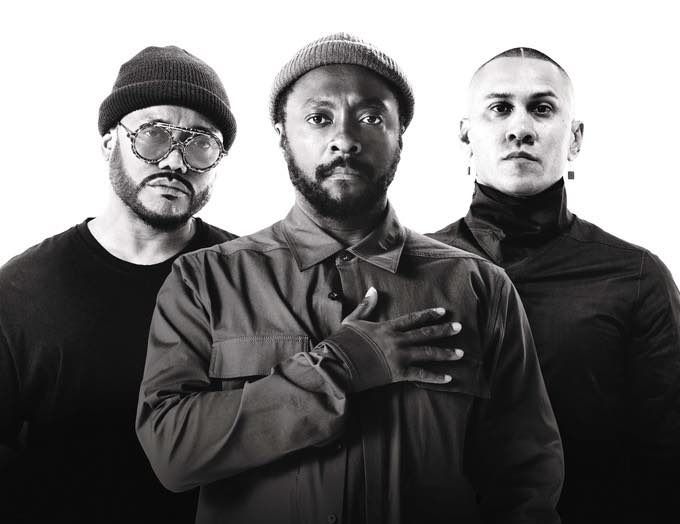 Iceland's Secret Solstice 2019 Phase 2 Lineup…
Secret Solstice, Iceland's Midnight Sun music and culture festival, is pleased to present their phase two line-up for its sixth edition this June 21-23, 2019 in Reykjavik, Iceland during 72 hours of non-stop sunlight. Performing in Iceland for the first time, Secret Solstice is honoured to welcome legendary hip-hop/pop groupBlack Eyed Peas. Also announced is the queen of punk rock Patti Smith and hip hop icons, The Sugar Hill Gang with Grandmaster Melle Mel & Scorpio (of the Furious 5) adding to previously announced headline acts Robert Plant & The Sensational Space Shifters, Martin Garrix, Rita Ora and Morcheeba. With 20 new acts including Sólstafir, Vök, Hatari and artists from Iceland's the 101 Boys collective, Secret Solstice is again shaping up to be a standout event on the summer festival calendar in one of the world's most unique and breathtaking corners.
Recently returning with the release of their seventh studio album 'Masters of the Sun', headliners Black Eyed Peas — who reigned the music charts with hits including "Where is the Love?" and "Let's Get it Started" — will bring their irresistible blend of pop and hip-hop to Secret Solstice's Valhalla main stage on Saturday, June 22. On Sunday, June 23, the godmother of punk rock and punk poetry, singer-songwriter and Rock and Roll Hall of Famer, Patti Smith will headline the festival's final night on the main stage. Celebrating the 40th anniversary of the first rap single to become a top 40 hit, "Rapper's Delight," The Sugarhill Gang will team up with hip hop pioneers Grandmaster Melle Mel & Scorpio of the Furious 5 to form Supergroup as they take to the Secret Solstice main stage on the festival's Saturday night.
Attendees can also look forward to some of Iceland's finest established and up-and-coming talent. Newly added artists include Sólstafir with their unique blend of metal, melody and hard rock, indie-electro bandVök, art-pop punk band Hatari, rising Reykjavik rapper Birnir, up-and-comer Birgir Hákon, the young and charismatic Floni, celebrated collaborator Joey Christ, music mogul Logi Pedro, creative hip hop act Sturla Atlas and the electrifying hip hop duo Jói Pé & Króli. Also performing will be chamber pop/indie-rock bandÁrstíðir, singer-songwriter Ása, and experimental DJ Carla Rose. Rounding out the latest Icelandic additions are new age inspired mystical Icelandic language band, Grúska Babúska, soulful vocalist Una Stef, classic rock group Vintage Caravan and synth-pop drum and bass duo Warmland.
For the high-end festival experience, Secret Solstice also announces the return of its limited availability luxury pass Oðinn with added benefits for 2019. What's included? Access to the VIP pop-up lounge which offers whisky and chocolate tasting and massages, prime viewing area, fast track and priority entry, backstage access, a limited edition commemorative Óðinn festival pack, complimentary food and drinks on-site with more perks to be announced.
Welcoming neutral certified premium water provider Icelandic Glacial as a primary sponsor for 2019,
Secret Solstice also announces its off-site after-hours dance music programming 'Hel', which will take place in downtown Reykjavik with as yet to-be-announced lineups. Stay tuned for more details coming soon!
TICKET INFORMATION
Early Bird Weekend Pass from $133 USD | €117 | £101 | 15990ISK
Day Pass from $91 USD | €80 | £69 | 10990ISK
Youth Pass (13-17) from $83 USD | €73 | £63 | 9990ISK
VIP Weekend Pass (18+) from $250 USD | €219 | £189 | 29990ISK
Oðinn Weekend Pass (18+) from $1254 USD | €1099 | £949| 149990ISK
Kids Pass Free for children 12 years and under
Full tour packages including tickets and accommodation with Iceland's top services including hotels, rentals, and airport transfers are also be available for the 2019 edition through the Secret Solstice website.

Secret Solstice 2019 Phase One Lineup
Robert Plant & the Sensational Space Shifters [UK] *Black Eyed Peas [US] Martin Garrix [NL] Rita Ora [UK] *Patti Smith [US] *The Sugarhill Gang with Grandmaster Melle Mel & Scorpio (of The Furious 5) [US] Morcheeba [UK] Foreign Beggars [UK] Pussy Riot [RU] Kerri Chandler [US] MK [US] Mr. G (LIVE) [UK] Jeremy Underground [FR] XXX Rottweiler [IS] Boy Pablo [NO] Smash TV [DE] Högni [IS] ALXJ [DE] Ari Árelíus [IS] *Ása [IS] *Árstíðir [IS] Auður [IS] Bensol [IS] *Birgir Hákon [IS] *Birnir [IS] Captain Syrup [IS] *Carla Rose [IS] Chris Hirose [DE] Clint Stewart [US] ClubDub [IS] Dilivius Lenni [DE] Doctor Victor [IS] Exos [IS] *Floni [IS] *Hatari [IS] *Grúska Babúska [IS] Ingi Bauer [IS] *Joey Christ [IS] Jóhann Stone [IS] *Jói Pé & Króli [IS] KrBear [IS] *Logi Pedro [IS] Mike The Jacket [IS] Monello [DE] Nitin [CA] Oktav DJ [IS] Pink Street Boys [IS] Ragga Holm [IS] Ricoshëi [US] Rokky [IS] Skaði [IS] Séra Bjössi [IS] *Sólstafir [IS] Sprite Zero Klan [IS] *Sturla Atlas [IS] Svala [IS] *Una Stef [IS] Vibes [IS] *Vintage Caravan [IS] *Vök [IS] Vom Feisten [DE] *Warmland [IS]
+more to be announced
Stay connected with Secret Solstice
www.Secretsolstice.is
www.Instagram.com/secretsolstice
www.Facebook.com/secretsolstice
www.Twitter.com/secret_solstice
www.YouTube.com/SecretSolsticeHQ
SNAPCHAT: SecretSolstice