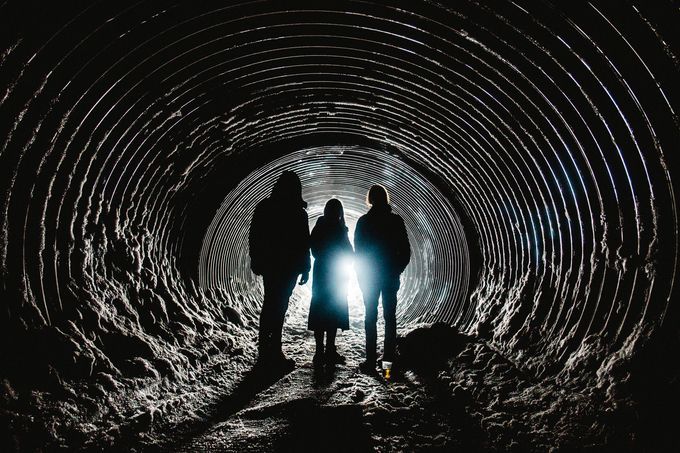 Iceland's Secret Solstice Festival Announce Exclusive Performances Inside A Glacier and Lava Tunnel
Iceland's Secret Solstice, the bucket-list music festival held during 96 hours of straight sunlight in Reykjavik from June 21-24 2018 announces the return of their signature side events, Into The Glacierand The Lava Tunnel** **for their fifth edition. Combining a world-class music festival with the many one of a kind attractions that the land of fire and ice has to offer, Secret Solstice will once again prove why it has earned the title of the world's "most unique festival" thanks to their spectacular event experiences you can't find anywhere else.
Named by The New York Times as one of "20 Places To Travel In Your 20s", there are many reasons that Iceland is a popular destination for tourists eager to experience the country's otherworldly landscape of glaciers and volcanic deserts. Recently nominated by The European Festival Awards, the carbon-neutral festival attracts visitors from across the world keen to dance in the rays of the never setting midnight sun to a world-class and diverse musical lineup whilst experiencing many of the country's extraordinary environmental attractions. Just outside Reykjavik, visitors can discover supernatural landscapes boasting beautiful waterfalls, icy glaciers, black sand beaches, and vast volcanic fields as well as world-famous sites like the Blue Lagoon and Game of Thrones filming locations. More accessible than ever from worldwide destinations it's not hard to see why Reykjavik is the second most popular destination by travel search engine Kayak.
Utilizing the country's stunning natural settings and spaces, the Secret Solstice side events cater to both music and nature lovers, offering once in a lifetime, jaw-dropping experiences. Whilst stepping inside Europe's second largest glacier Langjökull or journeying deep into a 5,000 year old Lava Tunnel, those lucky enough to snap up one of the highly prized tickets will be treated to intimate and exclusive performances from Icelandic and international artists. For thousands of years what lay beneath the surface of the Langjökull glacier was considered a mystery and it was only recently that humans were able to see the spectacular blue ice buried 130 feet beneath the surface. Equally as breathtaking, the journey into the magnificent lava caves at Raufarhólshellir is a chance to witness what happens underground during a volcanic eruption which results in natural ice sculptures and stalactites in connecting lava tubes that form natural subterranean arteries. With extremely limited tickets available for Into The Glacier on Saturday June 23 and The Lava Tunnel taking place on Saturday June 23 and Sunday June 24, these events are sure to sell out.
Past editions of Secret Solstice have featured the likes of Anderson .Paak, Big Sean, Chaka Khan, Die Antwoord, Dubfire, Foo Fighters, Kerri Chandler, Jamie Jones, Of Monsters and Men, Radiohead, Rick Ross, The Black Madonna, The Prodigy, Wu-Tang Clan, and many more top international and local Icelandic acts. By combining a high caliber of music talent alongside side events that showcase the incredible Icelandic landscape, Secret Solstice have created a not-to-be-missed festival experience in one of the most breathtaking corners of the world. Stay tuned for phase 1 and side event lineup announcements coming soon!
Tickets to Into The Glacier on Saturday June 23 2018 are on sale Thursday December 7 for £241 viahttp://secretsolstice.is/side-events/
Tickets to The Lava Tunnel on Saturday June 23 and Sunday June 24 2018 are on sale Thursday December 7 for £179 via http://secretsolstice.is/side-events/
Super early-bird tickets for Secret Solstice Festival 2018 start at £117 Camping, and VIP Early-bird tickets are also on sale through the Secret Solstice website.
Full tour packages including flights, tickets and accomodation with Iceland's top services including hotels, rentals, and airport transfers will also be available for the 2018 edition. More details coming soon!
Secret Solstice 2018 Ticket Information:
Super Early-bird: $151 USD | 117 GBP | 127 EUR | 15900 ISK
Super Early-bird + Camping: $217 USD | 169 GBP | 183 EUR | 22900 ISK
VIP: $379 USD | 293 GBP | 318 EUR | 39900 ISK
VIP + Camping: $445 USD | 345 GBP | 374 EUR | 46900 ISK
More information visit www.secretsolstice.is