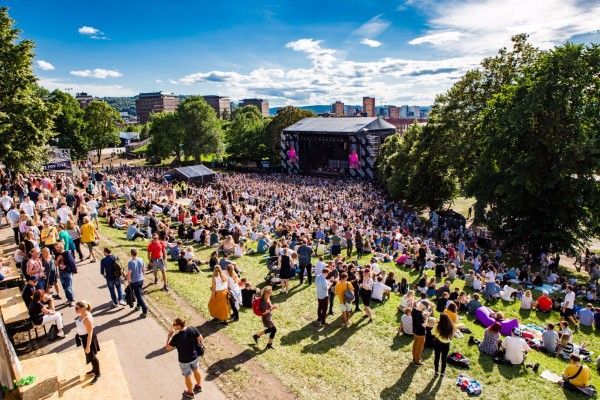 Øya Festival – First names announced…
Norway's premier music festival Øya returns next summer to the beautiful Tøyenparken, Oslofrom August 7th – 11th 2018. From humble beginnings, Øya has cemented its enviable reputation as one of the most critically respected events in the summer music calendar, presenting audiences with tastefully curated, out of the ordinary billings. One of the world's most green events, Øya has also become the benchmark in sustainable practices and standards for festivals the world over.

Today, Øya announces its first artists for 2018, demonstrating the diversity for which the festival has become known. Leading the charge is Friday night headliner Lykke Li. Sweden'sconfessional pop songstress is set to make an eagerly anticipated return four years after the release of her critically adored third album 'I Never Learn'.
Joining her will be the legendary Patti Smith, whose combination of ground-breaking music, insightful lyrics and a fiercely independent spirit guarantees that she's as inspiring a force as ever; the visceral Converge, who recently made a killer comeback with their latest album 'The Dusk In Us'; …And You Will Know Us By The Trail Of Dead who will perform their 2002 cult classic 'Source Tags & Codes' in full.
Also confirmed are Grizzly Bear, who will provide intricacy and elegance in abundance having released their fifth album 'Painted Ruins' earlier this year, and self-styled American hip-hop 'boy band' BROCKHAMPTON. The collective are the first big hitters to be confirmed from the world of hip-hop – a genre that has increasingly proved to a core component of the Øya in recent years. In contrast, Noname's brand of hip-hop has its roots in slam-poetry and the Chicago artist's talents have been recognised by high profile collaborators including Chance The Rapper, Jeremih andThundercat.

Other similarly individual outlooks will be provided by the intense and ethereal style of Chelsea Wolfe, minimalist post-Brexit punk from Sleaford Mods, and the hotly-tipped eight-piece buzz band Superorganism.
Each year Øya acts a springboard for home-grown Norwegian talent, showcasing them to a wider international audience, and 2018 will be no exception to this rule. Fronted by former Madrugadavocalist Sivert Høyem, Paradise are influenced by The Bad Seeds, Roy Orbison and Suicide. Meanwhile, Tønes' intimate style as a singer-songwriter has made him a long-standing national favourite. Elsewhere, there's a smattering of sounds from the nation's diverse musical scenes, including experimental electro-pop (Smerz), home-grown rap (Store P) and sprawling psychedelia (Dig Deeper).

Beyond the music, ØYA seeks to operate in the most environmentally sound approach possible. The entire event is powered by sustainable electricity, while all of the festival waste is hand-sorted and recycled which means that 70% of it can be reused. The audience also benefits from such an approach: almost all of the food served at ØYA is organic and locally sourced from small scale providers, and all caterers are required to deliver a menu that's at least 50% meat-free.
Tickets
Week pass – 2804 NOK
Day pass – 989 NOK
https://www.ticketmaster.no/artist/oyafestivalen-tickets/301563?language…