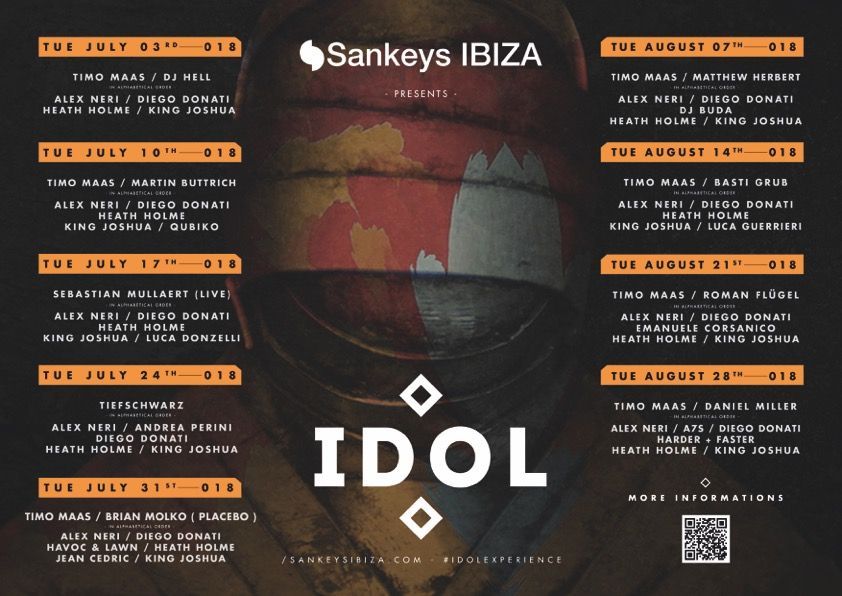 IDOL full lineup at Sankeys Ibiza, summer 2018
Brand new to Ibiza this season is IDOL @ Sankeys running from 3rd July to 28th August.
IDOL will take you on a futuristic trip where music and art merge. A trip through the sound of techno and electronic music. An immersive experience where the performances of dancers, the presence of giant statues and futuristic decoration will transport us to another dimension. Every Tuesday, IDOL will transform Sankeys into a place of worship for music lovers congregating in Ibiza.
We are thrilled to now deliver the full line up for this season:
IDOL resident Timo Maas, Alex Neri, Andrea Perini, A75, Basti Grub, Brian Molko (Placebo), Daniel Miller, Diego Donati, Dj Buda, Dj Hell, Emanuele Corsanico, Harder+Faster, Havoc & Lawn, Heath Holme, Jean Cedric, King Joshua, Luca Donzelli, Luca Guerrieri, Martin Buttrich, Qubiko, Roman Flugel, Sebastian Mullaert (Live), Tiefschwarz, Matthew Herbert.
Tuesdays in Ibiza have their own name, IDOL, an authentic vision and evolution of the clubbing experience.
IDOL @ SANKEYS IBIZA Tuesdays from July 3 to August 28.