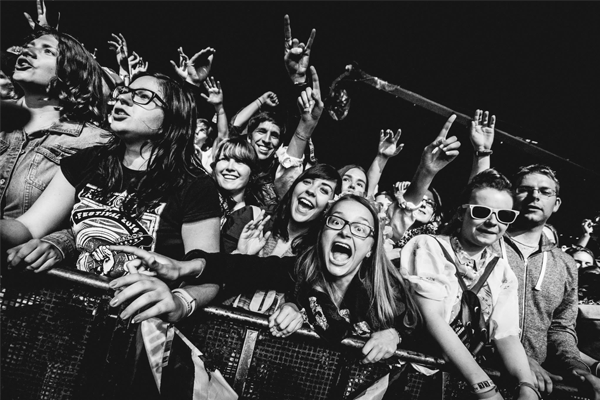 Iggy Pop, M83. Grimes, Years & Years, Wolf Alice, Hot Chip, Air and more join Positivus Festival 2016
Rock legend Iggy Pop and French electro dreamers M83 join British pop icon Ellie Goulding as this year's Positivus Festival headliners. Other acts confirmed for the 10th anniversary edition include Years & Years, Hot Chip, Air, John Newman, Grimes, Charles Bradley, Richard Hawley, Mercury Rev, Wolf Alice, Oh Wonder, The Japanese House and many more.
No stranger to crazy stage antics and eccentric performances, Iggy Pop is set to deliver his signature blend of rock, jazz, punk and blues to the very heart of Positivus Festival. Having started his musical journey back in the 60's, the American singer-songwriter, musician and actor is showing no signs of slowing down. With his latest and seventeenth album 'Post Pop Depression' (produced by Queens of the Stone Age frontman Josh Homme) set to be released on March 18th, the relentless showman and stage-diver will unleash a refreshing dose of summer punk madness to the utopian coastal dreamland of Salacgrīva. Iggy Pop will headline Positivus Festival on Sunday, July 17, 2016.
The Grammy-nominated French electronica heavyweights M83 are well known for their lush mix of both contemporary pop and dreamy 1980s sounds. Making a name for themselves in Hollywood, the LA based musicians have gone from cult heroes to composing soundtracks for huge movies including 'Oblivion' and 'The Divergent Series'. With their seventh studio album 'Junk' to be released on April 8th, M83 will provide the perfect backdrop for this summer's fantasy festival experience. M83 will headline Positivus Festival on Saturday, July 16, 2016.
Other new additions to the lineup include British electro-pop darlings Years & Years, rising stars Wolf Alice, Grammy and Mercury Prize nominated electronica connoisseurs Hot Chip as well as the mellow French superstars Air. Positivus Festival will also host highly anticipated appearances from experimental musician Grimes, legendary soul singer Charles Bradley, as well as some of this year's hottest acts including Oh Wonder, the electronic melancholy of The Japanese House, Brooklyn's ambient pop-rock newcomers Cigarettes After Sex, raucous New Jersey hip hop group Ho99o9 and British indie rockers Arthur Beatrice.
Latvian artists will also be widely represented at Positivus Festival – the local additions feature Skyforger, Latvian hip hop heavyweight Ozols, beloved rockers Dzelzs Vilks, the up-and-coming Carnival Youth, Alise Joste as well as acclaimed bands such as Mielavs un Pārcēlāji, DaGamba and many others.
Festival organiser Ģirts Majors says he's "confident that this year's artists will deliver plenty of surprises and excitement, with visitors having to make effort to catch all the fleetingly dazzling festival highlights."
The festival takes place in an atmospheric, baltic coastal setting amid stunning woodland offering festival goers one of the most idyllic escapes around. Positivus truly has something for everyone. Arts and culture events including movie shows, performances, theatre plays, and even a designated children's recreational area for some of the youngest festival guests to enjoy stand aside the stunning programme of music. Whether you're soaking up the rays on the beach, rambling through the lit-up forest or taking in the atmosphere in a hammock beneath the trees, Positivus Festival promises to be the perfect festival getaway.
Check out the beautiful festival surroundings here.
LINE-UP
Ellie Goulding / M83 / Iggy Pop / Years & Years / Hot Chip / John Newman / Air / Wolf Alice / Grimes / Richard Hawley / Mercury Rev / Charles Bradley / Oh Wonder / Seinabo Sey / C Duncan / Ho99o9 / San Fermin / Cigarettes After Sex / Arthur Beatrice / The Japanese House / Postaal / Choir of Young Believers / Alise Joste / Ozols / Dzelzs Vilks / Carnival Youth / Mielavs un Pārcēlāji / Skyforger / DaGamba / Sattellites / LV / Rīgas Modes / Super Besse
+More acts TBA
TICKETS
General Admission 3-Day Ticket from €75
General Admission 3-Day Ticket + Camping from €87
Book now at http://www.positivusfestival.com
Ticket prices are set to increase from April 4th.
CONNECT
Website www.positivusfestival.com
Facebook www.facebook.com/PositivusFestival/
Twitter https://twitter.com/positivus
Spotify https://play.spotify.com/user/posfest
Instagram https://www.instagram.com/positivus/