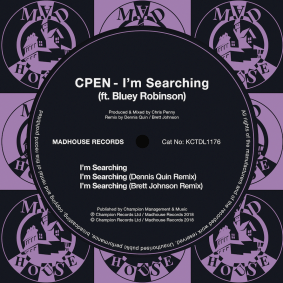 CPEN ft. Bluey Robinson - I'm Searching EP
CPEN joins Madhouse Records with 'I'm Searching' this September, accompanied by vocals provided by Bluey Robinson and remixes from Dennis Quin and Brett Johnson.
With almost twenty years of experience, Chris Penny – aka CPEN – is one of the key founders of the west coast deep house movement of the early 00's. With releases on Seasons Recordings, Nightshift recordings and Memorabilia, CPEN now joins Kerri Chandler's Madhouse Records alongside Sweden born, UK based Bluey Robinson, who delivers his soulful vocal stylings on this debut for the imprint.
The radio edit of 'I'm Searching' kicks things off with swinging percussion, hooky, plucked synths and raw vocal cuts before Madhouse regular Dennis Quinn offers up his rework of 'I'm Searching', delivering a more stripped back cut with powerful drums and chopped up vocals.
Next up, cosmic synths, organic percussion and a thundering low end are demonstrated in Bump Music artist Brett Johnson's remix of 'I'm Searching', leading into the 'Club Mix' which brings a high-octane finish to the package.
CPEN ft. Bluey Robinson's 'I'm Searching' EP drops onMadhouse Records on 28th September.
https://twitter.com/cpenmusic
https://www.facebook.com/blueyrobinsonofficial/
https://www.facebook.com/madhouserecords/
Tracklist:
1. I'm Searching (Radio Edit)
2. I'm Searching (Dennis Quin Remix)
3. I'm Searching (Brett Johnson Remix)
4. I'm Searching (Club Mix)