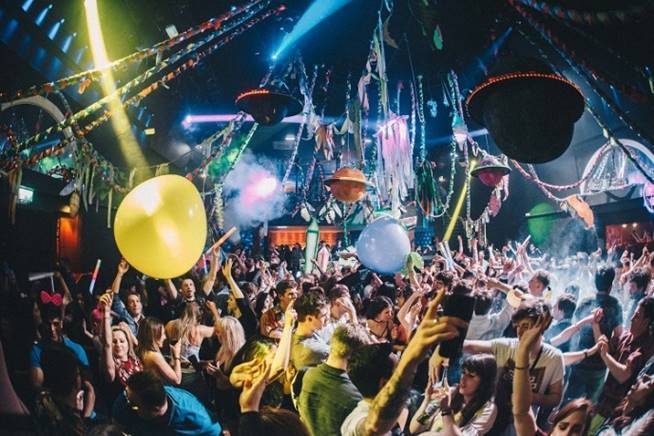 Immersive Club Night 'Foreverland' Announces Headliners For Its Enchanted Forest Rave Tour
The season promises 23 unique club takeovers with weird and wonderful characters, bespoke stage designs and carefully curated line ups of the best garage DJs and live acts including, Jaguar Skills, Artful Dodger, General Levy, DJ Luck & MC Neat and Nathan Dawe.
The visually stunning club night Foreverland today announces the headline acts for its 'Enchanted Forest Rave' tour. Game changing names from the worlds of garage and jungle will feature including Jaguar Skills, Artful Dodger, General Levy, DJ Luck & MC Neat, Nathan Dawe and more yet to be announced. These DJs and live acts will play across events in 23 cities, starting on 28 September 2018 at Starworks in Wolverhampton and running to a final party at the o2 Academy in Glasgow on 8 March 2019. With a theme that will see each venue transformed into an enchanted forest for night of immersive raving, its looking to be Foreverland's most magical season yet. Super early bird tickets are now on sale from just £11.50 + bf from www.bit.ly/EForestTickets.
The Enchanted Forest Rave theme this year pushes the envelope, even for a brand known for its wild taste in production. A custom-built stage-set resembling a crumbling, abandoned temple, laden with foliage will be the focal point at each venue. Plants and flowers will hang from the ceilings as walkabout characters and mythical beast puppeteers roam the dancefloor. L.E.D and pyrotechnic displays, inflatable creatures and dry ice and confetti cannons will transport dancers into another world, and if that's not enough, face and body painting experts will be on hand to create eye-popping designs throughout the night. Foreverland is one mini-festival environment that since 2015, has grown in popularity with the last tour peaking at 18 cities and 24,000 clubbers.
While the headliner for the opening party is yet to be revealed, the multi-genre Jaguar Skills has been announced as main billing to tear up dancefloors at the o2 Academy, Oxford (6 Oct), o2 Academy Sheffield (12 Oct), Athena, Leicester (13 Oct), Church, Leeds (19 Oct) and o2 Academy, Glasgow (8 Mar). He is a hugely respected producer and DJ whose dexterity in the booth puts him in a class of one. He will cut up and chop tunes with logic defying skill and bring real energy to the club.
Garage pioneers Artful Dodger will headline a series of dates at Tramshed, Cardiff (3 Nov), Roadmender, Northampton (26 Jan) and The Assembly, Leamington Spa (22 Feb). Arguably the most commercially successful garage act to have emerged from the UK, the duo made up of MC Alistair and DJ and Public Demand Records Founder, David Low, remain at the top of their game. It's their catalogue of anthems peppered throughout their truly energetic sets, that continue to draw huge crowds.
UK garage collective FooR return to headline Foreverland at ATIK in Edinburgh (17 Nov), o2 Academy, Bristol (24 Nov) and The Arch, Brighton (8 Feb). This group of producers, DJs, and MCs are at the forefront of the current UK garage revival, championed by the likes of Radio 1's MistaJam and DJ Target. So far they've released a handful of singles including 'Down' feat. Karen Harding, compiled 2017's Pure Garage mix album – which debuted at No.9 in the UK compilation charts, and early in 2018 released their first commercially available mixtape, 'Friends Of FooR'. This group continue make waves…
Next up is Nathan Dawe, another multi-genre DJ who switches up styles according to what the party requires, from hip hop, grime, house and bassline. He's played the UK's best stages including We Are FSTVL and the o2 Institute in Birmingham where he headlined his first #0121 show. He debuts at Foreverland at The Old Fire Station, Bournemouth (10 Nov), o2 Academy, Liverpool (23 Nov) and o2 Academy, Bristol (24 Nov) where he's joined by Foreverland favourites, FooR.
DJ Luck & MC Neat will play two special shows at The Grand, London on New Year's Eve and at the Ritz, Manchester (23 Feb), bringing with them some old skool vibes and years of know-how when it comes to working the crowd. They have an arsenal of anthems to draw on so will make for belting headline act.
Finally for now, General Levy has been announced to appear at The Foundry, Torquay (2 Feb) and Digital, Newcastle (15 Feb). The English ragga hero is regularly employed on studio tracks by drum and bass DJs, and someone who made the UK charts with his huge 90s track 'Incredible.' His 2017 album 'Be Conscious & Wise' featuring the likes of Joe Ariwa and Lee Scratch Perry proves this MC is still very much on top of his game and is not to be missed.
No Foreverland party would be complete without its resident DJs, Taim, Bassic and Bitr8. They are the un-sung heroes of the dancefloor who get the crowds ripe for the headline sets and beyond with a mixture of all things electronic, bassline, garage, tech house and disco.
New for The Enchanted Forest Rave tour is MC Tyrone, better known as the hype man fronting the Foor collective. He'll appear across the tour bringing his infectious energy and chants to the proceedings and even getting stuck in amongst the crowds on the dancefloor; a true talent.
Whilst there are more lineup announcements to come, it's clear this is shaping up to be Foeverland's best season yet. Not only has the brand established itself with a no holds barred approach to immersive production, it's also made impact on a musical level. It helped establish grime on the world stage due to early bookings with the likes of Stormzy and played its part in the UKG garage revival thanks to its on-point bookings.
Tickets for some shows are now on sale from £11.50 plus booking from www.bit.ly/EForestTickets. Other shows are now open for ticket pre-registration – head to www.theforeverland.com to register.
TOUR DATES
28th September Wolverhampton, Starworks Warehouse – TBC
6th October Oxford, O2 Academy – Jaguar Skills
12th October Sheffield, O2 Academy – Jaguar Skills
13th October Leicester, Athena – Jaguar Skills
19th October Leeds, Church – Jaguar Skills
20th October Hull, Funktion – TBC
3rd November Cardiff, Tramshed – Artful Dodger
9th November Birmingham, The Mill – TBC
10th November Bournemouth, The Old Fire Station – Nathan Dawe
17th November Edinburgh, ATIK – FooR
23rd November Liverpool, O2 Academy – Nathan Dawe
24th November Bristol, O2 Academy – Nathan Dawe + FooR
31st December London, The Grand – DJ Luck & MC Neat
26th January Northampton, Roadmender – Artful Dodger
1st February Lincoln, Engine Shed – TBC
2nd February Torquay, The Foundry – General Levy
8th February Brighton, The Arch – FooR
9th February Southampton, Switch – TBC
15th February Newcastle, Digital – General Levy
22nd February Leamington Spa, The Assembly – Artful Dodger
23rd February Manchester, O2 Ritz – DJ Luck & MC Neat
8th March Glasgow, O2 Academy – Jaguar Skills
TICKETS
From £11.50 + bf. To purchase visit www.bit.ly/EForestTickets
To sign up for pre-release tickets, visit www.theforeverland.com
LINKS
www.theforeverland.com
www.facebook.com/theforeverland
www.twitter.com/theforeverland
www.instagram.com/theforeverland
www.snapchat.com/add/theforeverland