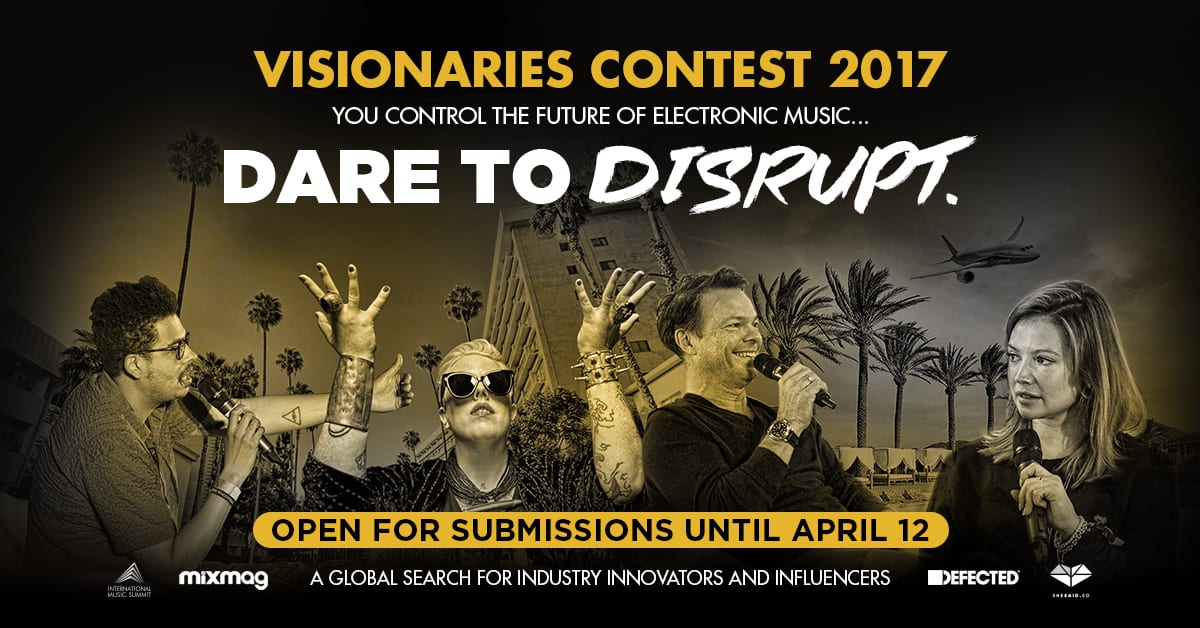 IMS & Mixmag Launch Visionaries Contest 2017
For the third annual Visionaries contest, International Music Summit (IMS) and Mixmag are once again collaborating on a global search for the young, future disrupters of the electronic music industry. The contest aims to inspire and uncover emerging innovators who will challenge current thinking and provide a solid footing for the continued growth of the electronic music industry. IMS and Mixmag's Visionairies contest taps directly into electronic music's emerging talent and gives them a platform to get their voices heard.
To enter, participants aged 18-25 are invited to submit a 3 minute video that answers one of the following questions:
– What would you change to progress the Electronic Music Industry in the future?
– How do you think the Electronic Music industry could drive diversity in the future?
– Tell us how you think technology will change the way we consume music in the future?
The winner will get the chance to travel to Ibiza as an official IMS Ibiza delegate and address a global platform of electronic music's most powerful and influential individuals. They will also get an opportunity to meet and interview at established and leading companies including Defected Records, Mixmag and Neighbourhood PR. The winner will also receive a three-month mentorship program led by She Said So, offering advice and help from established industry professionals to help them with their chosen career path.
Previous Visionaries winners have included Valerie Lee, 23, now West Coast Editor of Mixmag USA. , Ben Bowler, 24, Founder of Chew.tv and Inder Phull, Managing Director and founder of KRPT Group.
For further detail on how to enter and submit your application for this year's contest please visit:
http://bit.ly/IMSvsnry
Ben Turner, IMS Co-Founder states "IMS does its best to debate and instigate change of thinking, ethos and actual policies in the industry. However – it also aims to be a platform to encourage new thinking from the next generation and the IMS Visionaries concept has already been a gateway for some special future thinkers who have gone on to do well in the industry. We look forward to hearing and meeting further future disruptors."
Duncan JA Dick, Editor of Mixmag adds "For anyone aspiring for a job in the dance music industry, this is the ultimate prize – an opportunity not just to get your 'big break', but to have the early stages of your career nurtured by some of the most knowledgeable people and brands in the business. And, of course, party with us at IMS. Good luck!"