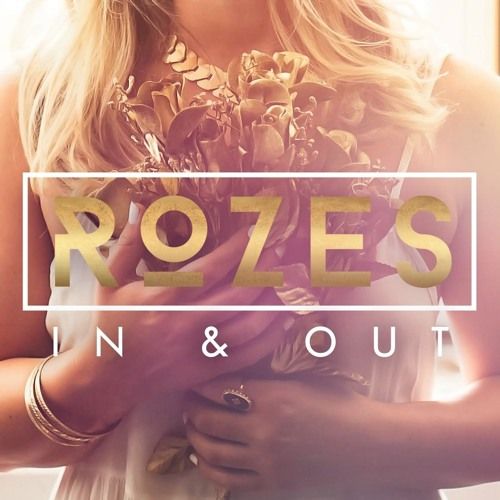 Rozes - In & Out
This summer, everything is coming up Rozes. The 22-year-old may be new on the scene, but she's an artist in full bloom, and she's making a big splash with her seductive brand of alternative pop.

After releasing first single from her forthcoming debut EP "R U Mine,"to rave reviews, today, Neon Gold premieres the latest from ROZES. Neon Gold says of new track, "In & Out," "Falling to earth somewhere amidst the holy trinity of Banks, Lana and Halsey, Rozes lays her heart out bare over hazy blossoming synth and blissed-out atmospherics."

If anything, "In and Out" like "R U Mine," proves what's already been said about Rozes. "She writes what's real, what's true, what's almost killed her and what's keeping her alive."

"R U Mine" premiered via Idolator. They called the track a "soaring synth pop anthem," and raved, "the newcomer returns with her best single yet. It's a great track made even better by the sheer quality of her voice."

In addition, two remixes of the buzz single "R U Mine,"got flipped by SteLouse & Lost Kings! Both are out now and available for FREE download.



Rozes has blossomed beautifully since we first made her acquaintance last year. In September, the Philadelphia native released her debut single, "Everything," which premiered on Hilly Dilly and set the Internet positively abuzz. "Rozes' voice is extremely powerful in its unique, light-burning way," described Hilly Dilly. "And when everything comes together a minute or two in, you're instantly hit with a wall of sound that will have instantly in awe."

"Everything" was produced by Bel Heir and ARNOLD, and you can listen to it here.


Rozes has also been featured on Just a Gent's "Limelight," which reached #1 on HypeM and has over 2 millions plays on Soundcloud. Check it out here.


ROZES is on the RISE. Most recently, Rozes added her vocals to "Roses," the runaway hit from NYC based duo The Chainsmokers. The Chainsmokers hand-picked Rozes, and the decision resulted in truly infectious sound highlighted by flawless harmonies. Released last month, "Roses" already has over 3.2 million plus plays on SoundCloud. Listen to it here.

Watch the official video here.

It is currently at Top 40 radio and soaring – in addition, she performed with them at this year's Billboard Hot 100 Music festival at Jones Beach.