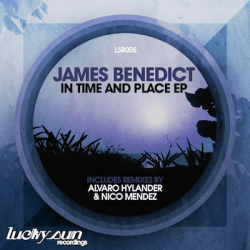 James Benedict - In Time And Place EP
Lucky Sun Recordings return with the imprint's fifth release, the In Time and Place EP from Glasgow-based producer James Benedict. On the heels of recent hot releases on Savoir Faire Musique, House Trip Recordings, What Happens, and Delve Deeper Recordings, James brings the heat with these three new original tracks. "In Time and Place" delivers jerky house beats, spliced vox, and James's signature deep chords. "Midnight At Riverside" follows with punchy drums and percussion alongside hypnotic synths and pads. "Rockabeat" is a slightly more psychedelic affair featuring swung, staccato synths, and potent drums and bass adding to a driving feel that just keeps building.
The first remix in the package comes from Alvaro Hylander (DeepWit Recordings) who, in remixing "Rockabeat", contributes a lovely piece of deep house … his chords and bass line are to die for and there's a cheeky broken beat-esque middle section. Next, "Midnight at Riverside" is remixed by Nico Mendez (Underground Sounds / UM Records) who gets a bit 'out there' with shuffling beats, deep chords, and and an atmospheric breakdown. Top notch all around.