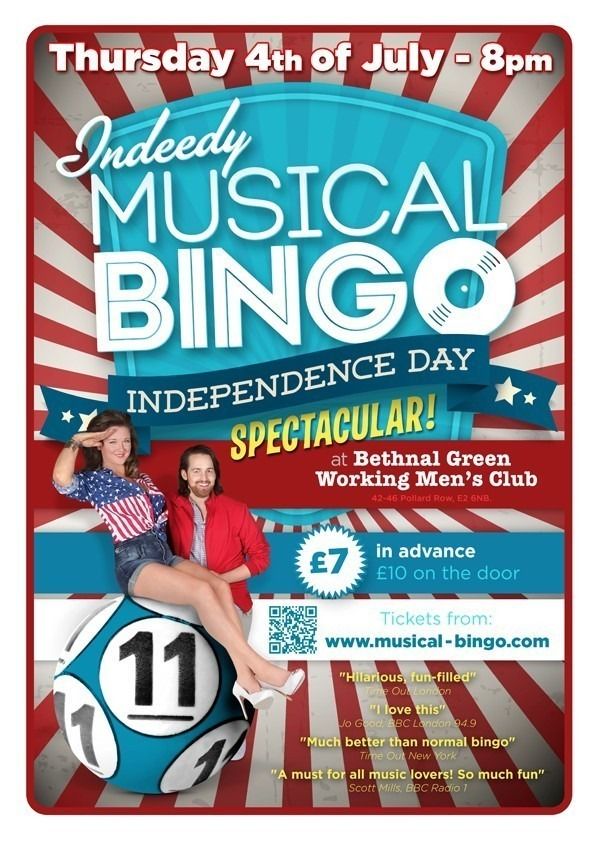 Indeedy Musical Bingo
Indeedy Musical Bingo
is so pleased to bring our fun and games to the legendary Bethnal Green Working Men's Club!
This will be a special
U.S.A. Independence Day celebration
featuring specially imported American prizes!
Fancy dress is encouraged
dress up as your favourite American from past or present!
There will be awards and prizes for the best costumes.
What is Indeedy Musical Bingo?
Join American presenter Jess Indeedy and eclectic DJ Helix for a night of friendly competition and amazing prizes!
Musical bingo is like normal bingo except
instead of calling out numbers we play songs
Mark the songs off your card as you hear them, and run up to Jess Indeedy to claim your prize!
Once the games are finished, everyone falls onto the dance floor.
"Hilarious, fun-filled" – Time Out London
"Much better than normal bingo" – Time Out New York
"A must for all music lovers. So much fun" – Scott Mills, Radio 1
"I love this" – Jo Good, BBC London 94.9