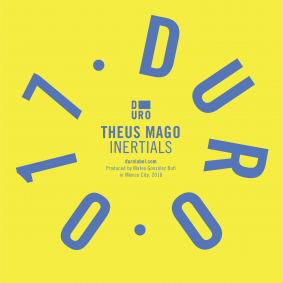 Theus Mago - Inertials
Theus Mago continues his fine run of form with another new single on his own co-run label Duro, and it comes with remixes by Iñigo Vontier and Jamie Paton.
Theus Mago is the alter-ego of established Mexican producer Mateo González. Responsible for projects such as Bufi (Kitsuné/Discotexas) and Sonido Fantasma (Turbo Recordings) he has a deeply expressive, freeform sound that mixes darker moods with beautiful synths. This new one continues his series of pieces inspired by Philip K. Dick's 'Ubik' in real style.
Influenced by the main characters of the groundbreaking sci-fi book, the excellent 'Inertials' is an energetic breaks track with unearthly vocals that reaches its peak with a dazzling, trumpet-like synth. It has real energy and pump in the drums and is sure to detonate and set.
The single is accompanied by a superb remix from Mexican producer Iñigo Vontier, who is helping to redefine the musical landscape in his homeland with tunes on Lumiere Noire and Turbo Recordings. His remix successfully combines organic sounds with an industrial edge to make for a textured, blistered track that is raw and edgy. Finally, Jamie Paton is one half of Cage & Aviary and has released on DFA. He subtlety evokes the soundscapes of Cabaret Voltaire with his enthralling remix.
These are three more fascinating and inventive tracks from the expertly curated Duro Records.
Tracklist:
1. Inertials
2. Inertials (Iñigo Vontier Remix)
3. Inertials (Jamie Paton Remix)