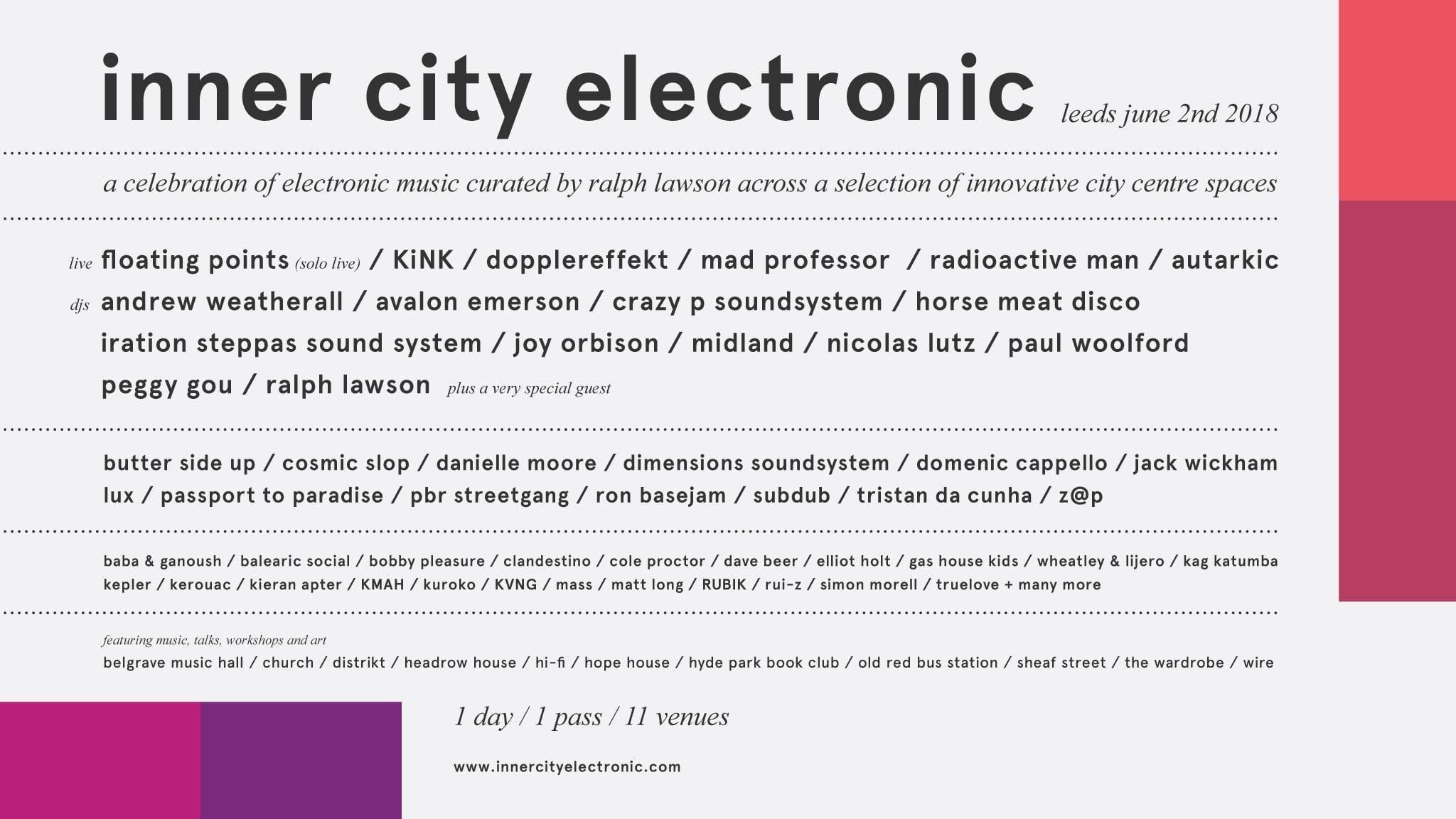 inner city electronic announced for Leeds
inner city electronic will be a celebration of electronic music held at a selection of the most iconic and innovative events spaces in Leeds. Taking place on 2nd June 2018, the first names announced for the multi-venue event include Floating Points (solo live), KiNK Live, Dopplereffekt Live, Peggy Gou, Midland, Joy Orbison, Mad Professor Live, Andrew Weatherall and many others (more artists and DJs will be announced soon).
inner city electronic will take place at 11 of the leading venues in Leeds, including: Belgrave Music Hall / Church / Distrikt / Headrow House / Hope House / Hyde Park Book Club / Hi-Fi / Old Red Bus Station / Sheaf St / Wire / The Wardrobe. inner city electronic will be the first time ever that these venues have assembled together, representing a unique spirit of collaboration. The range and scope of the spaces is staggering, ranging in capacity from 1200 to 120. There are 4 outdoor terraces for day parties and 15 different dance floors featuring an eclectic mix of music. The event curation is focused on cutting edge electronic music with live acts, DJ performances and cutting edge talent from a mix of international and local artists. inner city electronic will feature some of the best sound systems in the city including custom built rigs from Sub Dub and Cosmic Slop.
But it's not just about having a party. inner city electronic will feature talks, workshops, art and exhibitions. Working alongside MAP charity at Hope House there'll be producer forums where aspiring artists can and play their tracks to leading industry professionals and workshops where international artists such as KiNK, Mad Professor & Mark Ital will give master classes. Technology showcases will feature cutting-edge and break through production equipment where people can get hands-on with the machines themselves. There will be a series of daytime talks discussing electronic music history, culture and current themes from Midland, Paul Woolford, Mad Professor and Iration Steppas sound system, with full workshop details announced in March.
The idea to bring them all together for a festival came from young local promoter, Ben Thompson. Thompson presented the idea to Bluedot festival co-founder, Ben Robinson, who immediately saw the potential in the idea. Leeds has a very compact city centre, which allows people to easily walk between venues and stop off at excellent bars and restaurants.
Thompson needed someone who's been an integral part of the electronic music scene and approached Ralph Lawson to curate the project. Lawson has been a DJ in the city since 1988 and founded the internationally acclaimed 20/20 Vision Recordings in Leeds.
ORGANISER QUOTES
"Leeds has a multitude of outstanding venues and a thriving electronic music scene with rich history, having lived in the city for 6 years now I'm still finding things I hadn't yet come across. We wanted to create something that could showcase both the amazing arts and event spaces on offer in the city, as well as the people who in habit them, the idea was to create something based on collaboration that could project the cities scene and help it develop further. Ben Thompson
"I've watched our city and scene develop over 30 years and I'm really proud of where we are now. There are world-class clubs, art spaces, restaurants and bars and anyone who comes to visit has a great time. Leeds is the UK's best-kept secret. The scene here has helped kick start the careers of several international artists such as LFO, Nightmares on Wax, Iration Steppas, Ben UFO & Hessle Audio, Midland, Paul Woolford and many others." Ralph Lawson (20/20 Vision)
'Experiencing the character of a city through it's music, creativity and dance floors is what this event is all about and it's safe to say Leeds has a lot to offer. I spent 10 of the best years of my life in Leeds and was constantly surprised by the raw creative collaboration and music scenes throughout the city, all creating world-class artistry. Inner City Electronic is set to bring the city to life so that international audiences can come and see the innovative and inviting place it is right now.' Ben Robinson, bluedot founder & festival director
*Style guide – inner city electronic is always to be written in lower-case
inner city electronic VENUES
CHURCH LEEDS
Church Leeds' has been dubbed one of the most exciting new venues the city has on offer, a stunning grade two listed church that boasts a state of the art El' Acoustic sound system and has already played host to the likes of Jamie Jones, Fatboy Slim, Erick Morilo, Louie Vega, Kolsch, Derick Carter, Craig Richards, Todd Terry, Damian Lazarus & Matthias Tanzmann to name just a few.
Facebook – https://www.facebook.com/churchleeds/
WIRE
The cities much loved, iconic basement venue pushes quality underground music in a personal setting. The club is powered by a full Funktion One Sound system and is a favourite home to world class DJs, with previous guest including Daniel Avery, Midland, Ben UFO, Hunee, Joy Orbison and many more.
Facebook – https://www.facebook.com/wireclub/
Web – http://wireclub.co.uk/
HIFI
The HiFi Club is home to a wide range of DJ led and live music nights based around a variety of musical genres, including Soul, Funk, Hip Hop, Motown, Reggae and Disco, with previous guests including Nightmares on Wax, Onra, Horse Meat Disco, Gilles Peterson and many more.
Facebook – https://www.facebook.com/HiFiClubLeeds/
Web – http://www.thehificlub.co.uk/
BELGRAVE
Located in Leeds' vibrant Northern Quarter, Belgrave Music Hall and Canteen is a much loved treasure in the city of Leeds. Spread over three floors, the venue comprises of two bars, two kitchens, an event space and a spectacular roof terrace. Known for hosting an array of live music, comedy, film and art exhibitions and more, the Belgrave has played host to the likes of Romare, King Krule, Ghost Poet, Loyle Carner, Maribou State, Mr Scruff and many more.
Facebook – https://www.facebook.com/BelgraveMusicHallandCanteen/
Web – http://www.belgravemusichall.com/
HEADROW HOUSE
Headrow House is a former textile mill located in one of Leeds' historic yards in the vibrant city centre. After 10 years of neglect Headrow House has recently been transformed into a multi use arts and event space comprised over 4 floors with three bars, a restaurant, beer hall, three outdoor areas and an events space, which has already seen the likes of Simian Mobile Disco, Crazy P, DJ Boring, Jungle, Detroit Swindle, Lapalux and many more take to it's stage.
Facebook – https://www.facebook.com/HeadrowHouse/
Web – http://headrowhouse.com/
THE WARDROBE
The Wardrobe sits amongst some of the most iconic live music venues in the city. Since opening its doors in 1999 it has played host to a vast array of live music, as well as comedy & club nights in its basement venue. Wardrobe plays an integral role to the cities Live at Leeds festival as well as curates a board range of regular club and live shows, with previous guests including Trevor Nelson, Dutch Uncles, Aquilo, JP Cooper, Sub Motion Orchestra and many more.
Facebook – https://www.facebook.com/thewardrobeleeds/
Web – http://www.thewardrobe.co.uk/
DISTRIKT
Distrikt is a unique, intimate, underground bar located in the city centre that has played as a firm favourite for underground music enthusiasts in the city, bosting a state of the art sound system and out door terrace space, the venue has seen the likes of Shonky (Apollonia), Adam Shelton, Nick Curly, Nightmares on wax, Session Victim, Gideon, Audiojack, San Proper, Marshall Jefferson and many more illuminate it's dance floor.
Facebook – https://www.facebook.com/distriktbarleeds/
Web – http://www.distrikt.co.uk/
SHEAF ST
With a new lease of life being poured into a red brick Victorian factory on the cusp of the South side of the River Aire, Sheaf Street offers an artistically inspiring cafeteria, events space and terrace, situated as the front door to Duke Studios, a creative co-working and studio space. As a venue, Sheaf Street is quickly becoming a favourite for local residents and promoters and has recently been fitted with a custom built pioneer sound system.
Facebook – https://www.facebook.com/sheafcafeteria/
Web – http://sheafstcafeteria.com/
HOPE HOUSE
Hope House is the home of inspiring Leeds based organisation MAP (Music and Arts Production) that provides alternative education for young people who are having difficulty accessing mainstream education. The Hope House Gallery occasionally holds exhibitions and events, using both internal and external art, as well as the much-loved underground clubbing event cosmic slop. As a venue it has recently received notoriety due to its outstanding custom built sound system, created based of the sound system in New Yorks famous Paradise Garage club.
Cosmic Slop – https://www.residentadvisor.net/features/2909
MAP Charity – http://mapcharity.org/
OLD RED BUS STATION
The Old Red Bus Station is a bar, music club and canteen, which has transformed an out of use relic of the city's past and quickly become home to a selection of the cities underground electronic music events. The venue offers two events spaces spanning both floors of the old station with a stripped back industrial interior.
Facebook – https://www.facebook.com/TheOldRedBusStation/
Web – https://theoldredbusstation.com/
HYDE PARK BOOK CLUB
Hyde Park Book Club is one of the cities many unique gems, situated on the edge of the city centre the venue is a boutique arts space serving coffee, beers, wines and food on Leeds' Hyde Park Corner. Through the day, a chilled out space to hang out, eat, meet, read or write.
At night, an array of the most interesting creative groups from the city pop by to speak, perform, exhibit and play, with a wide range of happenings from techno to spoken word poetry.
Facebook – https://www.facebook.com/hydeparkbookclub/