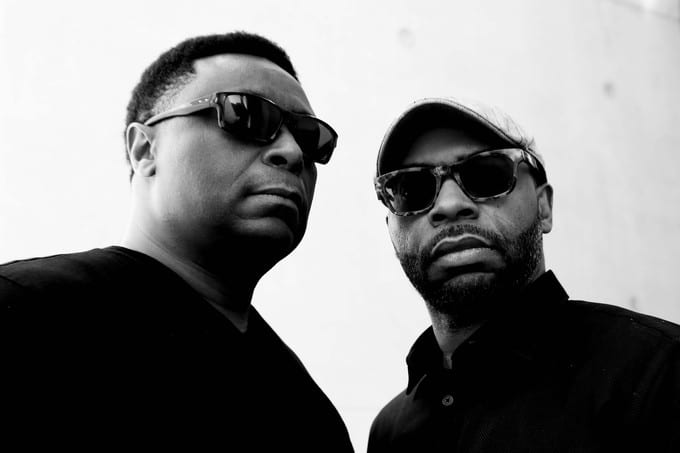 Octave One Announce Single and Reveal New Album Details
Fresh for 2018 the ever pioneering Octave One are bringing us some brand new music for the new year. Using their much loved Random Noise Generation alias the duo are set to drop a double A-side on April 6th with the album following shortly after on April 27th.
The first Random Noise Generation release was 'Falling in Dub' in 1991 and sounding just as fresh 27 years later 'N2 The Enfinate' is a double A-side featuring a new single and a remake of 'Rock my Soul' in the form of the 'Reborn Vocal Remix'.
A retro energy has been explored in the title track 'The EnFinate', running parallel to a more contemporary groove and rolling, marauding baseline. The second track on the package, 'Rock my Soul' (Reborn Vocal Remix) starts with a strong intent and a weighty bassline paving the way for precise and bright chord stabs. The single is taken from the new album 'Endustry', a full body of work encompassing 7 full length cuts, set for release in spring.
Something of a new take on their creative process the Burden brothers made most of this music on the road while they toured over the past year, using the country they were in at each time they recorded to influence and inspire each track. "We were tucked away in so many hotel rooms that we decided to make sure we brought enough extra equipment so that we could set up a true lab to create from country to country and make the grooves that we wanted to experiment with on the dance floor." comments Lawrence.
This body of work encompasses 7 full length cuts, naturally all with that classic Octave One emotion. "'Alkaylze', more than any of tracks on this project, embraced the original spirit of Random Noise Generation in so much as the "machine" seemed to be really guide the creative process." Adds Lenny "Much of the foundation of the composition was very accidental, but inspirational, with various musical devices interpreting data in a very unexpected results. It actually came together quite quickly but things just fell into place so naturally."
After touring and making music for decades the spirit and essential energy of the craft is what keeps them eternally inspired to keep creating and touring the globe… "Once it takes hold of you you can't stop even if you wanted to." says the pair, and so 'Endustry' is born.
SINGLE RELEASE
RELEASE INFO:
Artist: Octave One
Title: Octave One presents Random Noise Generation 'N2 The Enfinate'
Cat No: 4W705
Label: 430 West
Release Date: 6th April
TRACKLIST:
1.N2 The Enfinate
2.Rock my Soul' (Reborn Vocal Remix)
ALBUM TRACK BY TRACK:
Endustry – Mechanical percussions enforce the futuristic psyche leading into a robotic lead, whilst a warm bassline overlaid with intensely digitalised synths. Ominous and perfect for when the dance floor needs toughening up sonically.
Alkalyze – Mesmeric drums underlaid with filtered low swung jolting percussions pave the way for resonating sci-fi melody with fleetingly glide in and out throughout the track. Hi-tech trippy shakers, hi hats and timbral toms weave and cosmically oversee the development of this minimalistic sonic thunderstorm.
Crank – A throbbing, reverberated and slightly detuned percussive bassline roars in advance of a tangled and contorted synth lead punishingly arrives. Ride cymbals constantly lift and bridge whilst in the background obsessed vocal stabs give a sinister edge.
N2 The Enfinate- Definitive sharp snares, well rounded precise kicks give a solid backbone, a perfect platform for questioning synth keys. An enticing icy melody provides the answer to the prodigious lead melody which towers later in the track.
Refraction – Astronomic basslines, gargantuan drums with a space age groove.
Soul Xchange – Motorised synth melody lines. Agitated percussion. Crystal clear harmonies.
Thee Arrival – Off tangent rhythms, un-conforming synth line melody. Drifting bass, spiralling percussions.
ALBUM RELEASE INFO:
Artist: Octave One
Title: Octave One presents Random Noise Generation 'Endustry'
Cat No: 4WLP710
Label: 430 West
Release Date: 27th April 2018
ALBUM TRACKLIST:
'Endustry'
'Alkalyze'
'Crank'
'N2 The Enfinate'
'Refraction'
'Soul Xchange'
'Thee Arrival'
FORTHCOMING LIVE DATES:
March 2018
Fri 16 March – Cafe D'anvers Antwerp, Belgium
Sat 17 March – Small Town Sessions, Manchester – UK
April 2018
Fri 6 April – Jaeger, Oslo – Norway
Sat 7 April – Dude Club, Milan – Italy
Sat 14 April – Le Petit Salon , Lyon – France
Sat 27 April KINGSDAY ROTTERDAM x KRALINGSEBOSFESTIVA, Rotterdam – Holland
Sat 28 April – Nitsa, Barcelona – Spain
Sat 30 April – Ploink Festival, Bergen, Norway
May 2018
Wed 09 May – Pal Hamburg, Germany
Thur 10 May – Losjes Hemelvaart 2018 – Tramkade Terrain, 's-Hertogenbiosch – Holland Sat, 12 May – Cosmologic @ Spacehall, Tiblisi – Georgia
Sat 19 May – Berghain, Berlin – Germany
Sat 25 May – Analoge – New York City – USA
Sat 27 May – Magic Stick, Detroit – USA
June 2018
Thu 14 June – Detroit Love @ Off Sonar, Monasterio, Poble Espanyol , Barcelona
Thu 14 June – Dock Pullman , Paris