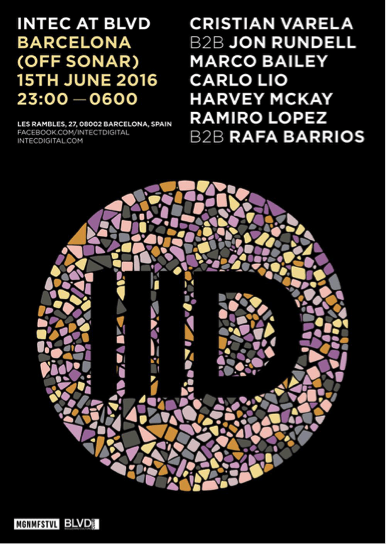 Intec reveals details of Barcelona 'Off Week' event
Intec Digital has announced its return to Sónar's Off Week, seeing label boss Jon Rundell perform alongside some of the biggest names from the label at Barcelona's Boulevard Culture Club on 15 June, as part of Magnum festival.
The event takes place on the eve of Barcelona's 23rd Sónar Festival. Label co-boss Jon Rundell will be performing a special back-to-back set with one of Spain's iconic Techno ambassadors, Cristian Varela. Ramiro Lopez and Rafa Barrios will also be joining forces for a B2B set and there's DJ/Producer Marco Bailey, Carlo Lio and Harvey McKay all joining the line-up.
This will be the first time the Intec crew have played together since last year's massive party in Barcelona, and with the new additions to the line-up, as well two other rooms hosted by nightclub Le Klub and label Clarisse, it's definitely a highlight in this year's Off calendar.
Since launching the night at XOYO in 2012, Intec's club series has travelled the world, taking in the likes of Ibiza, Amsterdam, Madrid, Switzerland and London, where the Allstars blew the roof off the Techno mecca, Fabric, last year. These events continued to grow in size and regularity, with more dates for this summer to be announced soon.